Lately, I've been going back to lip oils, and not just any lip oils, my go-to has to be the ClarinsInstant Lip Comfort Oil ($25, available here). I have previously written a thorough review about the one shade I have, and shown you that despite the $25 price tag, I repurchased it as shown in my recent beauty haul. Expanding on this lovely range is the addition of four new colours just in time for the summer season!
If you are a fan of the original range, you'll be pleased with the shade extension which includes some very fun shades and a shimmery one to add a bit of oomph to your look. If you like the Make Up For EverUltra HD Lip Booster – you'll like these a lot!
The ClarinsInstant Lip Comfort Oil is available at: Sephora • The Bay • Shoppers Drug Mart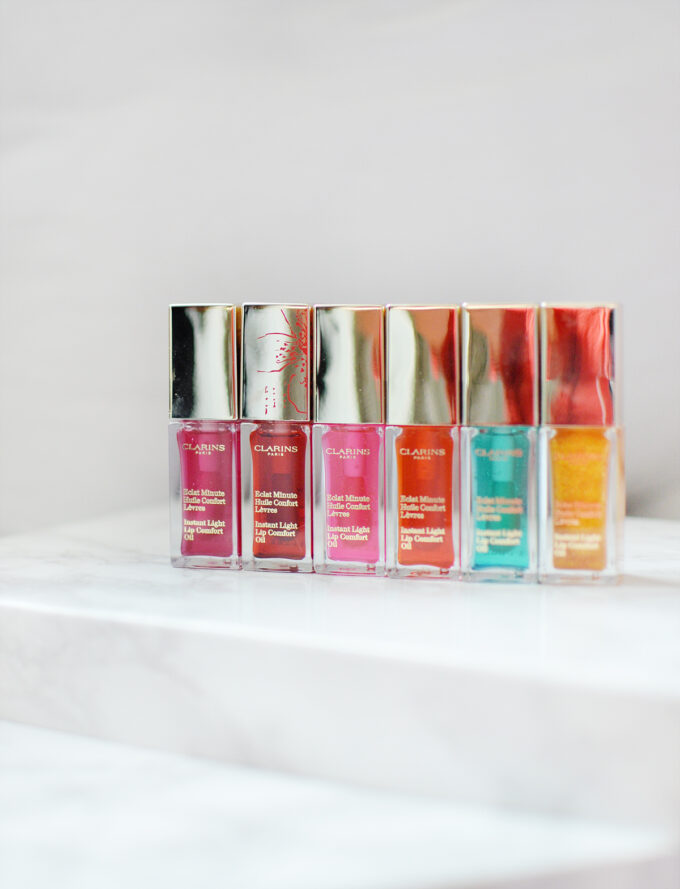 Nourishing, delicious, and natural-looking
Joining the permanent range of ClarinsInstant Lip Comfort Oil are four new summer-ready colours with delicious fruity scents that's going to keep you smiling all day! These ClarinsInstant Lip Comfort Oil don't have the tackiness or stickiness associated with lip oils or similar gloss-like products. They are incredibly nourishing when worn during the day or before you go to sleep. Finally, these look great under or over any other lip products (I always prefer to have this first so my lips can fully benefit from all the good oils and vitamins!)
The four new colours joining the permanent range are:
#04 candy – combines a melange of cherry, raspberry, and strawberry scents
#05 tangerine – delicious red currant scent
#06 mint- refreshing mint scent with a plumping effect
#07 honey glam – honey scented with shimmery pearls. Applies transparent for a natural glossy lip look!
If you look at these and don't get a smile on your face then we need to talk.
Of the four new colours, two shades (#04 Candy and #05 Tangerine) are supposed to react to your lips' natural pH level, similar to the Dior Lip Glow. The bulbous tip makes application quick and very soothing – the applicator works like a mini-massager for the lips.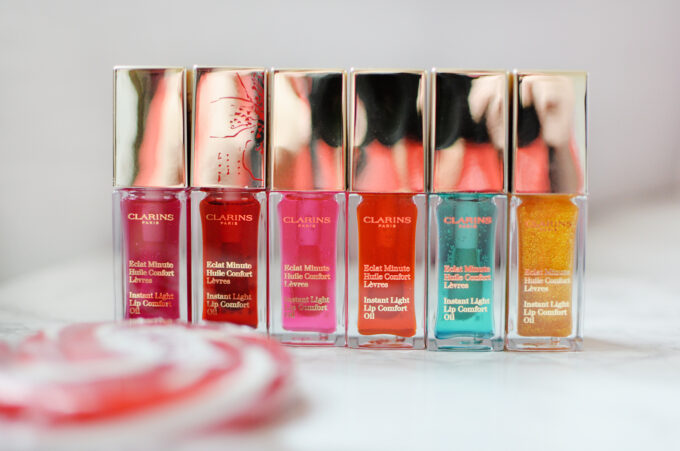 Why I love the Clarins Instant Lip Comfort Oil
These high-shine lip oils are definitely a treat for the the lips. I always have one on me as these are so nourishing and fixes my chapped, dried-out lips with a single application. I was curious whether mint would give me the illusion of a larger lip given its claim but I didn't notice anything too significant. This wasn't a bad thing as I find most plumping lip products tend to be too tingly, almost to the point of being irritating on me.
I quite like the break from "berry" colours and flavours – as much as I love berry scents, the addition of honey, and mint are kind of fun. I've always enjoyed honey in my lip products – it smells to delicious and feels like a lip treatment of its own.
On the lips, all seven (including 3 from the permanent collection) have a more subtle, almost untinted finish. These are very sheer that they will not alter the colour of your natural lip or any lipstick shade you have under it. Since they mostly have the same sheer finish, I'd recommend picking up one or two – unless you're a diehard fan of the formula.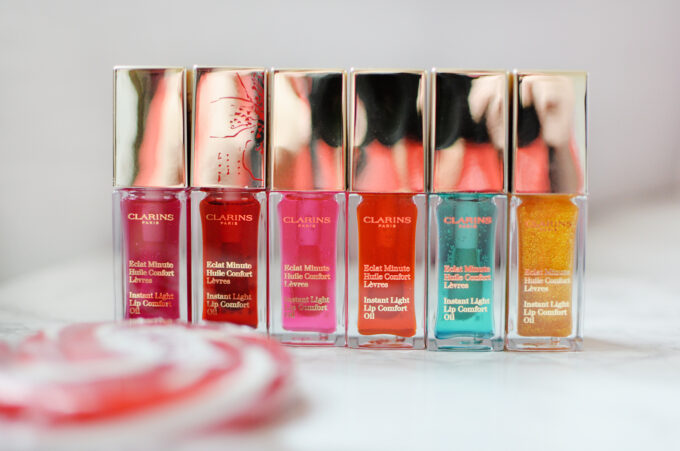 Overall, these are going to be a fantastic addition to anyone's makeup collection. Be sure to check out my original review on these where I go in-depth on why these are worth the purchase. If you're in the market for a lip treatment that doesn't compromise on look and formula, these are worth checking out. They're a little pricey but you'll be hooked once you try it!
If you're not a fan of lip oils, I highly recommend the Clarins Instant Light Natural Lip Perfector as a similar alternative!
Do you have a favourite lip treatment product?
---
Disclaimer:
This post features product(s) provided for editorial consideration. All opinions are my own. For more information about my review policy, please
click here
.
---