I will readily admit that I loathe the thought of going into a tanning bed or spend hundreds of dollars on getting faux tans at the salon. I would much rather save up that money and actually go on a vacation, somewhere sunny. Not everyone (myself included) has the luxury of always travelling to a sunny destinations, so the introduction of self-tanning lotions / creams / moisturizers are such wonderful innovations (cost-effective more like) since sliced bread.
Self-tanners aren't new, in fact, I'm probably the last girl to be interested in them! I've always assumed they are challenging to work with (I mean, who needs another "I turned orange" story?), smells bad/chemical-like, time-consuming, you get the idea! It seems so high-maintenance, and there's just so many things that can go horribly wrong, so I stayed away.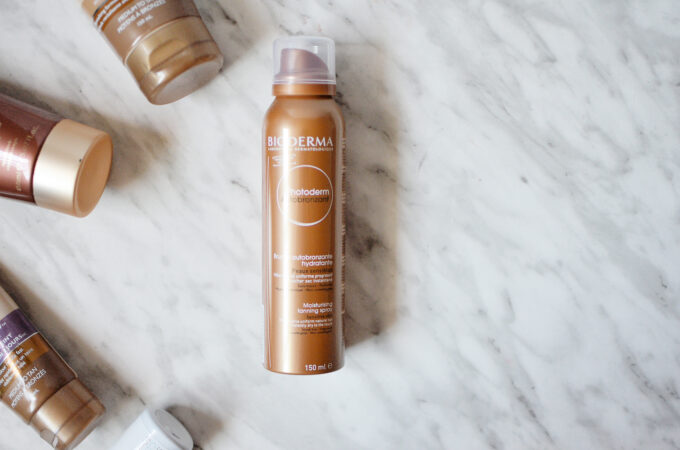 That is until I came across the BiodermaPhotoderm Autobronzant Moisturizing Self Tanning Spray ($19.99, Shoppers Drug Mart). I was about a week away from a vacation in the Caribbean when I realized how ridiculously pale I was. I decided to give this a go prior to leaving to get a head-start on the tanning process (FYI, I don't tan. At all. It took me a good 2 months and living in West Africa to get a proper tan!)
It is recommended that you spray this at least 20cm away from the skin. The colour-less mist dries quickly once on the skin, but won't immediately start bronzing or colouring your skin. I went to bed and woke up to a subtle and very gorgeous natural tan. I did two coats on each leg and arm, and the result was as if I'd been vacationing for a couple of days. It's natural enough that any mistakes can be easily fixed or covered up if necessary. The best comparison I can give you with the result of 2 coats is the swatch on the CHANELSoleil tan de CHANEL (Story coming up). The mist won't stain or rub off on your bedsheet (I would know, I was staying at the Hard Rock Resort in Punta Cana when I gave this a go!) The spray format helps the product apply evenly, so I didn't have any issues with streaking or blotching.
I wished the mist was slightly tinted as it would have helped me do an even coverage across the skin. On one of my legs, I had quite a noticeable "line" going down because I couldn't tell which area I've sprayed. I was panicked because of the tan line but since the colour itself is so natural, the problem was easily fixed! If you're trying to get some ideas about the colour with two coats, I would refer you to the CHANELSoleil tan de CHANEL swatch as it was a very, very close match.
A quick tip to ensure that you don't over-do it is to mix the mist with body lotion to get an even more subtle glow. This is great if your skin is very very pale and the slightest colour will immediately make it obvious that you've gone on vacation, this could be a good way to add some colour in a very natural way.
Now it's your turn! What do you think of self-tanners? As always, I'd love to hear your thoughts! Share with me comment section or through Twitter or Instagram!
---
Disclaimer:
This post features product(s) provided for editorial consideration. All opinions are my own. For more information about my review policy, please
click here
.
---