I will readily admit that I hate the idea of flying with only a carry-on baggage. I am always checking a suitcase and fortunately, since most of my destinations are international anyways, I rarely get charged. My recent trip to South Africa required me to fly into and out of the US on WestJet, so it was considered a domestic flight and checking my luggage meant paying $25 each way. Instead of wasting that $50, I decided to challenge myself to see if I can bring a carry-on only make up bag that will have everything I need and also compliant with the TSA 3-1-1 rule!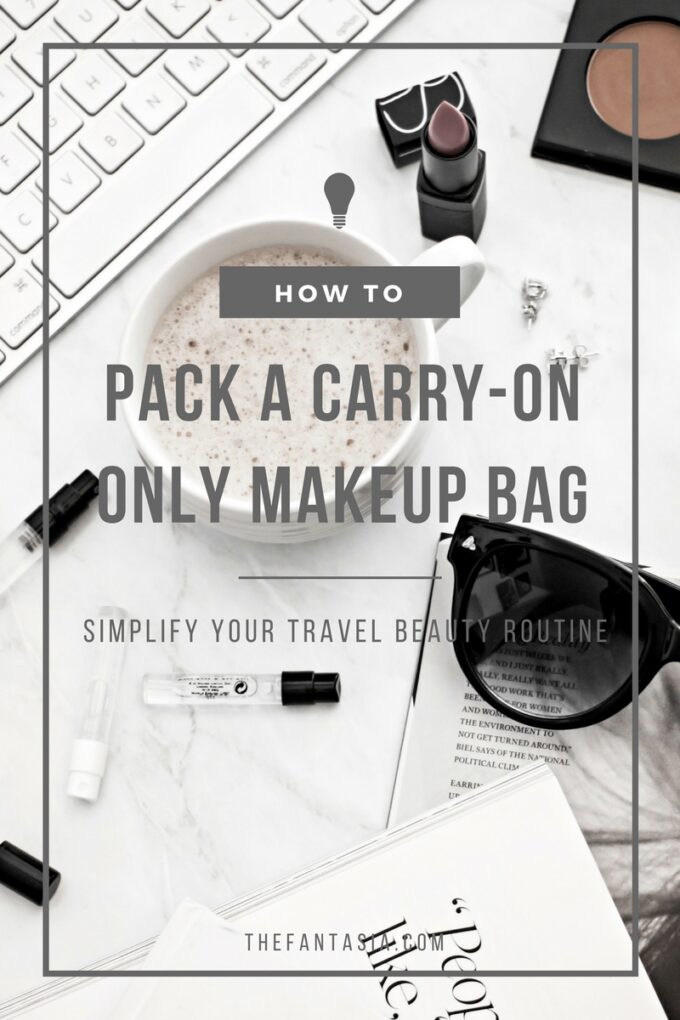 How to Pack a Carry On Makeup Bag.
The whole idea behind charging passengers for checked baggage has often made me very frustrated. There's just a whole bunch of essentials that I need to always carry with me like contact lens solution among many others. It doesn't help that a lot of consumer packaged companies make the minis that are supposed to fit in your carry on makeup bag, ridiculously expensive too! Travelling 6-7 times year internationally has taught me a thing or two to pack my carry on makeup bag, and do it efficiently!
1. Swap Everything for Solids
When possible, swap your beauty products and toiletries with solids. Instead of bringing a liquid cleanser or makeup remover, swap them with a solid cleansing soap and makeup wipes!
I brought my favourite AveneCold Cream Soap which works gentle enough for the face but can be used on the body as well, so that takes care of my cleanser, face wash and body wash routine.
For the hair and body, Lush makes some fantastic solid shampoos and soaps, but spending $10 on a solid bar for hair and body didn't appeal to me. Instead, I brought the more wallet-friendly ($4.99 each), multi-purpose Dr. Bronner's7-in-1 Magic Soap! There's been so many things written about this product, but mainly its versatility as a shampoo, body wash, face wash, etc (it can also be used a laundry detergent if you are in a pinch!) makes it a perfect one-product-does-all type of product!
2. Simplify Your Make Up Routine
When I'm travelling, I will "downsize" the number of products I apply on my face to the bare necessities. These only include: foundation, eyeliner, mascara and a bit of bronzer for colour. If you have fantastic skin and can get away with light dusting of powder foundation, then this is the easy part.
If you are like me, and you need the extra coverage in the form of liquid foundation, bring along the one that is most reliable: it works best on your skin, and provides sufficient coverage to minimize the need to bring in extras. I love the Make Up For EverMat Velvet Foundation or the Ultra HD Invisible Stick Foundation because of its travel-friendly packaging and excellent coverage and wear time makes it a staple in my travel makeup bag.
3. Pack The Most Versatile Products You Have
This goes without saying and is probably one of the most repeated travel packing tips, but it makes a huge difference! For me, that product is baby powder which works wonders when you're in a pinch! I use baby powder is dry shampoo, deodorant, and something to help with foot odour (i.e. if you're walking through the rain and your shoes get soaked) as well as body rash (again, should something unfortunate happen during your trip to result in this) or to freshen up clothes and bed sheets. I pack a giant bottle because I use baby powder pretty much for everything!
4. Bring Sample-Size / Sachets & Things You can Throw Away
If you need to bring liquids, make sure it's as small as you can get it to be. Any types of sachets and sample-sized products should be what you're bringing, especially since you'll need it to be less than 100ml.
Sunscreen is really key for me when I travel so I always ensure I have 2 mini's at all times, one for the face and another for the body. I bring two versions to maximize space as I know I can always buy a body sunscreen at my destination if needed, but I am very specific when it comes to my facial sunscreen.
Hair products that come in sachets is a great alternative to carrying bulky bottles of hair mousse, and gels!
5. Decant when Possible
To maximize space in your 1L bag, I always try to decant the bigger sized products. Even if they are under 100mL but if it takes up half of your 1L bag due to excessive packaging, that's just no good! I always save jars after I've finished the products because I can decant a bottle of moisturizer into it and it is good for a week or more.
6. Skip whatever you can buy when you arrive
This isn't my favourite tip but sometimes it comes down to having to skip a few things in your makeup bag (i.e. razor, or sunscreen) this may be necessary. If it so happens that you can buy the items you need in the city / country you're visiting, it might be worthwhile to not pack it anyway! This is something I would usually do when I'm travelling domestically or to a country where the cost of the products is cheaper (i.e. toothpaste)
Pin for Later!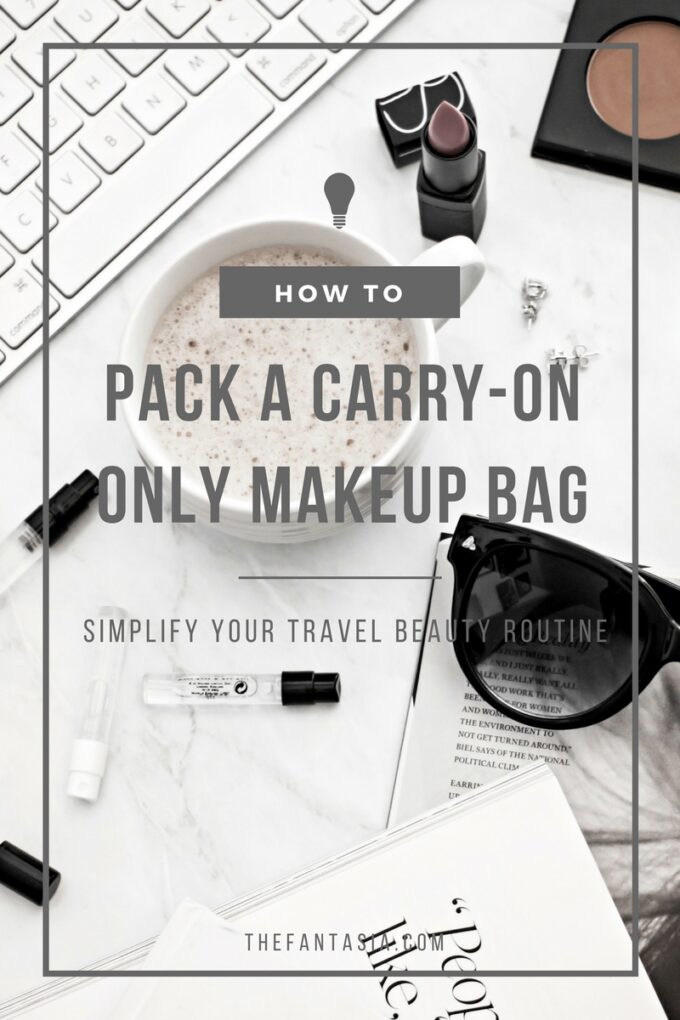 Do you have any tips or suggestions on how to pack a carry on makeup bag?