I am so stoked to review the BosciaIntensifying Moisture Pack+ ($36, sephora.ca) because this was my winter skincare saviour. I'm not exaggerating – this completely reversed the damage the wrath of winter did to my skin. Despite the price tag, I actually got quite a bargain deal on this – it was part of the Sephora Boxing Day sale deal where there were a select range of items that was priced at only $12, and this moisturizer happened to be one of them. Paying $12 for a $36 item? You can bet I checked out with this beauty pretty much instantly.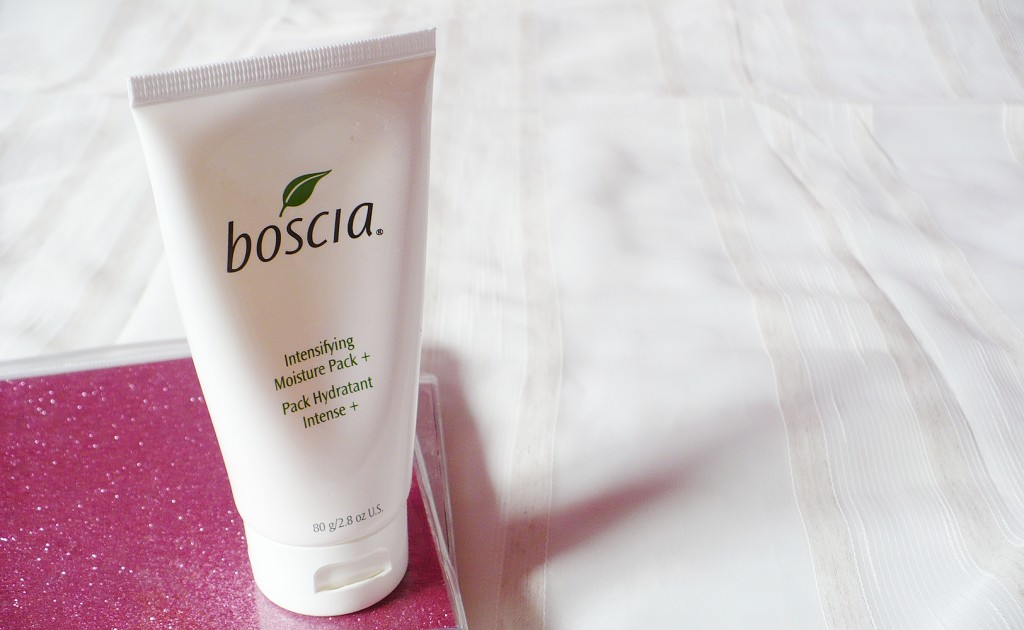 The BosciaIntensifying Moisture Pack+ has a yellow, gel consistency, with a very strong herbal scent. The scent was strong enough that I thought this product was going to be a pass for me, however I am so glad I gave it another chance, because hello! This is one frickin' amazing and insanely-hydrating moisturizer! The gel soaks right in, and within 30-60 seconds, I am left with an incredibly hydrated face that doesn't feel or look greasy. Instead of applying the moisturizer in a rubbing motion, I pat it on across the face which seems to be far more effective at getting the moisturizer through the pores, and hydrate the skin from within. The best part is that one pea sized amount is more than enough to cover my entire face – I had enough leftover to take down to my neck (This is something you should do with your skincare because your neck is another place that shows signs of aging quickly)
Over the next couple of days, I noticed massive improvement on my skin. It was more supple, hydrated, and looked glowy and fresh. The difference that I have seen on my skin since I started using the BosciaIntensifying Moisture Pack+ is massive. I started reaching out for this mostly because throughout fluctuating temperatures we've had this past winter, my skin looked sallow, felt unhealthy and was completely stripped of any moisture. The BosciaIntensifying Moisture Pack+ completely reversed the damage that this past winter had caused. The BosciaIntensifying Moisture Pack+ was far more effective than any other moisturizers in my arsenal including the EmbryolliseLait Creme Concentré (Which you guys know I rave about all the time!) My skin is so much healthier looking and hydrated these days.
Yes, $36 is a lot of money to pay for a moisturizer. Just for comparison, this product has 80mL worth of product – the Clinique Dramatically Different Lotion (125mL) retails for the same price $36 and the EmbryolliseLait Creme Concentré has 75mL worth of product and can be purchased for $28 on Amazon. I think the cost per use of the BosciaIntensifying Moisture Pack+ more than justifies the price – one small pea-sized amount of the BosciaIntensifying Moisture Pack+ is the equivalent of 2-3 pumps of the Clinique moisturizer.
Where to Buy: Sephora ($36)