There are very few makeup techniques I enjoy more than contouring, so highlighting takes a very close second spot. I'm all about getting that glow as naturally as possible and already owning more than one human needs in a lifetime, I'm still happy to indulge on a new one every once in a while. It's pretty darn exciting for me to review budget products so let's get to know the Wet n Wild MegaGlo Highlighting Powder shall we?
Before we dive in though, I want to make a very important PSA – Wet n Wild is a 100% cruelty-free brand and most of their makeup is also vegan. The range is available at most mass and drug retailers across both Canada and the USA. The Wet n Wild official website also ships to Canada in case your closest stores don't carry the products!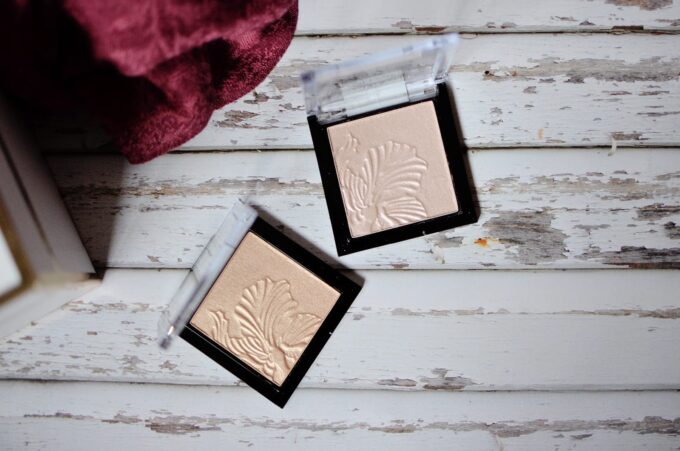 Wet n Wild MegaGlo Highlighting Powder
The two Wet n WildMegaGlo Highlighting Powder (USD$3.99, available here) I have are Blossom Glow a frosty champagne pink, and Golden Flower Crown. Both are embossed with a flower on one side though there are no overlays to worry about. I've heard quite the raves and saw tons of thumbs up from bloggers and beauty editors alike so I couldn't get but get excited about the opportunity to try it out!
From my research, it seems these highlighters are an extension of the range which saw those very impressive reviews. This year's launch feature colours that are more traditional and looks wearable on a variety of skintones. Blossom Glow, the lightest one of the two is a little too bright for my preference and skintone. It does wear more subtle on the skin though you can tell that you're wearing makeup and there's that powdery leftover. Golden Flower Crown is probably my favourite of the two with its rose-gold colour that I think looks just as good as a blush and a highlighter.
At first glance, they definitely look and can pass off as a dupe for high-end highlighters which I love. Blossom Glow definitely reminds me of the DiorNude Air Glow Powder whilst Golden Flower Crown wears a lot like the Make Up For EverPro Bronze Fusion #2.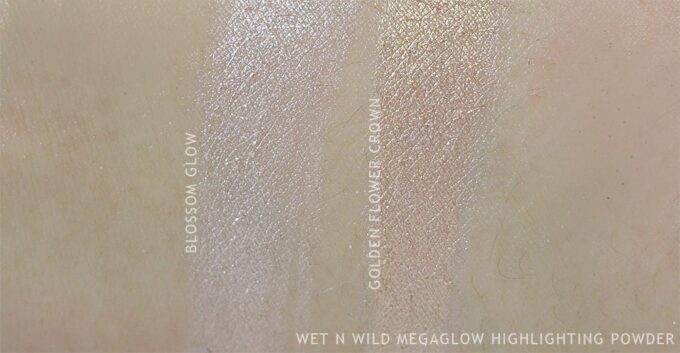 Both highlighters offer a decent amount of pigmentation although for whatever reason, my powder got a bit chalky after the first use. My Make Up For Ever brush can't seem to pick up the powder so I think I'll have to scrape a bit of the top off to get some colour going. I do find these powders to have a very obvious powder-y finish on the skin so if you like something more subtle and natural that won't highlight less-than-stellar look of the skin, the MegaCushion highlighter might be a better bet.
I hope Wet n Wild continues to release dupes for high-end highlighters like these because at less than $5 a piece, I would totally collect a few of these!
Have you tried the new Wet n Wild MegaGlo highlighting powder collection?
---
Disclaimer:
This post features product(s) provided for editorial consideration. All opinions are my own. For more information about my review policy, please
click here
.
---