In the world of beauty, the words healthy, radiant, and glow are incredibly overused – they are basically synonyms. I'm heavily guilty of this, and I won't lie that sometimes I'm get so caught up in trying to describe the effect of a certain product on my posta. In the world of luxury beauty products, when a product is called "Healthy Radiant Glow"-something I'm even more skeptical and typically scoff at the hyperbole and extensive emphasis on saying the same thing three times.
Over the last couple of years, I've realized that in the world of luxury beauty products, these powders are their own kind of product, often mistaken as a bronzer and not meant to be compared to the existing line-ups of bronzing, highlighting, or glowing powders despite their overlaps. I just think it's not communicated as well as it could have. For the purpose of this review, I'm going to attempt to write and share my thoughts on this product, without using the words: healthy, glow, radiant or any variation of it.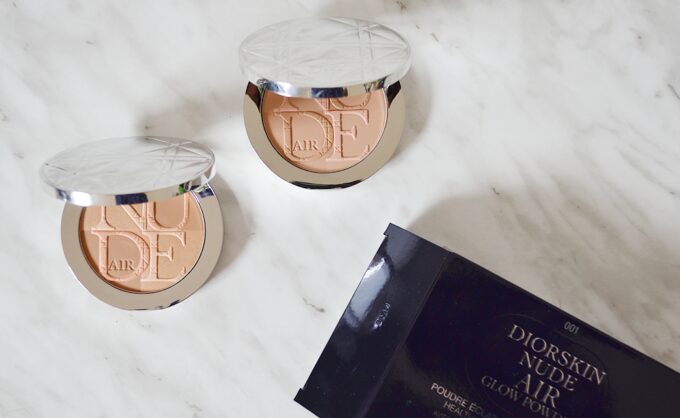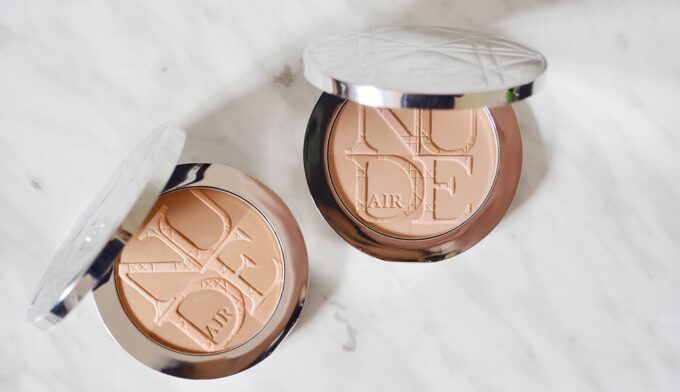 The purpose of the Healthy Glow Powder is exactly that – it is meant to be a skin-perker. It's meant to add some sun on your skin and give you a hint of colour – as if you'd just return from an all-inclusive vacation – without the price tag. It's meant to give your skin a fresh look without the hard work. Whereas contouring powders are meant to define certain angles to temporarily re-shape the face, and bronzers are meant to warm up the face, healthy radiance/glow powders are meant to add life back to the skin.
A lot of high end beauty brands have delved into the world of radiance powders, and came out with their own variations of it. I have tried the GivenchyBonne Mien Healthy Powder so I am quite excited to see that Dior is including the DiorDiorskin Nude Air Glow Powder ($68, available here) in the Milky Dots collection!
The Diorskin Nude Air Glow Powder has all the characteristics of a couture piece – the exquisite signature Dior quilted packaging with a full-sized mirror and a kabuki brush is included for that perfect application. The soft, and finely milled loose powder can be applied on the face, décoletté and shoulders to emphasize tanned skin.
In terms of colour, #001 Fresh Tan is more golden-toned, while #002 Fresh Light is more peachy as you can see in the swatches below (I opted to swatch them, light to dark). On my NC25 skintone, I prefer using #001 Fresh Tan to create that sunkissed look!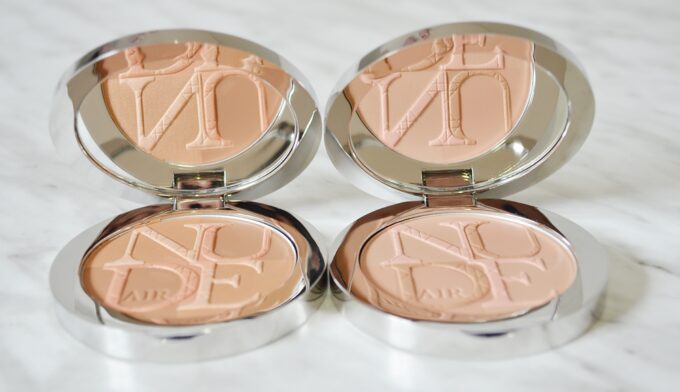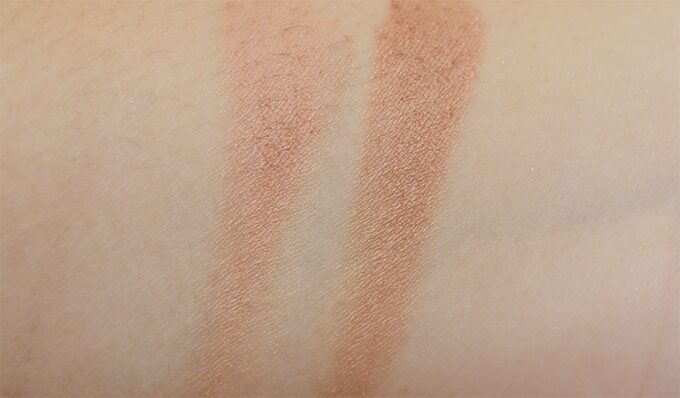 The Diorskin Nude Air Glow Powder has a touch of shimmer mixed with copper hues to give it that luminous sheen on the skin without being glittery. The way I like to best describe the effect of this is like wearing a tan without the hard work (or price tag!) of getting sun on you!
This powder can be applied lightly all over the face or just along the areas where the sun hits. The pearlescent shimmers will reflect natural light to give that touched-by-the-sun look. I suppose you can also built this up to bronze with, but it can be really hard to achieve that subtle, sunkissed effect when it looks like you have shimmery makeup on.
The satin non-powdery finish is another bonus – the formula sits on the skin without looking like powder, so this will look good, even for mature skin!
The DiorDiorskin Nude Air Glow Powder is part of the Milky Dots Summer 2016 Collection which is available as of May 2016 at retailers that carry Dior, and of course, Dior counters!
I think I did quite well in avoiding the aforementioned words in this review! And it wasn't even that hard – I should try more of that!
What do you think of healthy glow radiance powders? Do you think the Diorskin Nude Air Glow Powder delivered on that?
---
Disclaimer:
This post features product(s) provided for editorial consideration. All opinions are my own. For more information about my review policy, please
click here
.
---