Mexico is home to a ridiculous number of cenotes (pronounced "se-NOH-tay"), which are natural sinkholes formed when the rock formations collapse and reveal the fresh groundwater beneath. It is so closely associated with the Mayan culture as it plays and important role in their day to day life and often used by ancient Mayans for sacrificial offerings. Yep, no big deal.
Explained in words, there's nothing too exciting about a cenote, but if you ever find yourself in the Yucatan peninsula in Mexico, a visit to at least one cenote is an experience worth writing, and taking lots of pictures about. Whether you go on your own (it's not too bad to make the drive there and pay entry yourself) or through a small group tour, visiting a cenote in Mexico should be on your to do list.
If you enjoy this post, check out the rest of my
Mexico
posts!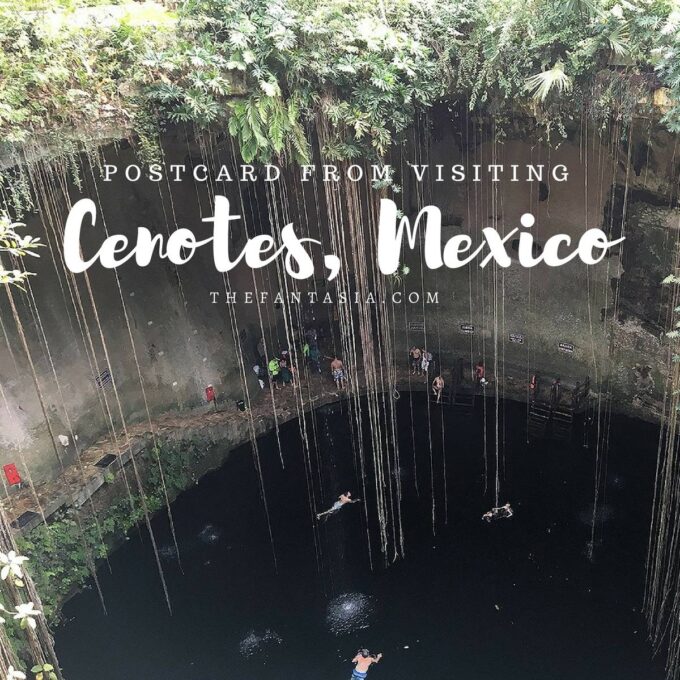 Visiting 2 Cenotes in Mexico.
As I was travelling in a small group of 3 girls, including myself, we decided to book and join a small group tour. Yes you have to pay a little bit more, but we weren't on a budget, and safety was our priority. We ended up visiting 2 cenotes that were on top of my list: the Dos Ojos Cenote (Two Eye) near Tulum, and Ik-Kil near Chichen Itza which also happen to be the most scenic and worthwhile cenotes to visit if you are pressed in time and money.
Dos Ojos (Two Eyes) Cenotes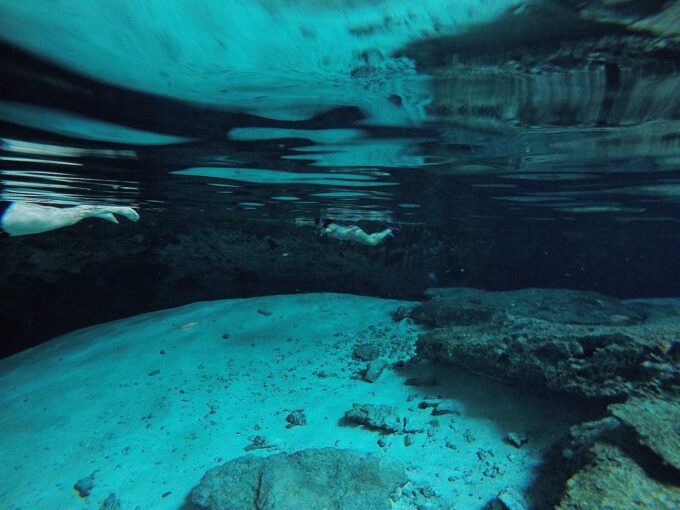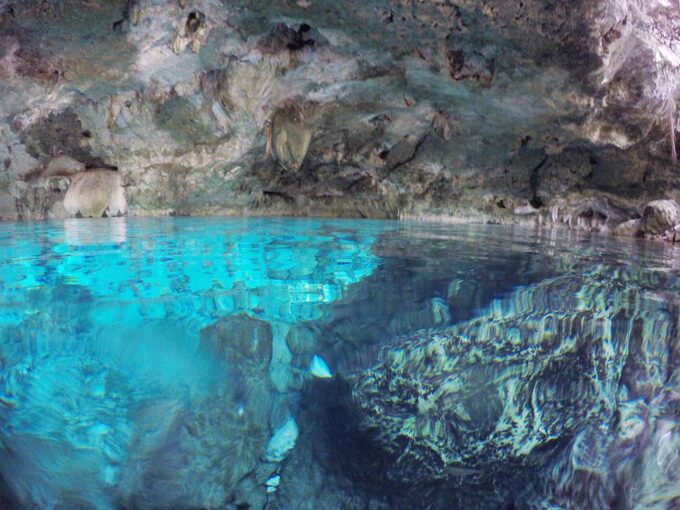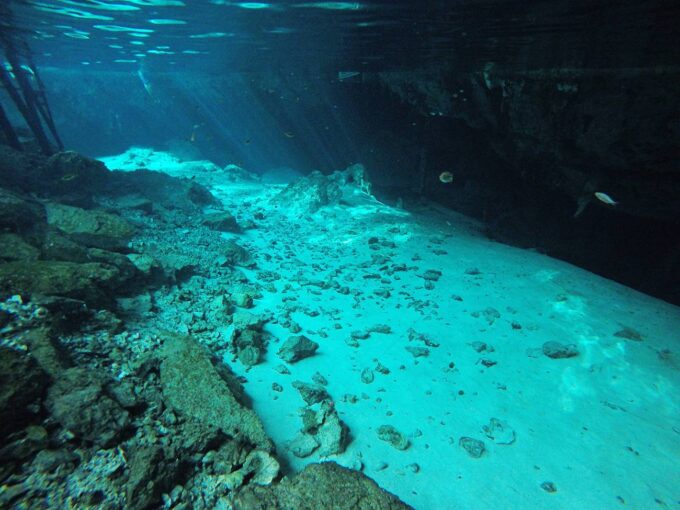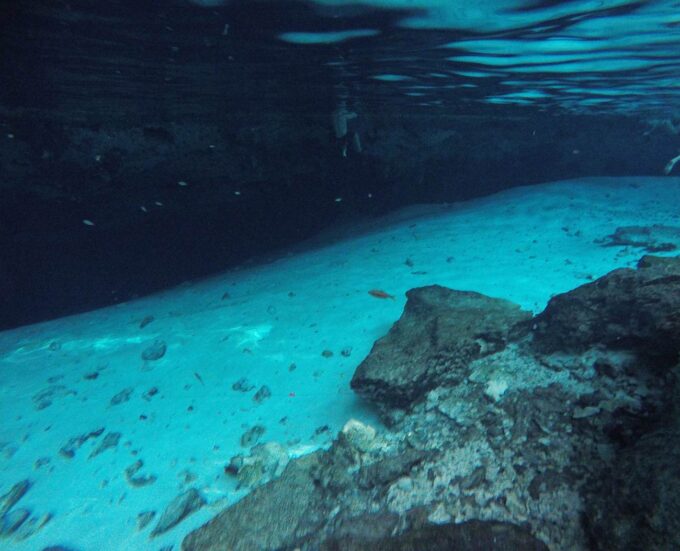 The Dos Ojos cenote was about 1.5 hour drive from downtown Cancun and I thought was the most impressive due to its incredibly clear water, and the fact that it is an impressive 82 kilometers cave system with 28 cenotes connected. It is also considered one of the longest underwater cave with depths as deep as 119M at its deepest level. Although the underwater cave system is comprised of around 28 cenotes, there are two main entrances, which are connected through a small cave that makes it look like a pair of eyes looking into the underwater world. I got to swim between the 2 cenotes, and I can tell you that it gets incredibly dark and terrifying (so don't get lost) if you are on your own.
Since it is a very popular destination, it's worthwhile to make this cenote one of the first places to visit when you are there. We were lucky to have arrived before a large group so we got to enjoy a fantastic swimming experience and had the caves to ourselves for about 20-30 minutes (which is really all you need to appreciate the caves).
The visibility of the water is excellent – the water is so clear that you can see every pebble and rock and fish at the bottom, and the only thing that could possibly cloud the experience would be if there is no sunlight. With sunlight, the view from underwater is that much better. There are several pictuers below which hopefully convey a sense of what the experience was like to swim underwater.
It is also possible to dive through the cave systems although I opted for snorkeling instead due to limited time, and the fact that I was not certified.
Ik-Kil Cenotes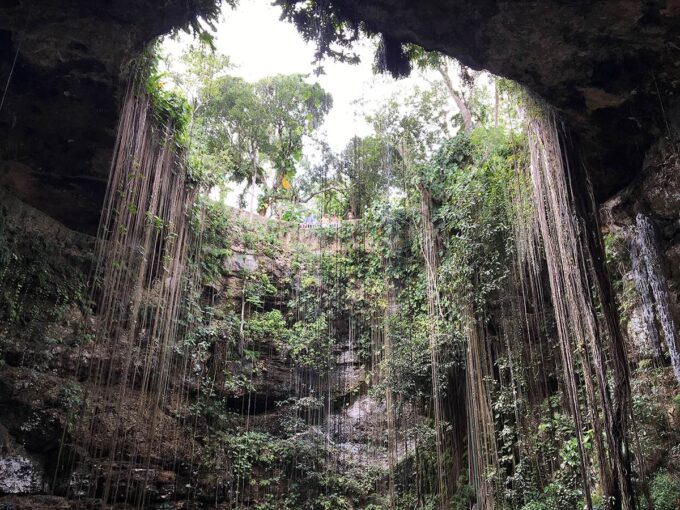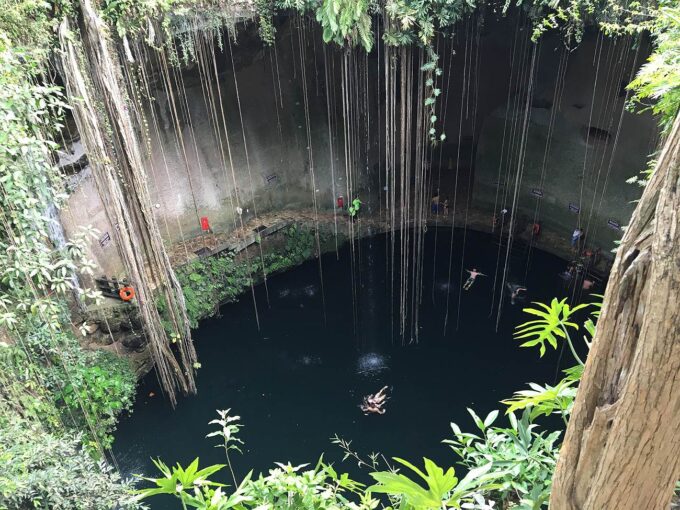 A visit to Mexico would not be complete without visiting the Ik-Kil cenote nearby which is part of the Ik Kil Archeological Park and is the host to the Red Bull Diving Competition. I found that the cenote was impressive from the outside, although I'm sure its equally impressive. You can literally look down the cenote from about 26m up, and it is just a picturesque experience – the vines and leaves that line the wall make for a very fairy-tale looking, and scenic relaxing place to be.
Looking from the bottom, up, you see a hole and the sky. Imagine what it would be like to swim and look at the clouds through this very impressive and artful hole.
Overall Experience at the Cenotes
After visiting a cenote, you'll be working up a real appetite. I have to say that visiting cenotes have been a fantastic highlight of my Mexico trip. The minute I got back, everyone was asking what a cenote was, where I went, and what I did. Ultimately, it was a great experience and a highly recommended one to try out if you will be visiting the area soon.
Visiting Cenotes with Cancun Adventure Tour
As mentioned earlier, I booked our trip through Cancun Adventure via the Cenotes and Lagoon Tour. Although a little bit more expensive than going at it ourselves, safety and a pleasant experience was our top priority. We were in a small group of 6, with 3 of us making up that group. The air-conditioned transfer, very attentive and informative guides, pick up directly to and from the hotel and this was an incredible tour experience. Plus, if you book online, you get 15% off which is a great cost-saving for larger groups.
Pin this for Later!