When The Body Shop Superfood Expert Facial Mask Collection came out over a year ago, I was feeling pretty makeup-ed out and held off buying new products until late this year. They're pretty pricey to purchase separately and are almost always excluded from any promotions so there weren't too many incentives to go out of my way to try them out.
During Boxing Day last year, I snapped up one of the best beauty deals that made a 6AM wake up call absolutely worth it in a -15C brisk morning – picking up one of the The Body ShopSuperfood Expert Facial Mask Collection Set ($49.50, available here) that normally retails for $99 for 50% off! You can say that I'm absolutely stoked to get my hands on 5 full-sized face masks I'd been meaning to try for over a year!
The Body Shop Superfood Expert Facial Mask Collection consists of 5 masks, each designed to target a specific skincare concern. The skin-loving, vegetarian ingredients are as natural as they get – produced with no parabens, silicones, mineral oils or paraffins. Knowing BodyShop's history and their enduring commitment to cruelty-free formula's, I knew this was a set/deal too good to pass up!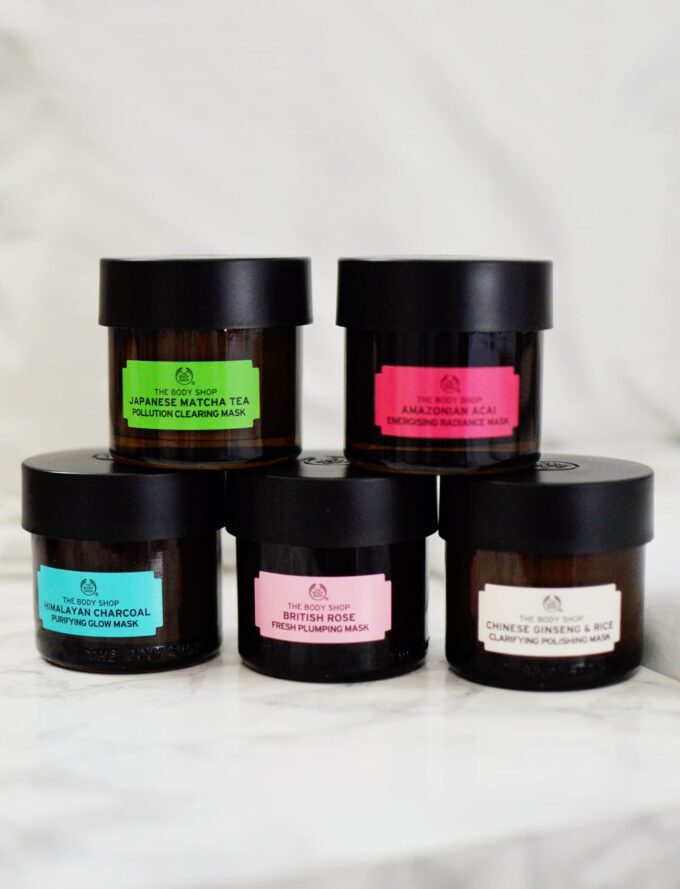 [show_shopthepost_widget id="2969512″]
The Body Shop Superfood Expert Facial Mask Collection includes the following face masks:
Japanese Matcha Tea Pollution Clearing Mask ($28, available here)
Did someone say matcha? The newest mask to join the line up immediately became my favourite of the bunch because it features my favourite superfood. This green tea-based face mask protects the skin by removing and preventing pollutants from adhering on the skin. Green tea is an incredibly popular anti-oxidant and I love drinking either matcha or green tea variations to help with digestion and detoxifying the body from the inside. The mask is very creamy with a light green shade with some grittiness to help exfoliate and slough off dead skin cells. After applying this on the skin, there's a bit of tingling and cooling sensation as it dries on the skin. It was unusual and does feel a lot more luxurious than my other go-to masks like the ones from Lush.
Amazonian Acai Energising Radiance Face Mask ($28, available here)
Acai is an ingredient that got popular thanks to the popularity of acai breakfast bowls which is based on this superfood from Brazil. This juicy mask appears fairly terrifying in the jar and when first applied on the face but it dries out to a less alarming shade than when first applied. The combination of acai and a variety of oils makes for the perfect "pick me up" product to use when the skin is feeling dull and lifeless and in desperate need of that little bit of wake up call!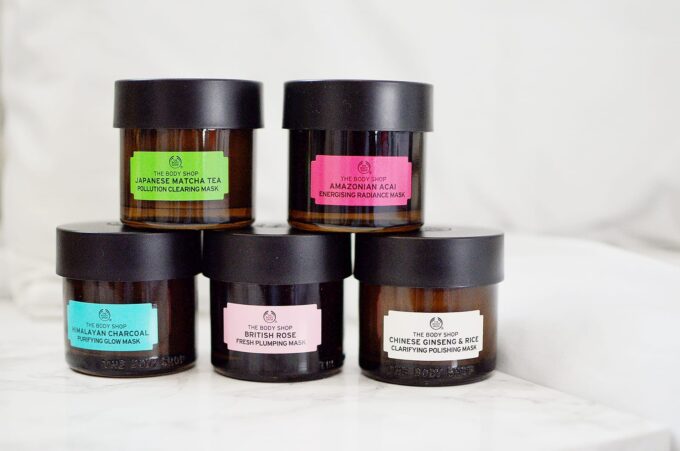 Himalayan Charcoal Purifying Glow Face Mask ($28, available here)
I think I was most excited about the charcoal-based mask more than anything. Charcoal is an ingredient that just sucks up all the gunk and dirt in your pores to ensure a brighter and less congested skin. I use this mask every other week, even though I don't have oily skin like my sister (who lives by charcoal-based masks by Origins and Sephora Collection) and it helps draw out all the impurities in my skin. In addition to bamboo charcoal, and green tea leaves, there's also organic tea tree oil which is a very helpful ingredient to have when it comes to naturally deep-cleaning your skin.
British Rose Fresh Plumping Face Mask ($28, available here)
The plumping face mask features a popular skincare ingredient, rose (though I'm not exactly sure whether British rose is more effective than the others or not) which helps to hydrate and restore moisture on the skin. This mask is gel-based which reminds me a lot of the Fresh Rose Mask I've been raving about earlier. I love that in addition to the rose petals, there's also rosehip oil and rose essence in here. My skin absolutely adores rosehip oil and drinks it all up which makes it perfect for the winter season we are having in Canada! Rose-based skincare products don't do too much for my skin unless it's super concentrated (like the rosehip oil I've been talking about) but it does help tone down redness and reduces any active irritation.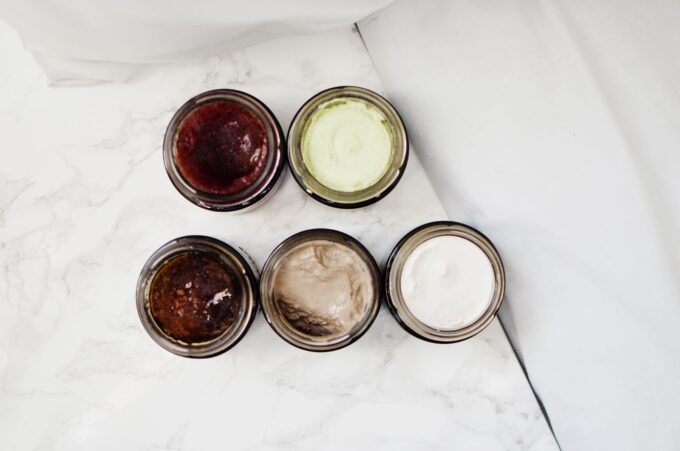 Chinese Ginseng & Rice Clarifying Polishing Face Mask ($28, available here)
Growing up in an Asian household, rice is a staple, not only as food but for a whole bunch of other things including skincare. I remembered using a rice-based mask as a child (it was ground up rice mixed with some coconut oil – super basic but made me feel like an adult!) and it does a killer job at "polishing" away the dead skin. Rice is a great exfoliating ingredient – it's not as hard on the skin as something finer like baking soda. Infused with ginseng (another popular Asian superfood that can be found in pantries as well as vanities in many Asian households), the mask is a fantastic alternative if charcoal-based masks tend to be too harsh on your skin. I find charcoal can be a bit too drying and the finer texture of charcoal powders can be too irritating when my skin is not as great as can be!
At $28 a piece, these are fairly pricey to purchase separately. What I would suggest is to see if they have their sampler set (which comes with the masks in a sachet format) for $6 or so. That would give you a good idea as to whether the formula is right for your skin before committing to a size that you might not get to finish.
Have you tried The Body Shop Superfood Expert Facial Mask Collection? Which ones are your favourites? Or which ones would you try out first?