Everyone loves a good me time – the holiday season and celebrating a new year reminded me just how important self-care is when it comes to keeping the body happy and mind clear and focused. I indulged myself during the holidays and really felt the difference when I've taken some time for myself. I usually indulge myself with a bit of at-home spa treatments (lighting up that candle I've been saving), 2-3 face masks and reading a book or two. Lately, my go-to brand for all-things self-care has been BodyShop. Specifically, with BodyShopSuperfood Expert Facial Mask Collection and the The Body ShopSpa of the World Firming Ritual ($50, available here).
BodyShop has never been my number one, or go-to place for self-care skincare beauty products. However, three fantastic finds during Boxing Day last year changed that. Now, I need to make a conscious effort to stay away from the store whenever I'm at the mall.
The Body ShopSpa of the World Firming Ritual Body Collection ($50, available here) was a limited edition set released for the holidays and featured 2 full-sized products: the French Grape Seed Body Scrub and Ethiopian Green Coffee Firming Body Cream. Retailing at $50, it was a great value set to purchase for yourself or as a gift, but getting the gift set at 50% was an even better deal!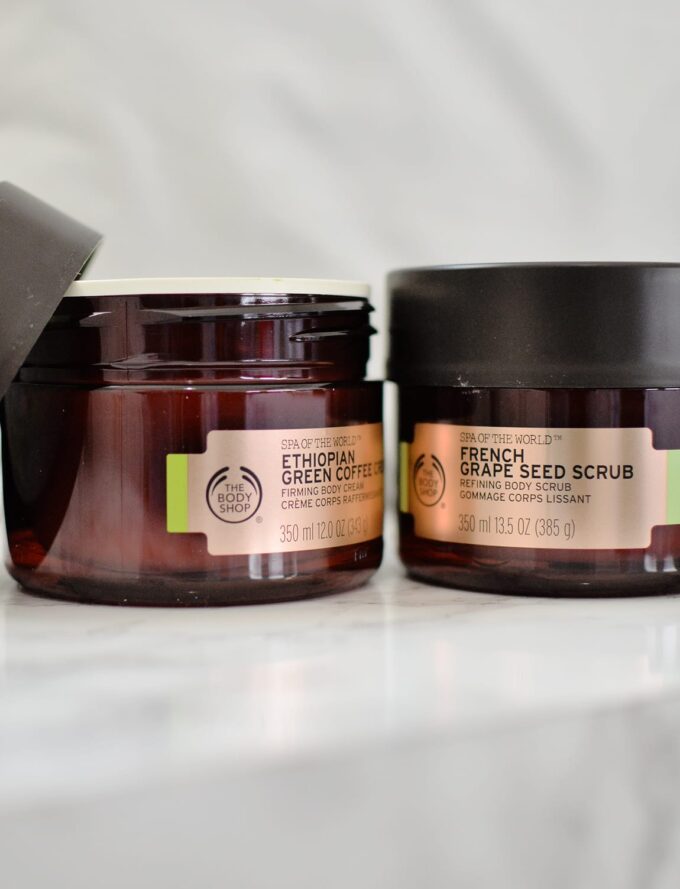 [show_shopthepost_widget id="2969612″]
There are actually three products in this particular range: a scrub, body lotion, and a body oil. Each range is colour coordinated, so you can match the products in the entire range. I wasn't really sure what the firming in this set was supposed to do or what kind of results I should be expecting, but needless to say, $25 for two full-sized products that rarely go on sale was the primary reason of me splurging on this.
Spa Of The World™ French Grape Seed Body Scrub
Right off the bat, I can tell I was going to be in love with the French Grape Seed Body Scrub ($32, available here). There's a freshness to the scrub that just feels so invigorating. I couldn't wait to try this in the shower! The scrub features grape seed powder from France in addition to organic sugar from Paraguay to invigorate, exfoliate and refine your skin. I much prefer sugar scrubs over salt-based scrubs as they are less irritating on my skin (the larger granules make them less likely to aggravate my skin).
I don't tend to exfoliate regularly – maybe every other week as I feel my skin is sufficiently nourished to avoid regular scrubbing. Grape seeds is one of those ingredients that pop up regularly in a variety of skincare products and range: it soothes, and is a powerful antioxidant that isn't as harsh on the skin as ingredients like charcoal might. Apparently you can use the scrub on wet and dry skin, depending on the intensity of exfoliation you want.
I feel like I personally get the same results from the variety of scrubs I've tried, whether drugstore-priced or high-end. My skin is generally in a fairly good condition so the only concern I would have is the odd dry skin on the elbow or hyperpigmentation from old scabs and scars. Otherwise, sugar or salt-based scrubs provide equally great results.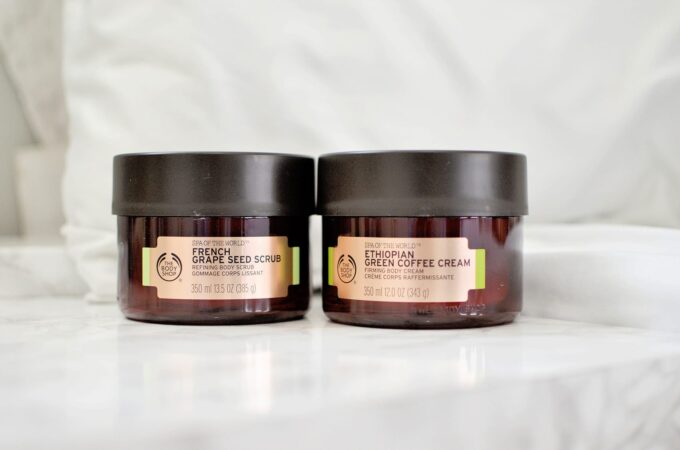 Spa of the World™ Ethiopian Green Coffee Firming Body Cream
The Ethiopian Green Coffee Firming Body Cream ($32, available here) feels like a body souffle on the skin and I love it. I was expecting it to be overwhelmingly cucumber-y, and almost intoxicatingly sweet so it was a pleasant surprise to discover a subtle fresh coffee scent that isn't too overpowering or will keep you awake after you apply it.
The silky cream melts on the skin the way a softer body butter would melt on your skin. There is a bit of tingling sensation once you apply that's supposed to work with the warming sensation from the scrub.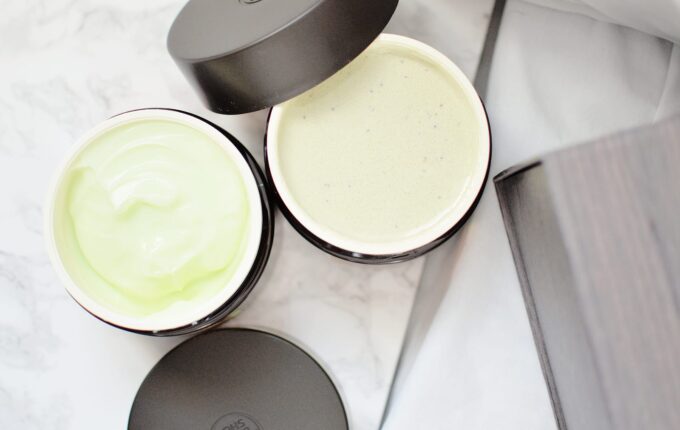 Have you tried the Spa of the World range? Which range/scents are your favourite? Let me know in the comments section below!