Asian beauty culture has captured the minds of western beauty enthusiasts for several years now. This trend is unlikely to stop considering the stunning rise of Korean pop acts such as BTS. Several online shops dedicated to Asian beauty have popped up lately. I decided to review one of the most popular ones – Stylevana.
Here's a quick guide to this review of Stylevana:
I will be reviewing the online beauty and fashion shop Stylevana. I will be looking in-depth at everything this online shop has to offer. The ratings will be based on the sampling of various products and looking into the level of customer service they offer.
To get a good example of the customer experience, I will also be making several test purchases from Stylevana. The Stylevana online shop has lately been gaining popularity among bloggers and YouTubers. I am always highly excited about reviewing hyped product ranges and online shops. Without further ado, let's get right into it.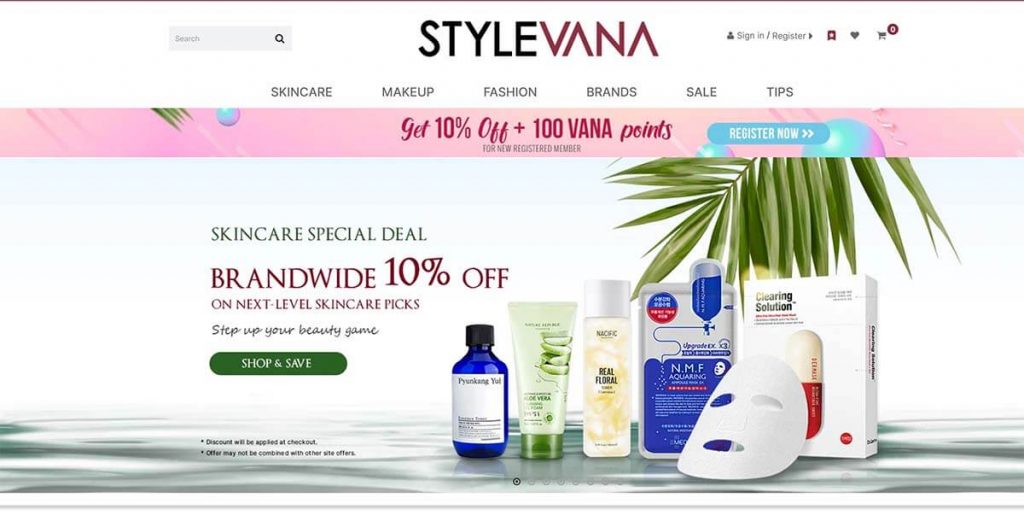 What is Stylevana?
Stylevana is a Hong-Kong based online beauty shop. I, for one, have long wondered about the beauty secrets of Asian women. They tend to have near flawless skin and a timeless sense of style.
Stylevana is a one-stop online shop dedicated to bringing you the latest selection of Asian trends. They have a wide variety of brands available for both cosmetic products and fashion. The main focus of Stylevana is on Korean fashion and cosmetics.
If, like me, you are new to Asian fashion, Stylevana seems like a good place to start. The variety of promotional offers and special deals available at all times also suggests an extremely good value for money.
By registering an account at Stylevana, you gain access to even more promotional offers. The website also hosts an active blog with interesting Asian fashion and beauty tips. Furthermore, I also got lost in their YouTube channel. The blog and YouTube channel will prove to be very helpful if you are looking where to start.
At first glance, Stylevana certainly makes me curious. The sheer amount of various information and the number of brands is almost overwhelming at first. Knowing me, I will probably spend many hours on choosing the products for the test purchase.
Review of My Favorite Stylevana Products
The MERONGSHOP faux leather biker jacket
I snatched this classic black leather jacket for 40 dollars. a Stunning price. Asian discounters sometimes get a bad rep for false advertising the conditions and the look of the product. I was half-expecting this to be the case here as well.
I am glad to say that I was wrong. The jacket arrived in great condition and was exactly as advertised. The size is exactly as chosen and the fit is wonderful. The jacket also has the gorgeous black tone advertised on the pictures.
MERONGSHOP high-waist skinny jeans
I was very worried about the fit of Stylevana jeans. The fit is hard to get right even if ordering from the EU/USA.
In all honesty, I was pretty sure that this will go wrong. Much to my surprise, I was very satisfied with my skinny-jeans. The fit is wonderful and the jeans go extremely well with my black jacket.
Stylevana summer-tops
I am glad to say that I was satisfied with all the clothes I ordered from Stylevana. The Stylevana summer tops look cute and unique. The fit is good and the quality of the cotton seems great. I am happily looking forward to having a unique Asian twist to my look this summer.
SOME BY MI – AHA, BHA, PHA 30 Days Miracle Cream
The skin-care products I chose are a bit hit and miss. Needless to say, I'm new to Korean beauty products. I have heard good things about the brand from several friends and the cream had a discount.
Without hesitation, I swooped it into my basket. This product, unfortunately, did not play that well with my skin. It left my skin a bit greasy. I think that the foreign ingredients were a bit of shock to my skin. On continuous use, things would probably be much better.
iUNIK – Beta Glucan Power Moisture Serum
Exactly the same issue as with the previous product. After use, my skin seemed to be a bit too oily. This seems to be an issue only for me. Other users have reported satisfaction with the skin-care products I ordered.
One theory is that the moisturizing factor is much stronger compared to western products. If this is the case, I am actually quite impressed. If dry skin is a persisting issue, give Stylevana skin-care a try. Asian cosmetics might just be your magic solution.
Advantages of Stylevana
Strong social media presence
Having a strong presence in social media is these days almost a requirement for online beauty shops. Social media channels of beauty shops tend to get samey after a while. They are mostly consisting of glorified ads for their products. It is always great to see that there are exceptions to this.
Stylevana has a wonderful YouTube channel. I admit I spent ages down that rabbit hole. The Stylevana channel is brimming with personality. Including various make-up tutorials was an especially nice touch.
I was originally only interested in product reviews. Yet I left the channel with several new Asian inspired make-up ideas to test. The Instagram page is also aesthetically pleasing and informative. All in all, Stylevana has definitely mastered the art of online presence.
Pricing
This is arguably the biggest advantage of Stylevana. This discount site offers us the possibility of ordering genuine Asian brands for an amazing price. If you know how to look and choose, the value for money is exceptional in Stylevana.
The site always has additional limited discounts for certain brands and products. So if your timing is right, you might get your desired items for an even better price. The total amount of my test purchase was 100 dollars.
For that amount I got a beautiful faux-leather jacket, skinny jeans, and some cute summer-tops. Not to mention boatloads of various skin-care products from established Korean brands. All in all, you will certainly find something suited to your price range in Stylevana.
Uniqueness of the products
I spent hours strolling around the clothing section of the site. The amount of different clothing brands available is great. This by itself is nothing to be amazed at. Most online beauty shops have great selection these days. However, everything on Stylevana is unique.
The Asian trends are quite different from western ones. You can easily construct wonderful seasonal wardrobes from this site alone. If you have taste and time, you can have a unique and unforgettable look. When you are on the look for something that will make you stand out, Stylevana is a fantastic choice.
PayPal support
A little detail that I love. The use of PayPal is so common these days yet lots of online beauty shops still do not support PayPal. Being a dedicated PayPal user, I was impressed that this payment method is fully supported at Stylevana.
Disadvantages of Stylevana
Homepage can be a bit confusing
The amount of Asian products and brands available is truly astounding. This would also require a very easy-to-orient homepage. Unfortunately, this is not the case here. The different sub-categories of products are all organized a bit differently.
When I sorted by brand, I was hit with various colorful special offers from featured brands. I would prefer all the offers to be laid out separately in a specific category. This is probably not a deal-breaker for most of you.
However, I am a bit of a neat-freak. I would always prefer a clean and minimal design for such a big online shop. Although I must admit, the homepage certainly has a distinct character.
Limited shipping in the EU
Stylevana currently has only 8 shipping locations available worldwide. While this did not pose a problem for me. I still sincerely hope that they will add further European locations to their list of eligible shipping locations. Especially considering the rising popularity of K-Pop culture in Europe.
Some reports of shipping issues
I will start this by saying that the shipping was not an issue for me. All the items of the test purchase arrived on time. However, there are some conflicting reports online. Some users have mentioned that delays are common.
There are also reports of customer service not responding promptly. Fortunately, I did not find a single user who flat out did not receive their order. Luckily, the majority of online reviews still seem to suggest that the delays are an exception not the rule.
Conclusion: is Stylevana Good?
From my experience, Stylevana is a great online beauty and fashion shop. Stylevana has several advantages compared to similar online shops. When it comes to fashion, the price point of clothes is in general similar to major western chains such as H&M and Zara.
However, due to the membership system and the sheer amount of special deals available at Stylevana, you will certainly be saving money. Especially when buying in bulk. The quality of the clothing items you get for this price point is amazing.
When you are interested in Asian fashion or just wishing for something more unique, I would certainly recommend Stylevana. When it comes to skincare, the products I ordered were not an instant suit to my skin.
However, I think that I simply chose the wrong products. The amount of cosmetics available at Stylevana is great. I will certainly be giving Asian skin-care another try in the near future. Although some users have reported issues with shipping, this was not the case with my order.
The ordering process was very quick and easy and all the products shipped exactly as marked on the order. All in all, I was impressed by Stylevana and will certainly be ordering from there in the future as well.