When I think of the finest fragrances, Burberry is often the first name that pops into my mind. It's a brand that has earned its reputation in the fashion world, not just for its iconic clothing and accessories, but especially for its exceptional perfumes.
I've always believed that the best Burberry perfumes for women are those that envelop you in a soothing fragrance, instantly refreshing your senses. What's more, these scents have a lasting presence without breaking the bank.
While it's true that top-notch quality might come with a slightly higher price tag, I've taken the time to handpick options below that truly give you the best bang for your buck.
Now, before we start with my list, it's essential to keep in mind a few things. Everyone has their unique scent preferences; while I might be drawn to floral aromas, you might find woody notes more appealing.
To make your selection process smoother, I've also included a buying guide to help you find your perfect match from Burberry's exquisite perfume range for women!
1.
Burberry Women's Classic Eau de Parfum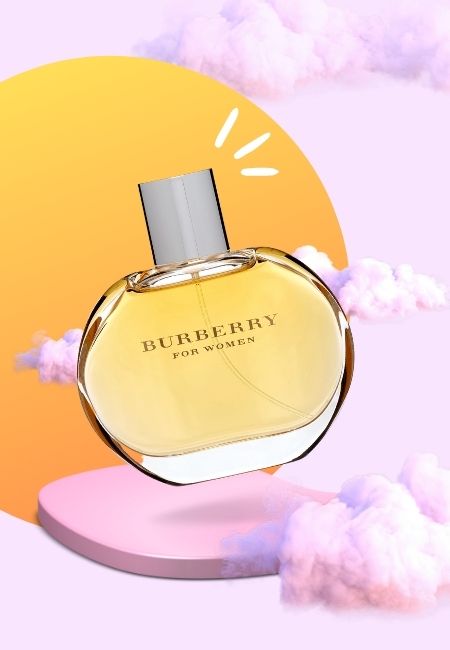 Check on Amazon
Check on Burberry
Check on Walmart
The Burberry Women's Classic Eau de Parfum is a timeless scent that embodies elegance and sophistication. With top notes of blackcurrant and green apple, it starts with a fresh and fruity burst.
 The heart notes of jasmine and sandalwood add a rich, sensual depth to the fragrance, creating a perfect balance that's neither too sweet nor too musky.
The base notes of musk and vanilla provide a warm, gentle finish that lingers throughout the day. This perfume is housed in a clear, classic glass bottle.
It's a versatile fragrance that suits any occasion, from a day at the office to an evening out.
| Feature | Specification |
| --- | --- |
| Brand | BURBERRY |
| Item Form | Spray |
| Item Volume | 3.3 Fl Oz (Pack of 1) |
| Scent | Classic |
| Top Notes | Blackcurrant, Green Apple |
| Heart Notes | Jasmine, Cedar Wood, Moss, Sandalwood |
| Base Notes | Musk, Vanilla |
| Special Feature | Warm notes of musk and vanilla smooth the base |
| Country of Origin | Germany |
| Customer Ratings | 4.5 out of 5 stars |
Pros
Long-lasting
Suitable for various occasions.
Appeals to a wide range of preferences.
Elegant packaging that reflects the brand's luxury status.
High customer satisfaction
Cons
The price point may be high for some budgets.
Some users may find the scent too strong if over-applied.
2.
Burberry Brit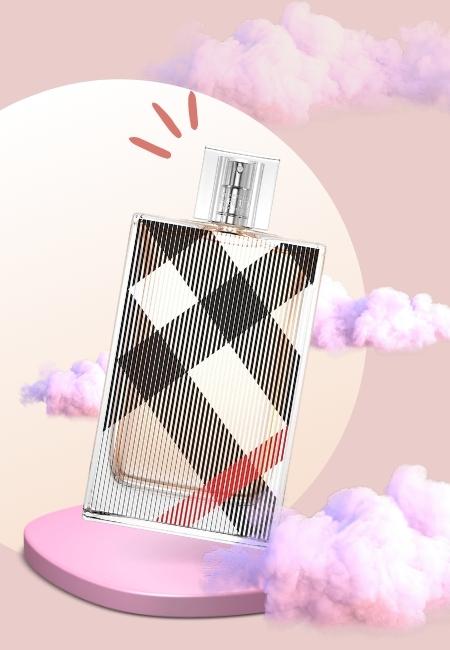 Check on Amazon
Check on eBay
Check on Walmart
The mix of traditional and modern notes in this perfume creates a scent that is both classic and contemporary. The perfume opens with a burst of crisp, icy pear that immediately captures your attention, followed by a sweet undercurrent of sugared almonds that adds a comforting warmth.
 It's not overpowering, yet it has a presence that lingers pleasantly throughout the day. The vanilla and almond notes give it a creamy depth that contrasts nicely with the light, fruity pear. It's versatile enough for everyday wear, yet it has a luxurious quality that makes it suitable for special occasions.
| Feature | Specification |
| --- | --- |
| Brand | BURBERRY |
| Item Form | Spray |
| Item Volume | 3.3 Fluid Ounces |
| Scent | Fresh, with notes of pear, almond, and vanilla |
| Special Feature | Warming amber and mahogany with sensual notes of vanilla and tonka beans |
Pros
The scent is well-balanced, not too sweet or floral, making it suitable for a wide range of ages and preferences.
It has good longevity, lasting several hours before mellowing into a warm, subtle fragrance.
The packaging is elegant and the iconic Burberry check design makes it a beautiful gift or display piece.
It's versatile for both day and night wear, fitting for different occasions.
The fragrance has a comforting warmth, perfect for cooler seasons.
Cons
Some may find the initial spray a bit strong before it settles down.
The scent's complexity might not appeal to those who prefer lighter, single-note fragrances.
The price point may be higher than some are willing to spend on a perfume.
3.
My BURBERRY Black Parfum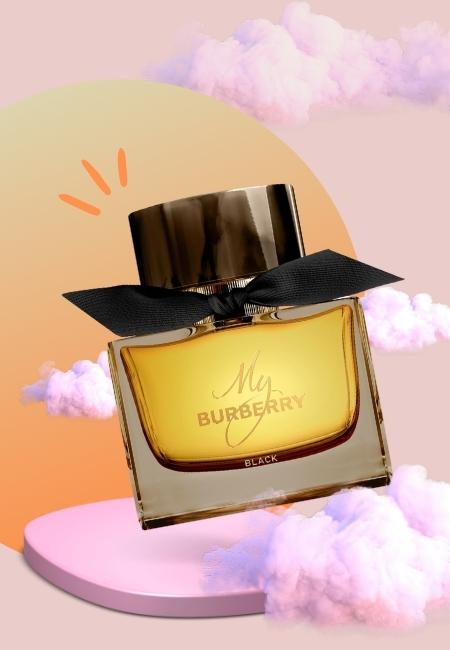 Check on Amazon
Check on eBay
This fragrance is supposed to capture the essence of a London garden at dusk, rich with the scent of blooming roses and a hint of thrilling jasmine. With its luxurious, floral aroma, it is designed for the woman who wants to leave a lasting impression.
The deep and intense notes of amber and patchouli wrap around the sweeter, floral tones, creating a sophisticated, yet deeply sensual presence. The scent is bold without being overpowering, and it has a certain warmth that makes it perfect for evening wear.
It has a staying power that sees me through events without the need for reapplication.
| Feature | Specification |
| --- | --- |
| Scent | Rose, Jasmine, Patchouli |
| Size | 3 Fl Oz |
| Type | Eau de Parfum |
| Special Feature | Intense & Sensual Aroma |
| Age Range | Adult |
Pros
Long-lasting
Sophisticated aroma.
Elegant design
Cons
Pricey, and less accessible.
Depending on personal body chemistry, the scent may develop differently, sometimes leading to an unexpected powdery note.
4.
Burberry Weekend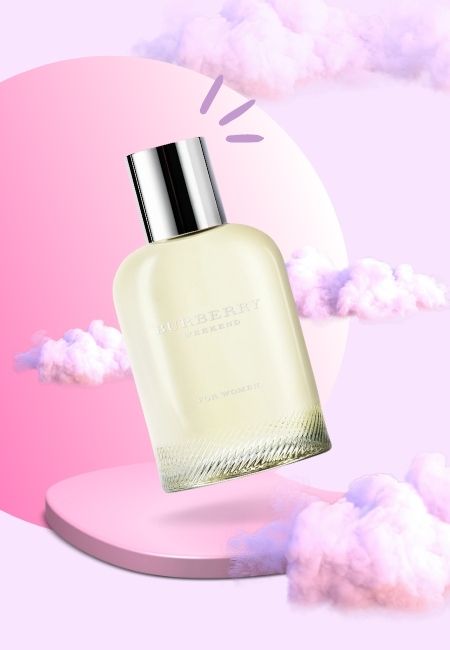 Check on Amazon
Check on Walmart
Check on eBay
The top notes of tangerine and tree sap blend with a delicate floral heart of wild rose, peach blossom, iris, and hyacinth, creating a fresh and vibrant aroma. The base notes of sandalwood give the perfume a subtle depth, making it suitable for both casual and formal occasions.

It's a refreshing fragrance without being overpowering, making it an excellent choice for daytime wear. The citrusy tangerine note is uplifting, while the peach blossom adds a soft, feminine touch. The perfume feels like a sunny weekend outdoors – relaxed, cheerful, and effortlessly elegant (hence the name).
| Feature | Specification |
| --- | --- |
| Scent | Floral |
| Size | 3.3 Fl Oz (Pack of 1) |
| Type | Eau de Parfum |
| Special Feature | Contemporary, refreshing, citrusy tone |
| Suggested Use | Apply to pulse points at the chest, neck, and ears |
Pros
The fragrance has a contemporary, refreshing tone that's not too heavy, making it ideal for daytime wear.
It's versatile and suitable for both casual outings and more formal events.
The scent has a good balance of floral and citrus notes, providing a pleasant olfactory experience.
Cons
Some users may find the fragrance does not last as long as they would like, with longevity being a few hours at most.
The scent may be too subtle for those who prefer a more robust fragrance profile.
5. The Burberry Brit Sheer Eau de Toilette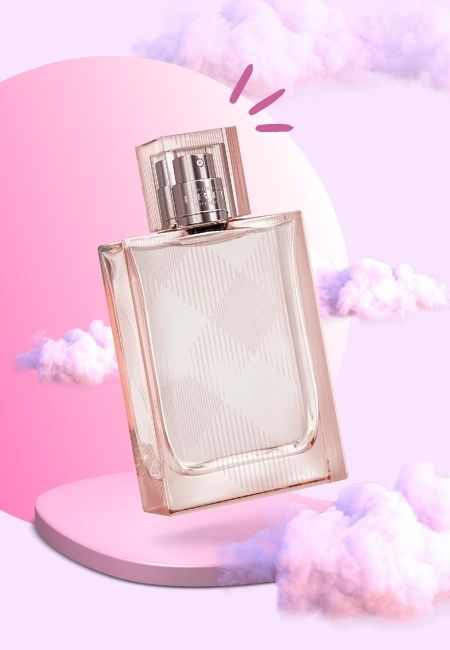 Check on Amazon
Check on Walmart
The Burberry Brit Sheer Eau de Toilette is a delightful fragrance that captures the essence of a fresh, joyful, and lively spirit. Its blend of fruity notes with a shimmering touch of pink peony, black grape, and a hint of musk creates a light and airy scent that's perfect for everyday wear.
The fragrance opens with a crisp, icy pear note that transitions into a sweet sugared almond and finishes with an intense vanilla dry down, offering a charming and delicate aroma that's both refreshing and subtly sweet.

It's the kind of scent that garners compliments for its clean and elegant profile, and we're all looking for that, right?
This Eau de Toilette is a fantastic choice for daytime wear, especially in the warmer months when a light fragrance is most appreciated.
| Feature | Specification |
| --- | --- |
| Scent Profile | Fruity, Floral |
| Top Notes | Black Grape, Icy Pear |
| Heart Notes | Pink Peony |
| Base Notes | White Musk |
| Size | 1 Fl Oz (Pack of 1) |
| Suggested Use | Apply to pulse points (chest, neck, behind ears) |
Pros
Fresh and Uplifting
Versatile
Elegant Packaging
Affordable
Cons
Some users may find that the scent doesn't last as long as they would like.
The lightness of the scent means it doesn't have a strong sillage or "throw" of fragrance around the wearer.
6.
Burberry London Eau de Parfum for Women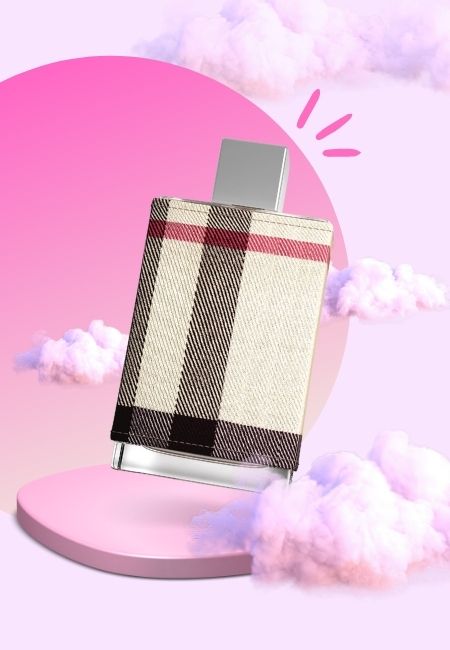 Check on DvaSata
Check on Walmart
The opening notes of glazed pomegranate and vibrant lemon give a refreshing and zesty start, which is perfect for a morning spritz that awakens the senses.

The heart of the fragrance is a floral bouquet with delicate rose petal notes, lifted with crisp apple, adding a modern twist to the classic rose scent. This is balanced with a base of jasmine and wisteria, rounding off the scent with an intensely feminine touch.
It's a scent that doesn't overpower but lingers pleasantly throughout the day.
| Feature | Specification |
| --- | --- |
| Brand | BURBERRY |
| Item Form | Spray |
| Item Volume | 100 Centiliters |
| Scent | Floral, Lemon, Pomegranate, Rose |
| Fragrance Concentration | Eau de Parfum |
Pros
The scent is vibrant and fresh, with a perfect balance of fruit and floral notes.
It has a modern twist on the classic rose scent, making it appealing to a wide range of users.
The perfume is presented in an elegant bottle that reflects the luxury of the Burberry brand.
Cons
Some users may find the floral notes too strong if they prefer more subtle fragrances.
The price point is on the higher end, which may not be accessible to all customers.
Things To Consider When Making a Choice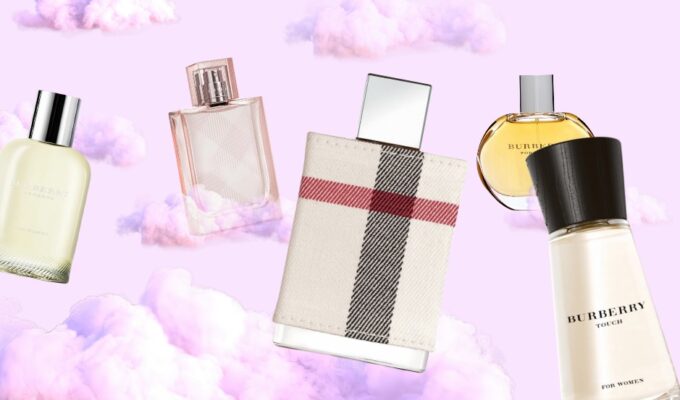 1. Shapes and Sizes
Burberry's perfumes are available in a variety of designs and shapes. When choosing one, it's essential to consider the bottle's shape and type. Most Burberry perfumes come with a sprayer nozzle that functions well. The creative and diverse layouts, especially in the women's collection, are something I particularly admire.
This brand offers perfumes in volumes ranging from 1 to 3.4 fluid ounces. Larger volumes are more expensive than smaller bottles, allowing you to choose a size that fits your needs. If you're seeking a convenient option, consider the smaller, travel-friendly packages.
2. Perfume Classes
Perfumes come in various classes, each with its unique characteristics and fragrance concentrations. Understanding these perfume classes can help you make the right choice when selecting a fragrance that suits your needs and preferences.
| Type of Perfume | Fragrance Concentration | Duration | Suitability |
| --- | --- | --- | --- |
| Extrait De Parfum | 15% to 40% | Around 8 hours | Sensitive skin or skin issues |
| Eau De Parfum (EDP) | 15% to 20% | About 5 hours | Everyday wear |
| Eau De Toilette (EDT) | 5% to 15% | Around 3 hours | Casual wear or nighttime use |
| Eau De Cologne (EDC) | 2% to 4% | A couple of hours | Budget-friendly, not for sensitive skin |
| Eau Fraiche | 1% to 3% | Cheap go-to option | Minimal alcohol, suitable for all |
3. Perfume Notes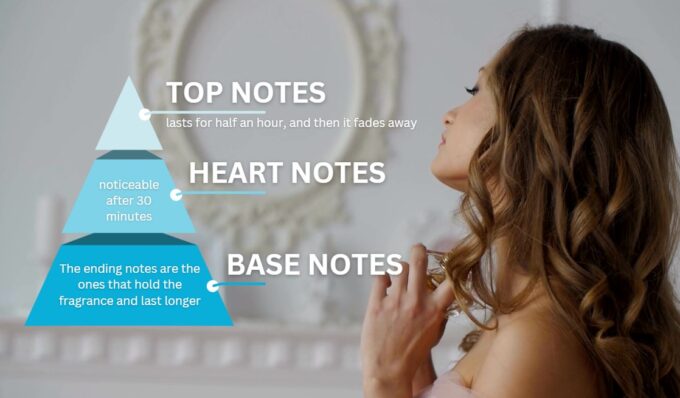 Every perfume consists of three notes: top, heart, and base notes, defining the scent's character. Understanding these components is essential when selecting a fragrance.
Top Notes
First, there is the top note or headnote, which is the initial impression of any perfume. When you bottle up a perfume, you experience this note. It lasts for half an hour, and then it fades away. The headnote consists of the following ingredients: lavender, citrus, lemongrass, and more. It smells very light and smooth.
Heart Notes
Surpassing the headnote, there is a middle or heart note, which becomes noticeable after 30 minutes. These are a little heavier than the top ones and consist of lavender, rose, jasmine, ylang-ylang, or geranium-like floral elements.
Sometimes, producers also add spices to the mid notes like cinnamon, coriander, or cardamom. These are pretty prominent notes which last for many hours. I love the aroma of coriander in the middle notes.
Base Notes
In the end, there are base notes, which are also known as bottom notes or end notes. The ending notes are the ones that hold the fragrance and last longer. If you spray perfume on your skin and smell it for more than hours, then base notes are probably what you're experiencing.
It includes oakmoss, patchouli, sandalwood, musk, or vanilla. My favorites are fragrances that contain vanilla in endnotes.
FAQs

Do any Burberry perfumes smell like vanilla?
Yes. The Brit collection for women by Burberry includes intense vanilla ingredients. These are primarily floral fragrances, which smell sensual and captivating. I found Burberry Brit Eau De Parfum fabulous, as it contains intense vanilla, sugar almond, icy pear, and crisp, giving a mesmerizing aroma.
How can I make my perfume last longer throughout the day?
To extend the longevity of your perfume, apply it to pulse points such as the wrists, neck, and behind the ears. Moisturized skin holds scents better, so consider applying an unscented lotion before your perfume. Also, storing your perfume properly, away from heat and light, can preserve its quality.
Is there a Burberry perfume that is universally flattering and a safe gift choice?
While scent preferences are highly personal, Burberry Women's Classic Eau de Parfum is often appreciated for its timeless and elegant scent profile, making it a safe and sophisticated gift choice.
How often should I reapply my Burberry perfume?
This depends on the specific fragrance and its concentration. Eau de Parfums may only need a touch-up after several hours, while Eau de Toilettes might require more frequent application. Pay attention to how the scent develops on your skin and reapply as you see fit
Why is Burberry perfume so expensive?
That's simple! Burberry fragrances are famous for delivering the most therapeutic and captivating aroma, which lasts longer than usual. And, to acquire good things, you've to pay more. Plus, I have to add that please never buy cheaper cosmetics because you'll apply them to your skin area.
Final Words
Choosing a perfume is a deeply personal experience, and Burberry's collection acknowledges this by providing options that range from light and airy to rich and sophisticated. The key to selecting the perfect Burberry perfume lies in understanding your scent preferences, the context in which you'll wear the fragrance and the character you wish to embody when you wear it.
Burberry London: Long-lasting with mesmerizing fragrance.
Burberry Women's Classic: Trendy with a sensual, warm aroma.
Burberry Weekend: Notable for its design, citrusy smell, and price.
That concludes our overview of Burberry perfumes for women. I hope you've found the perfect fragrance for your upcoming event. Remember, perfume can significantly impact your feelings, mind, and personality, so choose thoughtfully!