Last month was a pretty crazy month in terms of shopping, and a-hauling new beauty products. My so-called discipline in spending money is an exercise in futility I tell you. Last month's hauls included purchases from Sephora (all from the Sephora Spring's Hottest Ticket/Chic Week sale which ended last week) and stuff from the drugstore. I'm splitting the haul into two parts because one post would be too lengthy to include everything. Let's dive into the Sephora haul, shall we?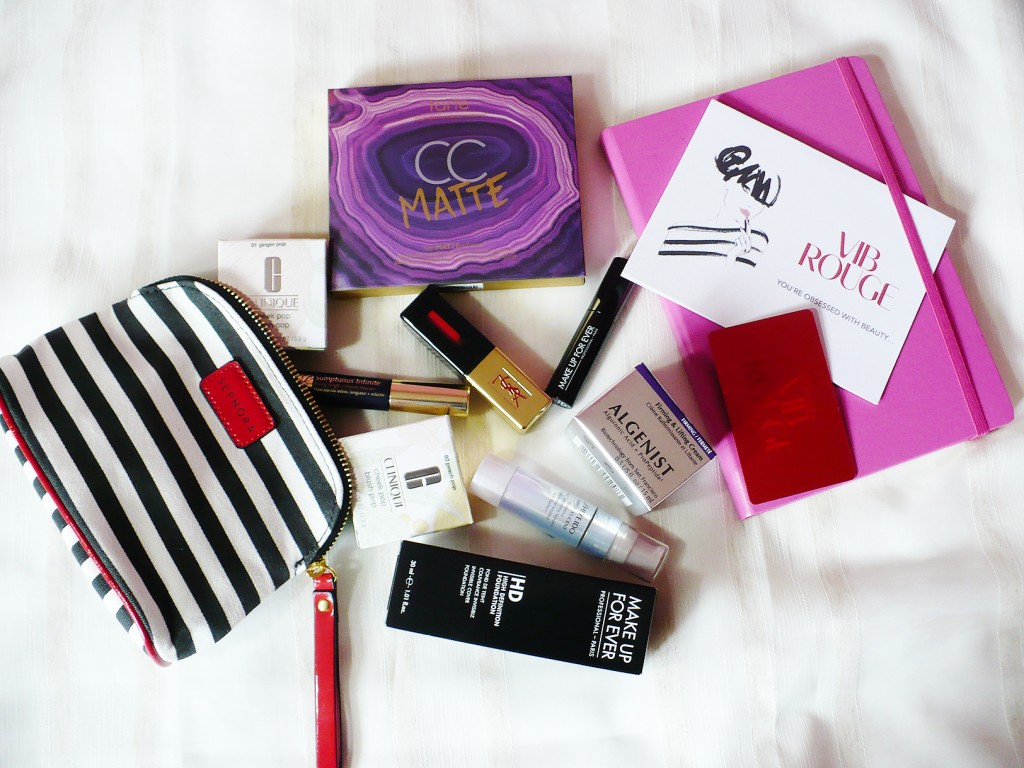 This was the smallest haul I've ever made during a sale, particularly from Sephora. The huge mark-up between the US/CA price, duties on online orders, as well as the fact that there is a friggin' 13% tax on a 15% discount meant that there wasn't as much savings as I hoped – ya'know what I mean? For your entertainment, I included my spreadsheet which, the analyst in me made me do to see how much money I'd save by shopping in Canada vs. US (including discounts, exchange rate and taxes).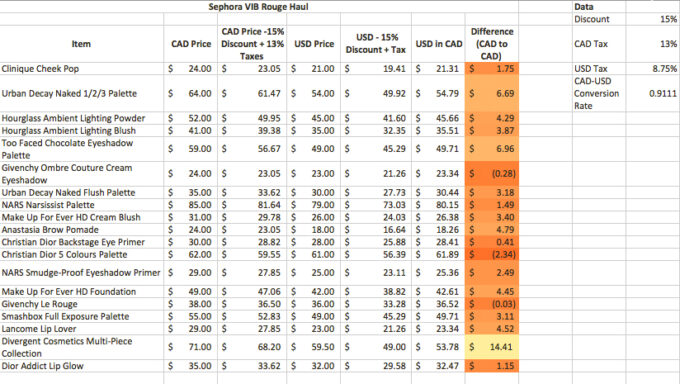 My conclusion? The highest frequency occurs at $4-6 price difference. Most of the observations (including discounts and taxes) occur mostly at $4, $5, $6 – meaning that for most the products I've included in this analysis, there is a price difference around $4-6. Anything in the negatives mean that it's actually CHEAPER to buy in Canada. It was also very interesting to see that brands like Givenchy, and Dior have the lowest price difference before and after discount.
I wrote about the private shopping event that Sephora hosted for VIB Rouge members. I managed to make it to the Bloor Store which I think was a fantastic decision (and thinking) on my part. Firstly, VIB Rouge members received a small makeup bag filled with samples. The makeup bag is quite nice – small and functional (unlike the tote from last year!) but the samples were somewhat disappointing. Despite the size of the samples, I still really appreciate Sephora for hosting this event, and I like that the sample selection was actually from high-end/pricier brands, allowing us to get a feel for those products before splurging on them.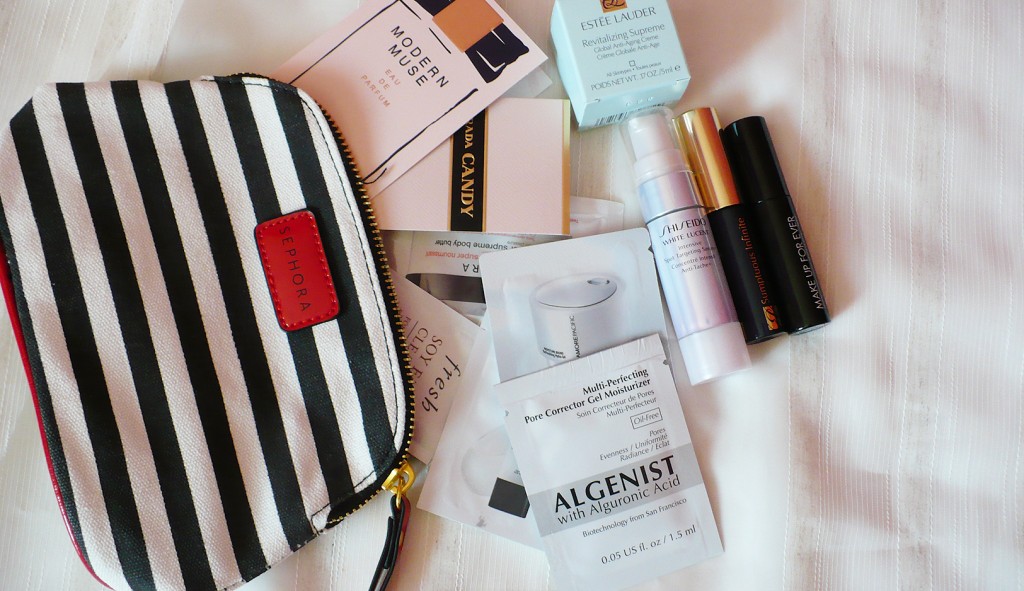 I think depending on which store you went to, you'll have a vastly different experience. As I was checking out at the Bloor Store (with a measly $23 item including taxes – the Clinique Cheek Pop), I was given a couple more free items, including a Shiseido Shiseido White Lucent Moisturizer, Estee Lauder Sumptuous Extreme mascara and a Make Up For Ever Smokey Lash mascara. That was completely unexpected, and a very much nice surprise. The next day, I went to a different Sephora to pick up more stuff and received the same sample bag (same items), but this time, I was given a thank you card (nice touch!) and a complimentary brow service at Benefit's Brow Bar (valued at $26) – what the what!? That was completely unexpected, and totally incentivized me to spend even more…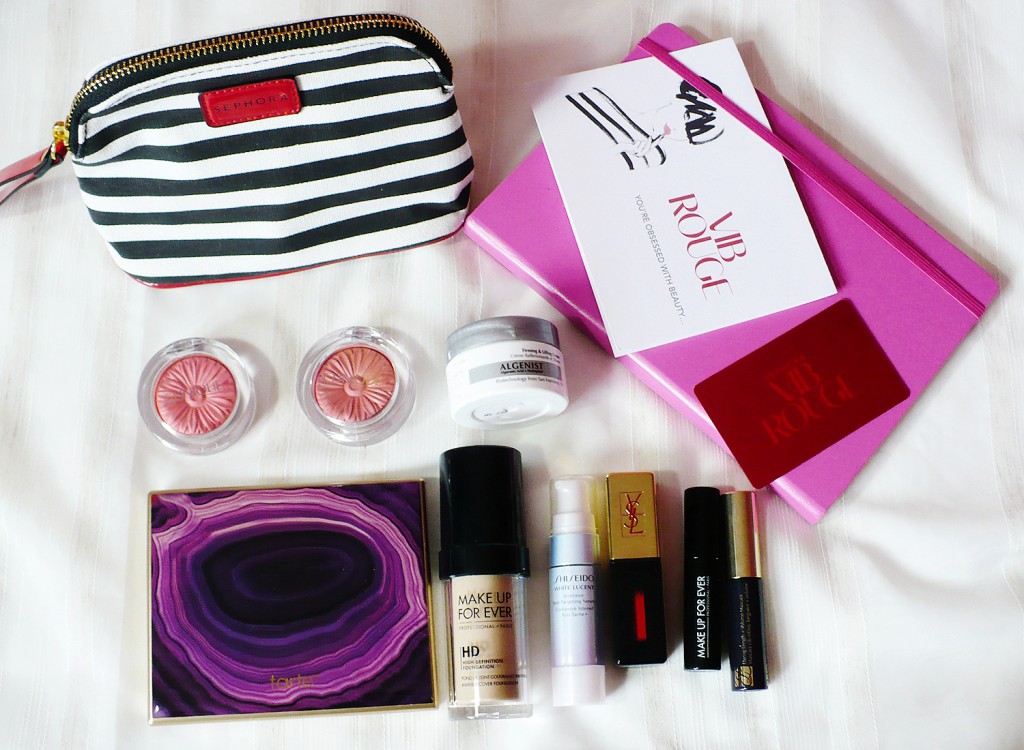 Onto the haul itself, my haul included the following:
CliniqueCheek Pops in Ginger Pop and Peach Pop ($24, available here)
TarteBe Mattenficent Palette ($43, sephora.ca, LE)
Make Up For EverHD Foundation in N120 ($49, available here)
Yves St LaurentRouge Pur Couture Vernis à' Lèvres Glossy-Stain in 9 Rouge Laque ($38, available here)
100 point perk redemption: AlgenistFirming & Lifting Cream ($115, available here) – valued at $28.75
Deluxe-sized Samples: Shiseido Shiseido White Lucent Moisturizer, Estee Lauder Sumptuous Extreme Mascara and a Make Up For Ever Smokey Lash mascara
What about you? What did you purchase from Sephora Spring's Hottest Ticket/Chic Week sale? What did you purchase recently?