So I caved, and bought a couple of things – hence the haul post – from the Sephora Love Note VIB Rouge sale and a couple of other places. I could never resist a sale even for just 15% off some new products to play with. I've been feeling somewhat makeup-ed out so I've given myself a very strict spending limit of $100 (Or $113 with tax). Regular Sephora shoppers know that $100 will get you 1.5 items, and that's exactly 1.5 more items that I actually need at this time. However, this was a good way to check out what's new and refresh / update a couple of products that I'm currently out of stock on!
As much as I love a 15% discount at Sephora, I was lucky to save more elsewhere, so before we delve into the fantastic purchases, I wanted to share a quick story of how I saved money by not shopping the Sephora sale…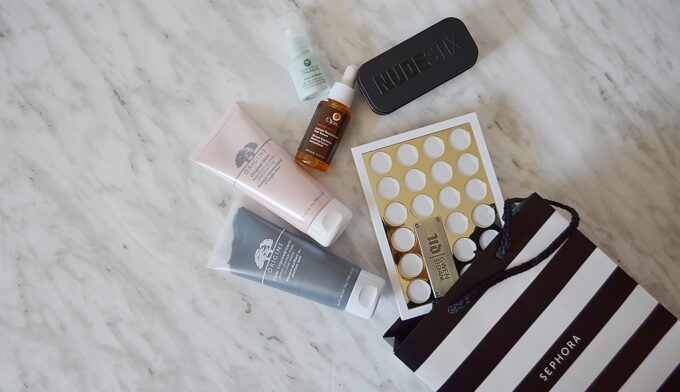 How I saved Money by NOT shopping the Sephora Sale…
I ended up returning 2 Origins masks that I got from Sephora as Origins was having a much better sale and they carry products and the in-house all natural hair brand, Ojon, which is no longer available at Sephora. I ended up purchasing the same 2 face masks – directly from the Origins website – and the savings from that sale allowed me to purchase 2 more Origins products for the same total!
What was the deal? Origins was offering $20 of $45 purchase, and free shipping over $30! I actually bought stuff that added up to $29.95 and it still shipped for free. To take advantage of the deal, I ended up making 3 separate orders to maximize the savings and ended up spending $98 (including taxes) on 6 products rather than $60 on 2 face masks! Since two of the items are for my sister, I actually stayed under my spending limit!
The Sephora Haul Bits
I wasn't intending to buy this, but the NudestixNude Lips & Cheeks 3 Piece Mini Set ($28, available here) was simply too good to pass up! I recently reviewed the NudestixIntense Matte Lip + Cheek Pencil ($28, available here) and gave it glowing reviews because it is one of the best lip formula's I've come across. When I saw this kit, I got really excited – it featured 3 products for the price of 1! Of course, I had to compare the actual product sizes – I was stoked to see that the pencils are actually full-sized (0.088oz) and not mini's like the name implies!
I saw that Sephora had added the Urban Decay x Gwen Stefani products on sale after the VIB sale ended, which was a real bummer to be honest. However, I decided to still purchase the Urban Decay x Gwen StefaniLimited Edition Blush Palette ($70, sephora.ca) as I was curious about the blushes and it's been a really long time since I bought blushes and at $6.67/blush, this was a deal I couldn't pass up.
Origins Haul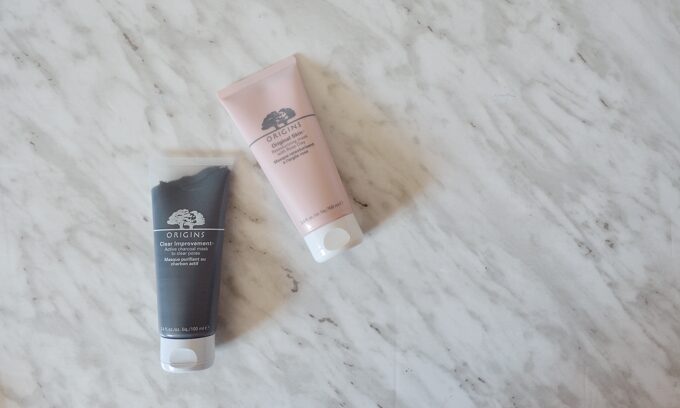 The much-raved about OriginsClear Improvement Active Charcoal Mask ($31, available here) is my sister's go to product and one that I am guilty of introducing her to. This charcoal-based face mask does the job like no other face masks I've ever come across, and I can always tell when I see my sister, if she's skipped a week without using it. I used a little bit of her mask a couple of weeks ago, and the many compliments that rolled in afterwards made me realize that I had to get my own tube!
I got addicted to this face mask (and I haven't even cracked it open yet!) and since Origins offers one of the more affordable range of high-end face masks, so I decided to try out another one, the OriginsOriginal Skin Retexturizing Mask with Rose Clay ($31, available here). Similar to charcoal, clay is an incredible ingredient in skincare products because it tightens the pores, helps calms any inflammation on the skin and detoxes the skin so it looks more radiant, and improves the skin texture. I've tried rose clay face mask from Lush before, and I wanted to try Origins' offering to see which of them I preferred.
To meet the minimum free shipping requirement for the first order, I purchased the OriginsPeace of Mind On-The-Spot Relief ($15.50, available here) scented oil which I think will be great for travelling. It is meant to be massaged to the back of your neck, tempers, and earlobes to help when you're feeing that headache coming on.
Another item I picked up to meet the minimum order is the OjonInstant Restorative Hair Serum ($19, available here) which is housed in a little bottle with a dropper. I love hair serum and oils, particularly when my hair is exposed to the elements during my travels.
Altogether, I spent $116 including taxes, and shipping which means I was only $3 over from the sale (excluding the Urban Decay blush) which is definitely still under my intended spending limit!
What did you purchase form the Sephora Love Note sale?