I have been a bad noodle again, and went on a mini Sephora haul online. No, I don't need more makeup. No, I don't need more skincare. I simply couldn't resist the new point perks that Sephora has added online… So much so that I splurged on my point balance (1000+) on the mini's they had available. As much as I tried feeling bad about these purchases, I couldn't. Especially since I've just recently discovered a $6 splurge that's keeping my tired toes and feet totally happy and sandal-ready all summer long…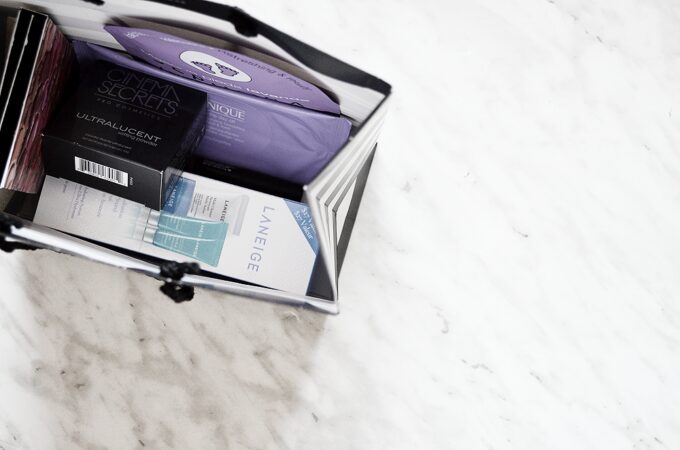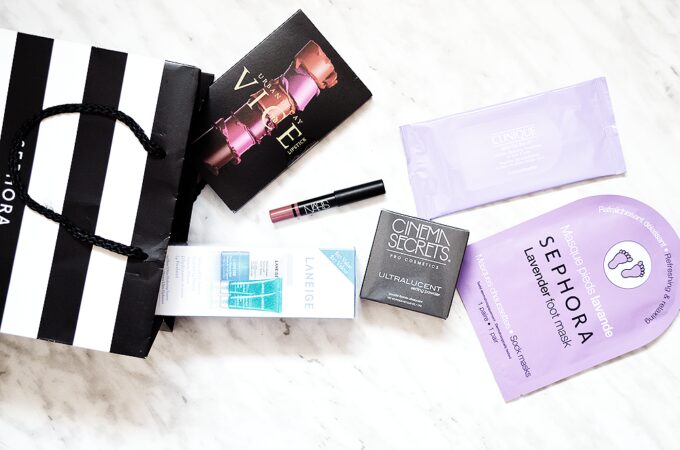 Since I know I don't need anymore makeup or skincare products at the moment, I allowed myself to splurge on things that I may have considered a waste of money before. Enter the Sephora CollectionFoot Mask ($6, available here)! Lately, I've been feeling a bit self-conscious wearing sandals outdoors because my feet are so cracked and dry – so embarrassing! Since this was $6, I thought I'd give it a try and see if I liked it. I gave it a whirl this past weekend, and so far it's good enough for me to repurchase! There are two formulas available to address tired feet (Lavender) or to repair (Almond).
I also purchased a setting powder from Cinema SecretsUltralucent Setting Powder ($27, available here) which I think is an up and coming brand so we'll see how this one works out! The last item I picked up is the LaneigeHydration Trial Kit ($18, available here). I've tried a number of their products but I'm always open to trying more of this affordable skincare range!
Stocking up on Point Perks
The two items that I stock up on through separate orders I put in were the NARSSatin Lip Pencil in Rikugien ($33, available here) and the CliniqueTake The Day Off Micellar Cleansing Towelettes for Face & Eyes ($17, available here). I chose to restock on the NARSSatin Lip Pencil in Rikugien is because of how comfortable and perfect this formula/colour is on my skin. It's one of the few lip products that I have actually managed to finish! I love the finish and on top of that, the mini is actually almost the full-size (mini: 0.06oz, full-size is 0.07oz)! Since I travel quite a bit as well, it just seems to make sense for me to pick up the Clinique makeup wipes for those flights and travels!
What have you picked up from Sephora recently?