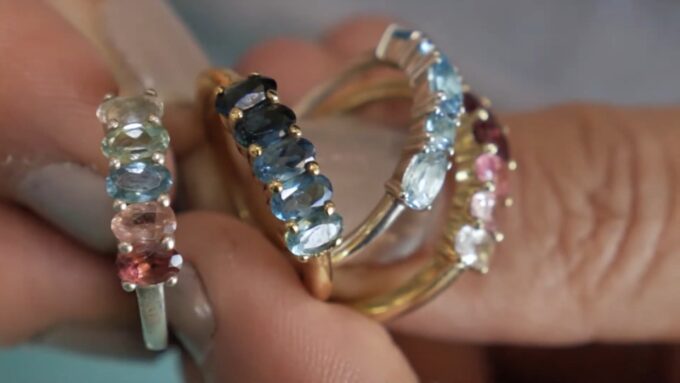 Wearing jewelry, especially gemstones, according to your skin color can help to positively transform your personal style. It not only enhances the attractiveness of a person but also adds a charming appeal. Since there is a wide range of gems to choose from, choosing one that suits you can be like pushing a boulder up the hill.
It is also important to note that not all gemstones will suit your skin tone. You must understand how your skin's complexion can complement certain gems and their different hues.
In this article, we will help you understand the different skin tones and the gemstones that complement them. Read until the end to identify which gems are perfect for you.
Let's get started!
How to Determine Your Skin Tone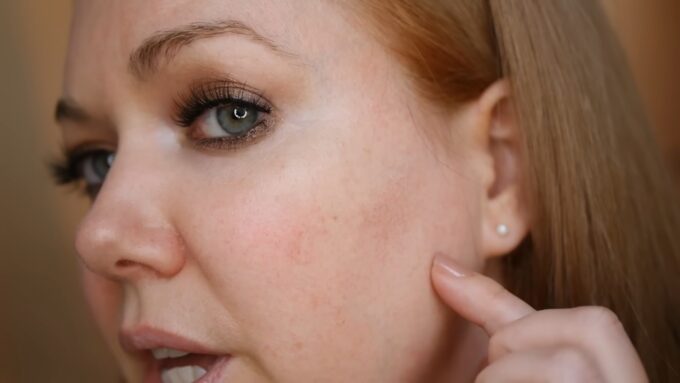 Since not all gemstones will suit you and your style, it's important to determine your skin tone to help identify the right gem for you. The following are the three main categories that you need to be aware of:
Warm: These types of skin tones exhibit light colors. Depending on how light or dark the skin is, you'll see yellow, peach, or golden undertones.
Cool: This refers to a skin type with bluish, pinkish, or reddish undertones. People with a cool skin tone prefer wearing blue, purple, or red clothing or jewelry.
Neutral: This type of skin tone strikes a balance between warm and cool undertones, resulting in brown, peach, golden, amber, or olive colors.
The Color of Your Veins Can Affect the Type of Gemstones You Should Buy
You can identify the color of your veins by extending your arms under natural light and closely paying attention to your wrists. This is one of the few parts of the body where you can see the veins and their color.
If you've got blue or purple veins, that means you have a cool skin tone. On the other hand, a green vein is a sign of a warm undertone. You can also determine your skin's complexion by your jewelry preferences.
Those who find themselves gravitating towards gold and earthy tones have a warm skin tone, while those with a cool one may find themselves attracted to silver and icy hues.
What Are the Gemstones for Warm Skin Tones?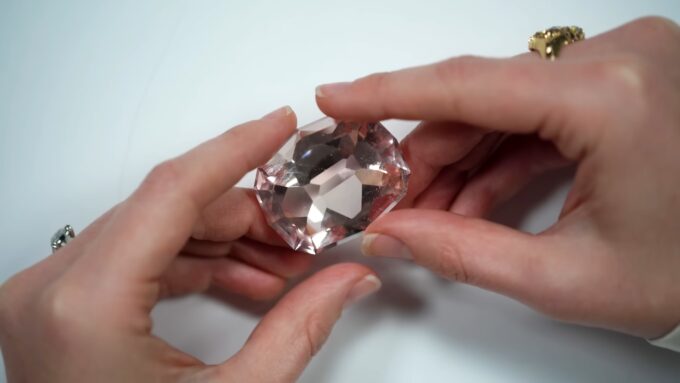 There are many different gemstones that complement individuals with warm skin tones.
Shades of yellow, orange, red, and brown beautifully blend with these types of complexions, perfectly highlighting the undertones and complementing the individual's style.
The following are some of the gemstones that suit people with warm skin tones:
Citrine: With its vibrant yellow hues, citrine resembles the warmth of sunshine. It accentuates the golden undertones in warm skin and brings a bright glow to one's complexion.
Garnet: The deep red garnets create a striking contrast against the warm skin tones. Their rich and passionate shades induce a sense of energy and vitality, enhancing an individual's complexion.
Morganite: Considered to be very trendy due to its rosy pink hues, Morganite is a fantastic alternative to diamond that creates a captivating effect.
Now that you know the gemstones that suit warm skin tones, it's essential to understand their effects and benefits. These gems not only make your complexion pop out but also have unique healing and metaphysical properties.
Citrine is also known as "lemon quartz" due to the color that comes from traces of iron. However, that's not why the stone is popular. Many believe that it brings success and prosperity, which makes this a highly sought-after gem.
On the other hand, Garnet symbolizes love and devotion. It can help an individual energize and revitalize. At the same time, Morganite has healing properties that help get rid of egos and open users to unconditional love.
What Are the Gemstones for Cool Skin Tones?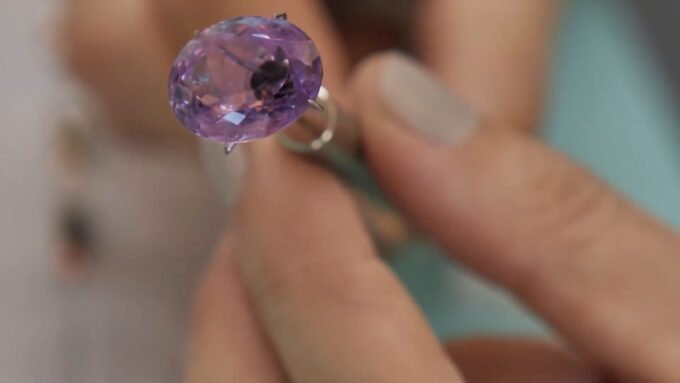 If you have a cool skin tone, then you may want to consider gemstones that enhance your natural coolness and radiance. Some of these include the following:
1. Sapphire
The deep blue allure of sapphires complements the pink or blue undertones of cool skin tones. They create a captivating contrast and add a touch of elegance to one's complexion.
2. Amethyst
With mesmerizing shades of purple, amethyst adds a certain depth and sophistication. This gemstone is often used in alternative medicine, and many Ayurvedic medicine practitioners believe that it has properties. However, in Greek Mythology, the god of wine used the stone to help preserve his sanity.
Some of the healing properties of the gemstone surfacing online include promoting a healthy digestive system, improving one's immune system, and reducing headaches. Besides that, Amethyst promotes serenity and calm, helping reduce stress and anxiety.
3. Aquamarine
If you're looking for a stone that helps you gain insight and truth while complementing your cool skin tone, you may want to consider aquamarine.
The blue-green hues are the shades of water which is why many believe that this gemstone is great for relieving problems associated with fluid retention. It helps calm one's mind and nerves by flushing out the toxins from the body. Click here for more information about the healing properties of this stone.
Aquamarine is also referred to as the "good luck" stone, as some believe that the stone brings them peace, love, and joy. Regardless of the properties it has, the gemstone has an elegant look that will have people turn their heads as you walk past them.
What Are the Gemstones for Neutral Skin Tones?
A neutral skin tone is a balance between warm and cool undertones, and there are certain gemstones that help highlight this complexion. These include the following:
1. Pearl
Known for their strong connection to the moon, pearls are one of the most popular gemstones. It not only has a distinctive glow, but many people believe that it helps with different types of lung issues, such as asthma and bronchitis.
Besides that, this stone has been used for centuries for fertility and easing pain during childbirth. The subtle shimmer and its exquisite beauty make this a great gemstone to wear. People might think you're a "rolling stone"!
2. Diamond
It's true when Marilyn Monroe said, "Diamonds are a girl's best friend" because of their dazzling brilliance. Diamonds are bright and icy, which makes them perfect for those with a neutral skin tone.
Diamonds help stimulate creativity and imagination while eliminating fear and reducing emotional pain. Many people believe that this gemstone helps purify the body and disperses negativity. The gem makes you feel confident, which is why it's a no-brainer why many celebrities cover themselves with it at the Oscars or other events.
3. Opal
According to Tiny Rituals, opals are full of vibrational energy, which is why the gemstone is gleaming with healing properties. The charming bluish and white icy undertones perfectly complement those with neutral skin tones and bring a sense of balance.
Wearing opals will not only grab other people's attention, but it is also believed to promote creativity and inspiration.
What's the Right Gemstone for Your Skin Tone?
Whether you're looking for a sense of energy that comes with the deep red garnet or the distinctive glow of a peal, it's essential that you identify your skin tone first before selecting a gemstone that reflects your personality.
Since there are many different gemstones that suit the three main skin tones, you may want to consider visiting a local shop to experiment with the choices available. Wear one to see whether it suits your complexion.
Remember, the perfect gemstone is the one that suits your personality and skin tone. It should make you feel confident and also attract a lot of compliments!