Facial cleansing brushes are not a necessity but they make cleansing easier. Furthermore, using a cleansing brush will enhance the effectiveness of your cleanser. Thus, you get better results from the same product.
Our Pick
Amazon's Choice
Good Pick
Don't Miss
EZBASICS Facial Cleansing Brush Made with Ultra Hygienic Soft Silicone, Waterproof Sonic Vibrating...
FOREO LUNA 3 Facial Cleansing Brush | Sensitive Skin | Anti Aging Face Massager | Enhances...
PMD Beauty Clean - Smart Facial Cleansing Device with Silicone Brush & Anti-Aging Massager -...
FOREO LUNA Mini 3 Silicone Face Cleansing Brush, All Skin Types, or Clean & Healthy Looking Skin,...
However, you need to be careful with the selection of the brush because it can make things worse for you. If you choose the wrong brush or low quality, it can negatively affect your skin. Moreover, facial skin is more sensitive. Therefore, it requires a delicate touch.
So here we are providing you with the list of top cleansing brushes that will bring better results while keeping your facial skin safe.
List of Top Cleansing Brushes
1. EZBASICS facial cleansing brush, soft silicone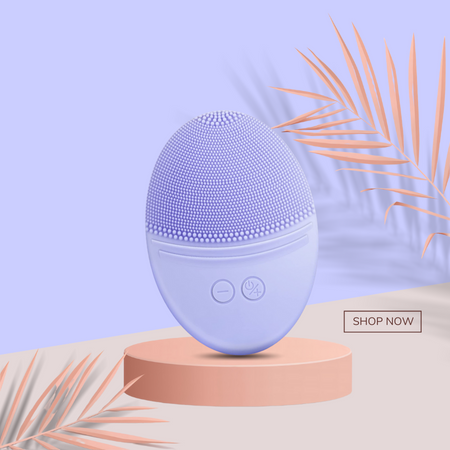 This is a battery-powered silicone brush made from hygienic and soft silicone material. It will provide you with a gentle touch which is necessary because you will be using it on your face. Furthermore, it is safe for all skin types. All you need is to turn on the power button and it will start vibrating. The soft silicone heads will gently cleanse your face from makeup and also remove blackheads.
And because it runs on battery, you will need to recharge it. This face scrubber has induction charging equipment. This makes it easy to recharge and safe for use. It will require 3 hours to completely charge the gadget and then you can use it 200 times. So you do not need to recharge it before every use. A single charge will last for many days.
In addition to cleansing, the vibratory motion of the gadget will also offer a great massage. So you can get your youthful look. Furthermore, it is oval in shape which is why it is quite convenient to hold in your hand. And the best thing is that it has an IPX7 waterproof feature. So even if it runs through batteries, there won't be any risk of damage to it during use. You can comfortably use it during your shower.
2. FOREO Luna 3 smart facial cleansing massage brush


With this Luna 3, you will get your spa-like treatment at home. You will only need a minute to get clear and smooth skin. It offers a bit longer and softer touch points with its silicon brush. They provide gentle skincare that won't cause any harm to your skin. Furthermore, they will clean the pores deeply and will wipe off the trapped dirt in there, and will unclog them.
The power button is on the back of the brush. You will press this universal button and turn on the brush. It will give a vibratory effect that will enhance the performance and will also give massage to your skin. Or you can download the FOREO app and connect your Luna 3 via Bluetooth. A smart control.
The best thing about this Luna 3 is that it offers three different models for different skin types. This one is for sensitive skin. And you will also find the brush for normal and combination skin. So you are not settling for something that is not for you. If you have very sensitive skin, it will be difficult to choose anything randomly. But this Luna 3 is only for you.
3. PMD clean, smart facial cleansing device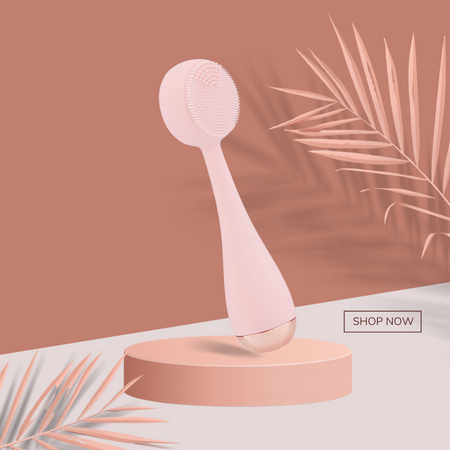 This one is a bit different from the previous two. This is a cool handheld cleansing tool with a very comfortable handle to hold. So if you do not like the oval shape or it is difficult for you to hold it in your hand, you will surely love this one.
It also has soft silicone bristles that will cleanse your skin. Furthermore, the whole outer body is made of silicone. So you will get a comfortable touch. In addition to this, it produces 7000 vibrations per minute. They not only enhance the cleansing effect but also give a proper massage to your facial cells. Moreover, the body is waterproof. Therefore, you can comfortably use it during the shower. No need to make some extra time for it.
But that's not all. The back of the massager has SonicGlow technology. You can use the other side of the brush to apply moisturizer to your skin. This makes your facial care almost hands-free. The vibratory effect will maximize the penetration of the serum or moisturizer (whatever you are applying).
Buying Guide
1. Material
When buying a facial cleansing brush, the most important factor is the softness that it can offer. You will be using it for your facial skin. Therefore, you cannot take any risks. If the bristles are hard, they will damage your skin. Furthermore, there will be a risk of a breakout and they can even cause scratches on your face.
Therefore, the best material that you can get is silicone. It is soft and firm enough to provide you with a gentle touch while cleansing your face.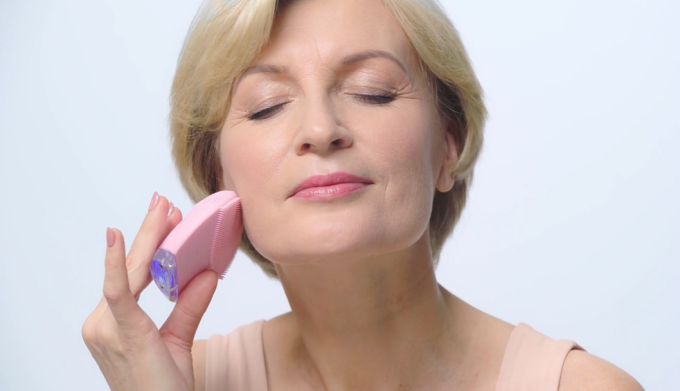 2. Mode of action
There are major two types that you will get. One is the battery-operated one while the other type is manual. The choice is yours however, battery-operated gadgets are easier to use. So if you live a busy life working and managing your home, you won't have enough time for your skin. Therefore, a battery operated brush will help you out.
On the other hand, manual brushes allow you to use them whenever and however you want. You do not need to worry about recharging them. However, we would suggest using a battery-operated one because it offers a vibratory effect that offers skin massage and improves your skin texture.
3. Waterproofing
If you buy a battery-operated cleansing brush, you will need waterproofing too. Although the manufacturers induce this feature in battery-operated cleanser brushes, you still need to make sure that you are getting it. You can check the IPX feature in the description of the product. Having IPX means that the gadget is waterproof and you can safely use it in the shower and during your bath.
Take a look at these other picks from Amazon also: