It's a really good day when my lipstick lasts through the morning and well into lunch. I admit, it's vain to judge how my day is going by how I look but I feel so much more empowered when everything from makeup, clothes and attitude are put together to kill that pitch I've got ahead of me!
One thing that I don't do despite the beauty blogger blood of me, is touch up my makeup during the day. Among the many things I have to do during the day in the office, for the blog, and other personal errands, touch up's don't even make it on the list. Plus I already have to carry a whole bunch of things in my bag and the last thing I want to worry about is carrying the extra bits in my makeup bag.
Lately, I've been trying out different things to make my lipstick last all day and I think I've figured out a Stephanie-approved formula – quick, actually lasts for 8+ hours and only uses products that you already have. It's guaranteed to last through your morning cuppa, those morning meetings and you'll look fresh going into lunch!
Did I get you excited? Here we go!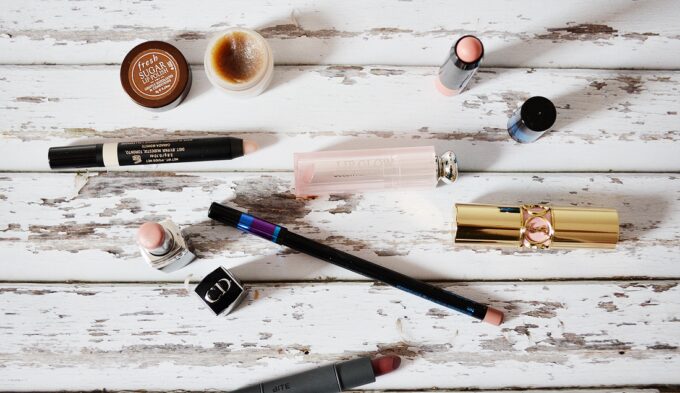 1. Prep & Moisturize
One thing that I try to remember doing the night before is using a lip scrub to slough off the dry skin and get my lips as smooth as possible. I use the FreshSugar Lip Polish ($28, available here) but a simple mixture of sugar and coconut (or olive oil) will do the job just fine! I find that this step will make your effort go a long way!
When I'm getting ready in the morning, once I've washed my face and just before I put on any makeup, I liberally apply an intensively hydrating lip balm which will prevent my lips from chappy. I love the NuxeReve de Miel ($17, available here) as it keeps my lips so hydrated all day and doesn't feel heavy nor taste funny. After allowing it about 2-3 minutes to set, I move on to step #2.
2. Prime
Priming the lips seem so inconsequential and almost doesn't feel like it's necessary. I think if you're going to spend the extra 5 minutes doing this, you might as well do it right. A good start would be to use a lip primer. MAC offers a really great one – the Prep + Prime Liner ($20, available here) which comes in a convenient pencil format. Another multi-purpose option that will stretch your money a little bit more is the NudestixBlur pencil ($28, available here) which can be used on your face to reduce pores in addition to smoothing out the lines on the lips.
3. Line!
A lipliner is your best friend when it comes to keeping your lipstick stay on. Technically speaking, even after the lipstick wears off, the lipliner is the only thing that will stay on. It's wise to choose a neutral lip liner shade that can work with multiple lipstick or gloss colours. I am completely obsessed with MAC's Lipliner ($19.50, available here) formula, particularly the shade Boldly Bare from the Christmas collection. The neutral shade is perfect for everyday wear, either on its own, or with nude neutral shades which I love to wear everyday.
I like to start out by drawing around the lip area to prevent feathering, and colour over the lips completely. Once I have this done, I have a smudge-proof and fade-proof base that is the perfect to layer a lip colour over.
4. Set!
Just like how you would set your face makeup, setting all the hard work you did before you apply the lipstick and gloss over it. A quick, light dusting of your face powder over the lip liner will seal the liner in place so you can apply your regular lip colour over it. Dust another light layer over the lipstick to seal everything in!
No matter what formula and brand you use, this quick 4-step method should help keep your lipstick looking fabulous all day!
What are some of your favourite tips for keeping your lipstick stay all day long?