I'm all about perfecting my skincare routine, and when it comes to trying out new skincare treatments or regimen, I usually have my hand up before anybody else does. However, I'm usually the first to bail when it comes to any types of treatments involving machines, needles or dentist-like monstrosities equipments. After a lot of sweating, and running through a whole bunch of "What if" scenarios, I decided to pop by GTA's Q Esthetics Laser Clinic and try out the new Q Max Facial ($325, more info here).
The Q Max Facial is a breakthrough in non-invasive skincare treatments that does 3 things in one visit. It allows you to walk away with the best possible result in the least amount of time! The treatment exfoliates, extracts and infuses the skin with potent, medical-grade, skin-specific serums for an all-inclusive treatment in one visit.
I approach everything with a healthy dose of skepticism so I thought all of this seemed to almost be too good to be true. Plus, any time I think of clinic, or laser, I always think of dentist-like environment with tongs, needles and strange whirring machines around. Nightmarish stuff.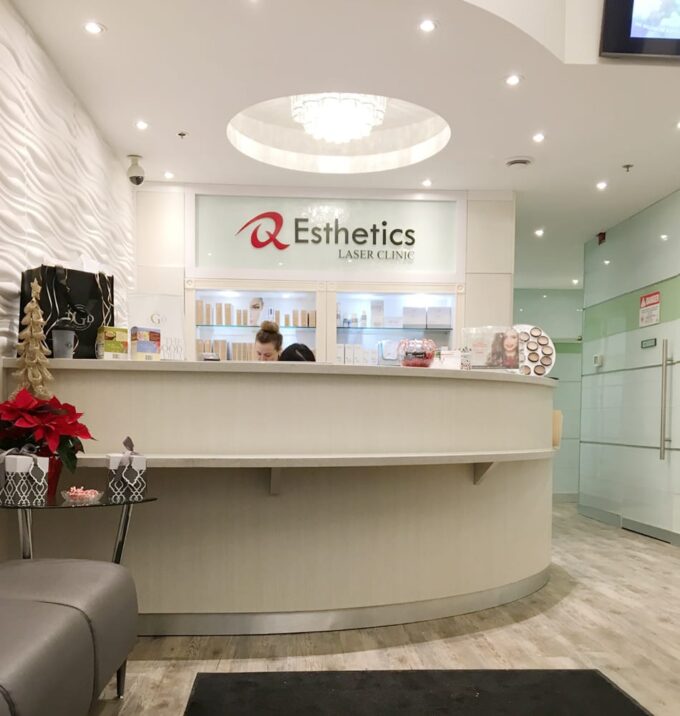 Q Max Facial Experience
Upon arriving at the Q Esthetics Laser Clinic at around 5pm, I was immediately greeted by a very cosy and modern-looking office that just exudes warmth and comfort. After completing the standard new patient form, I was led to one of the treatment rooms.
I was told there will be a 15 minute consultation, but I know exactly what kind of skin concerns I want to be addressed and told my cosmetic nurse. After removing my face makeup, she inspected my skin and agreed that she'll focus on the hyperpigmentation from old acne scars, and a bunch of freckly sun spots that had popped up from my last two trips to the Middle East and Portugal. She also said she'll treat my undereye circles because those dark circles are getting way out of hand!
With each visit, your cosmetic nurse will always assess your skin to ensure that every treatment addresses exactly what you need. That way there's no over- or under-treatment and you'll walk away with the result you want.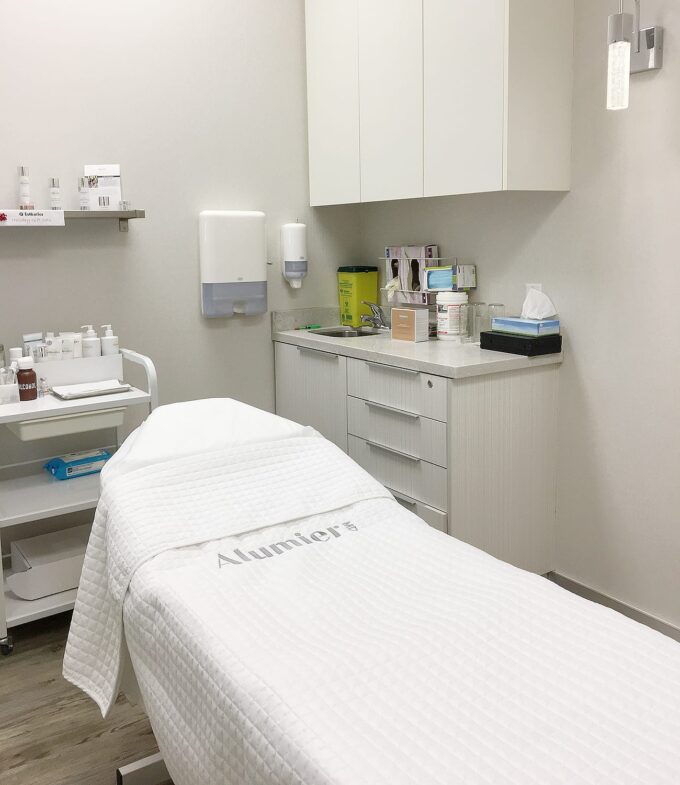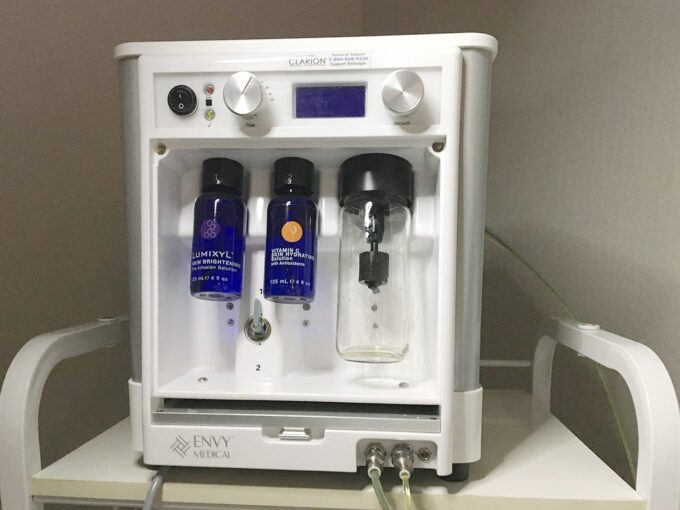 Before Q Max Facial: My Skin Right Now
Coming into the treatment, I'd say my skin was at 7/10. I had no active breakouts/acne (thanks to a controlled diet which means I'm skipping the chips, soda, and greasy stuff) and the worst offenders on my skin were the old acne scars that's slowly fading thanks to the hyperpigmentation treatment I've been using.
There were some new freckles / sun spots on my cheeks thanks to my forgetting to reapply sunscreen. It was so bad that my family noticed ("When did you get freckles") and my medium-coverage foundation couldn't even cover!
The Q Max Facial Treatment: What It Was Like & What to Expect
Immediately after she removed my makeup, she got started with the exfoliating process using a 1-cm diamond tip that sloughs away dead and damaged skin cells. You can actually see these gunk at the end of the treatment. This process took around 20 minutes around the entire face. I apparently have a fairly thin facial skin but despite that, the process didn't feel painful nor was I eager for it to end.
After this process, we have the closed-loop vacuum pressure sucking up the dirt, debris and bacteria allowing for a deep cleanse of the skin and pores. At this stage, my skin got a nice dose of Vitamin C and skin brightening treatment serums.
After allowing the serum to dry, it was time for the Soli-Tone Light Therapy. This therapy uses different coloured lights to increase the efficacy of the treatment and serums your skin just received. The panel wraps around your face and it flashes several different colours in the 20-30 minute process. You're supposed to sleep and let the light do its work, but I found it hard to with the "disco flashing" that happens every five minutes. The lights are also quite bright so despite the googles they put over your eyes, it was still a huge distraction.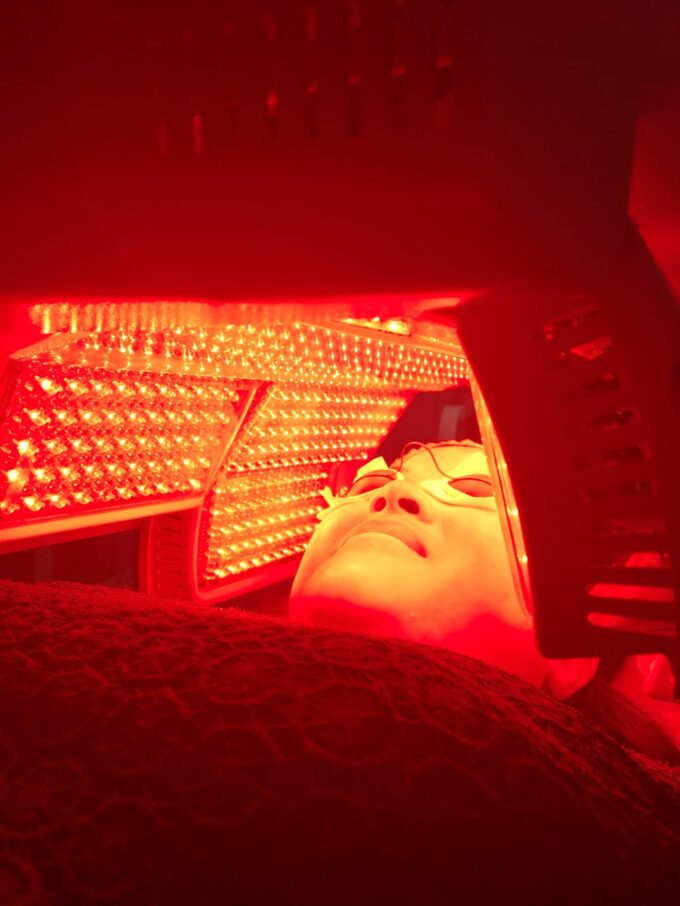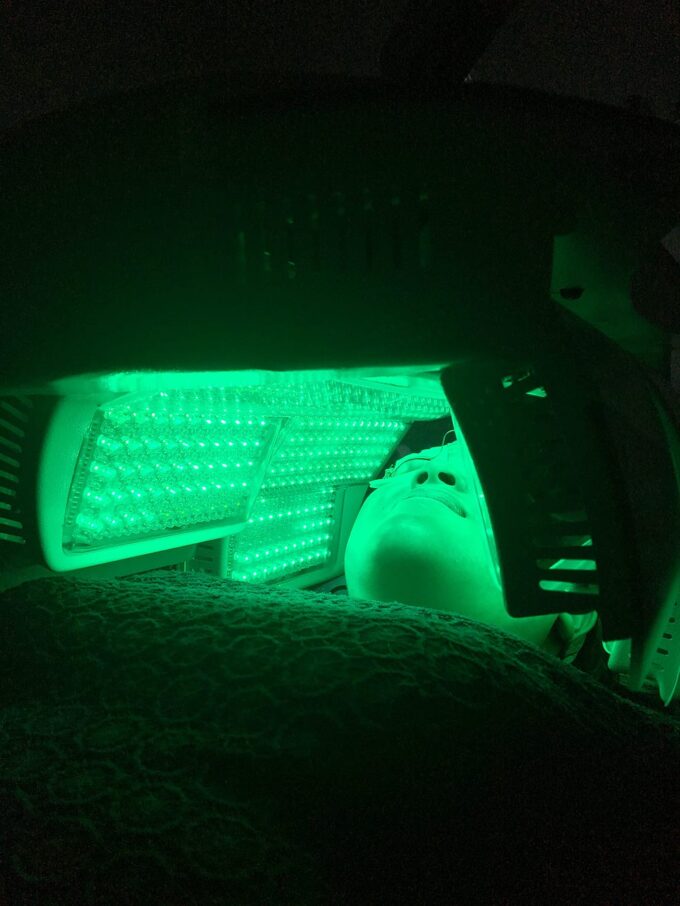 After completing the light treatment, I was provided with an AlumierMD skincare mini kit which included an anti-itch cream, sunscreen and cleanser. Your skin will be quite sensitive after the treatment so you need to avoid hot water (use lukewarm water) and the sun. They recommend using the provided skincare kit for the next week or so and to make sure to wear sunscreen and avoid heavy makeup for about a week.
The Q Max Facial Result
I seriously wished I did a before picture because the difference after the facial is absolutely incredible! My skin is so clear, the pores are cleansed, and the freckles (and some old sun spots) have completely disappeared! I was so thrilled with how much this treatment faded those old acne scars – while it didn't get rid of them completely, I suspect the microdermabrasion / exfoliating process sloughed away at least another 30% of the pigment.
My skin looks so good that I skipped wearing foundation (just popped on some YSLTouche Eclat for the undereye circles and BurberryFresh Glow BB Cream to cover the redness) altogether. I cannot stop looking at my face (VAIN, I know!) in the mirror because the result is just so impressive. I posted my after-facial on Instastories, and within 5 minutes, I received at least 6 messages saying how glowy and healthy my skin looked.
I left the clinic after a one-visit, 60-minute treatment with soft, baby-like skin, cleaner and more even skin pigmentation, and a boost to my self-esteem!
Final Thoughts on the Q Max Facial
I've shared the story of how my hyperpigmentation scars made me feel incredible conscious. It's a struggle I've had since I started wearing makeup around 6 years ago. I've always had to buy a medium-full coverage foundation, and have spent more than thousands of dollars at Sephora, and Shoppers Drug Mart, trying to find a drugstore, budget, and at-home appropriate treatment that barely did anything to my skin. The only treatment I have discovered that works were The Ordinary regimen I detailed in an earlier post. I credit my dedication to that treatment from the past year to help my skin get to the 7/10 stage when I went into this treatment.
After I finished the treatment, I'd say my skin is at 9.5/10, not exactly perfect because I do still have to cover the little bit of acne scarring on the cheeks that's been there for ages. I feel like with 1 more treatment, they could be mostly gone. The reason I'm not giving this treatment a perfect is that I feel it didn't do much for my undereye circles and some of the acne scarring could fade given that this is a $325 treatment.
The price point doesn't make it exactly affordable and I will likely pop in every once in a while rather than doing a maintenance routine. This treatment is a total splurge for I would go for it if:
You have an important milestone / event coming up and really want to look your best
You have spent $$$$ on treatments from all sorts of stores and brands that haven't worked
You've spent years waiting for your skin to improve with the above regimen, only that they haven't
This is a treatment of "last resort"
Despite never having even gone close to a laser clinic ever, I think I'd come by if my skin was acting up and I want to tackle the issues right away than letting it linger and damage the rest of my skin. I can't predict whether this facial will work for you so I highly recommend giving the clinic a call and having a consultation with one of the friendly cosmetic nurse!
Q Esthetics GTA Locations
Q Esthetics, Yorkville
24 Bellair Street 3rd. Floor
Toronto ON. M5R 2C7
Q Esthetics, Mississauga
802 Southdown Road, Unit C3
Mississauga ON. L5J 2Y4
Q Esthetics, Thornhill
MCI The Doctor's Office
800 Steeles Ave. W.
Have you been to a laser clinic before? Would you give this laser treatment a try?
---
Disclaimer:
This post features product(s) and services provided for editorial consideration. All opinions are my own. For more information about my review policy, please
click here
.
---