The Simple SkincareCleansing Facial Wipes ($7-$10, available here) is a pack of perfume-free, makeup wipes infused with vitamins and natural ingredients, suitable even for the most sensitive of skins.
Simple Cosmetics is a brand that originated in the UK and is very well-known for being a pioneer in creating skincare products that are free of perfume and colour. I had a chance to pick these up at Superdrug while I was traveling in the UK this past summer. It was on sale for an incredibly inexpensive price (£1.50 which works out to be CAD$2.62 including taxes!) and I loved it so much that I went back and repurchased 7 of them to take back to Canada!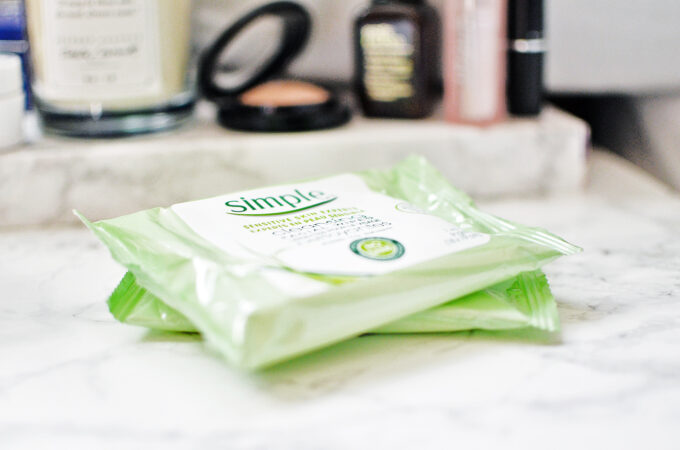 I'd seen Simple Skincare beauty products at Shoppers Drug Mart, but they just get lost among all the other brands that I'm already familiar with. I love makeup wipes because of the minimal effort I have to put in when removing makeup, and I just like the convenience of not having to take a huge cleanser/makeup remover bottle around all the time.
The Simple SkincareCleansing Facial Wipes is very soft, and moist. It has a slight scent to it due to the natural ingredients and vitamins (think of Lush's skincare products, but without the heavy herbal-like scent), but removes makeup like no other. I can attest the product's efficiency of removing makeup that I forgot all about my Bioderma Créaline H20 for a while (and that is an industry standard!)
The wipes are available in most drugstores, and the price ranges from $8-10, which works out to be a similar price point to brands like Neutrogena, and Pond's. I quite like these wipes and find that they are incredibly good and efficient at removing makeup. These would be perfect for those who have sensitive skin and might find other makeup wipes to be too irritating for daily use.
Have you tried the Simple Skincare Cleansing Facial Wipes? As always, I'd love to hear your thoughts! Share with me comment section or through Twitter or Instagram!