Self-care is such a big topic right now, and I love it. I am learning so much from it because I rarely take time off for myself, and rarely treat myself with a meaningful reward (i.e. sleeping in, or finishing a book), and I am constantly always feeling so burnt out. Aside from the occasional Sephora haul meant mostly for the blog, I am so stingy with myself when it comes to self-care. If it wasn't for travel, I think I would always be fully holed up in my room 24/7, blogging away where it doesn't cost me anything.
I only treat myself with travel and an annual (I know!) trip to the spa usually only when I am stay at an all-inclusive resort which comes with a resort credit that needs to be used up. Although I still pay for the taxes and gratuities, it is often significantly expensive than indulging in a spa in Toronto. However, when I'm at home, going to the spa (and even making hair appointments) pretty much move to the bottom of the list, because there's just so many other things that need to get done. See that right there? Perfect example of my lack of self-care priorities!
That's why I'm really excited to introduce you to the new BVspa by Bon Vital range hitting Shoppers Drug Mart this summer! The BVspa by Bon Vital will bring the luxury spa experience home at an affordable price with ingredients that you can trust and price that your wallet will love!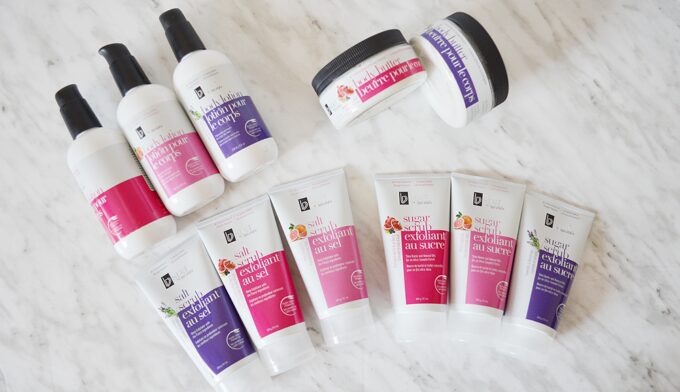 BVspa is the preferred skincare brand of professional massage therapists who have to use these products daily. Knowing that there is a safe, and gentle brand that delivers everything they need to do their job well is really important. I happen to be very close to my massage therapist (I've been seeing her for several years now, and see her at least twice a month!) so I can tell you how much of a difference a good product makes! Did you know that the Bon Vital products have been used by thousands of first-class massage and spa establishments including MGM Properties?
The full range comes with four products and three fragrances, all of which are designed to make you (and your wallet!) feel good. The formula is based on the science and technology of behind the professional range. The collection includes four products, all of which are formulated with natural ingredients and essential oils. Furthermore, they are free of parabens, sulfates and phthalates – ingredients that professional therapists don't want to use on themselves either!
There are three scents to choose from, carefully selected for their therapeutic nature:
Lavender and rosemary to soothe and relax (My favourite!)
Pomegranate and acai berry to rejunevate
Pink grapefruits to energize
The full range will be available as of May 23rd, 2016, and will retail for $11.99 (So affordable!!) at Shoppers Drug Mart.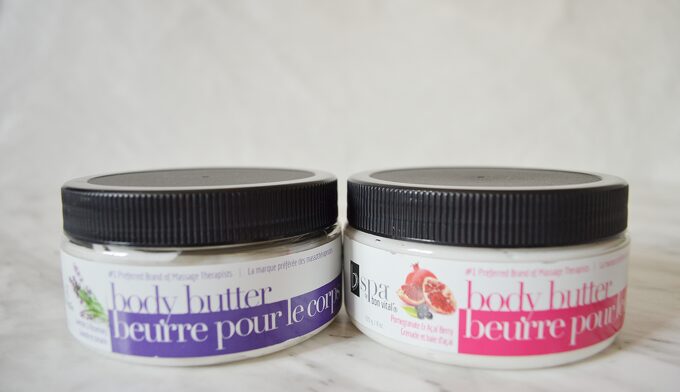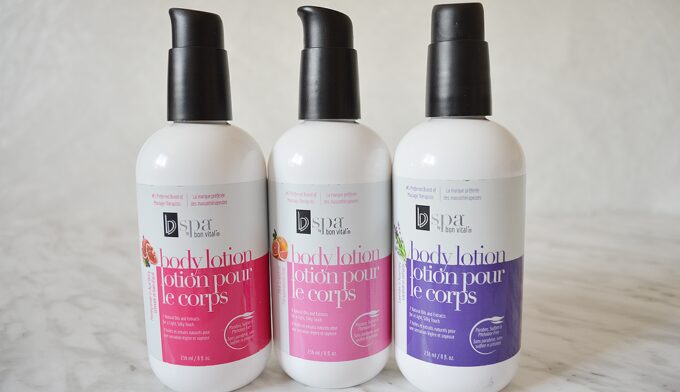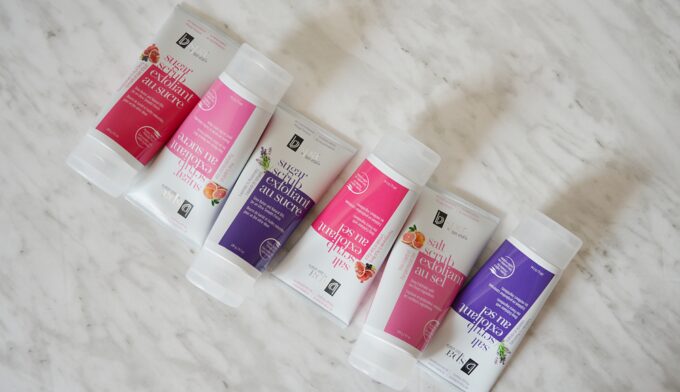 I have a hard time picking a favourite format and scent from each! The body butter is something I store away mostly for the winter when my skin needs all the hydration it can get, so I keep this precious tub tucked away until the next season. I love the body lotion for daily use and the small bottle makes it easy to travel with. Plus, I can always re-use the bottle once I am done with it!
Between the scrubs, I usually go for sugar scrubs because they tend to be gentler on the skin. I love scrubs that are made from kitchen ingredients like sugar, salt, or coffee. They are SO SO good for the planet and I love the fact that they breakdown when you use it in the shower! I feel really good and always willing to shell out a few more bucks on products that are environmentally friendly because it makes me feel good that I am helping protect our environment!
A lot of brands typically use microbeads in their scrubs – likely because they don't cost as much as using sugar/salt/coffee. These microbeads are so damaging to our environment, so much so that several states in the US (most recently, California) have banned plastic microbeads completely! Two of the most devastating consequences of microbeads (among many) is first, the fact that it takes a very long time to breakdown in the ocean (if they do!) and second, marine life often mistaken it for food and it doesn't breakdown in their digestive system! I love the BVspa offers an environmentally-friendly alternative that keeps our oceans safe!
My favourite scent of the three would be the lavender and rosemary. I use this before I go to bed every night and I swear, I sleep like a baby! I use the body butter as hand cream, and massage a little bit of it on the temples as well – it helps me feel relaxed and sleep better!
Don't forget, you can visit BVspa on Facebook, Twitter and Instagram!
What do you think of the new BVspa range? Which scent and product are you most excited to try?
---
Disclaimer:
This post features product(s) provided for editorial consideration. All opinions are my own. For more information about my review policy, please
click here
.
---