A quick stop to preview the Holt Renfrew Winter sale a couple of months ago may or may not have resulted in a teeny, tiny Burberry haul. Despite picking up only three items from the Burberry counter, it left a very visible burning hole in my wallet. No matter how much I told myself that I didn't need any more makeup, I was no match for the signature Burberry metallic check compact and, yes I admit it, the saleslady at the counter.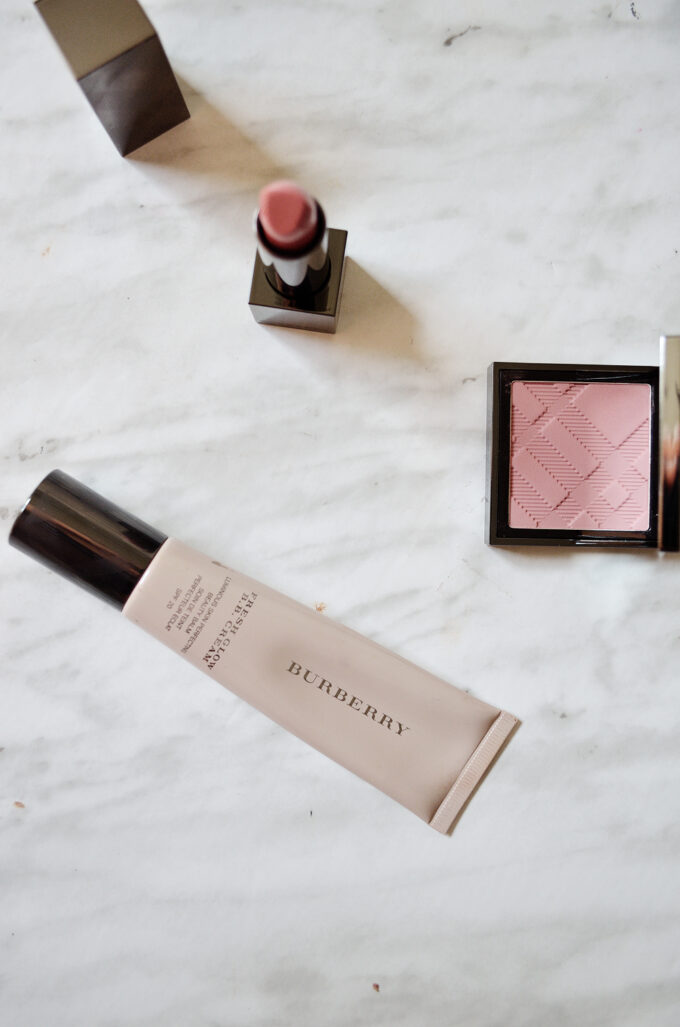 Burberry Haul
Burberry makeup products have been on my wishlist for the longest time, but it was last year that I finally took the plunge and splurge on some goodies for myself. Last year was definitely a year of getting to know these premium luxury brands and I will happily skip many lunches to save up for more of these this year ????
Can I just say that everything about the packaging is gorgeousness to the max? I cannot even bear to throw out the applicator that comes with the eyeshadow despite the fact that it is a regular sponge-tip applicator, albeit with "Burberry" printed on it. On top of that, the eyeshadow comes with a velvet pouch (not pictured); it was begging for me to take it home.
I started my haul with picking up an item that I didn't think I would every try, the BurberryFresh Glow BB Cream ($46, sephora.ca). Firstly, I much prefer a longer, and fuller-coverage foundation as it minimizes the effort and touch-up's needed throughout the day. I was actually very pleasantly surprised at the shade match! For someone who has a medium, yellow undertone skintone, No 1 Fair was a great match!
I've read a number of posts about the BurberrySheer Eye Shadow and it has been on my mental wishlist/checklist for the longest time. So I knew that the eyeshadows were something that I wanted to try but unfortunately, they had already sold out of the colour! It is a very elusive shade, so I picked up a blush instead, the BurberryLight Glow Blush in #02 Cameo Blush ($44, available here). The price is steep for what it is and I certainly feel I paid more for the branding than the product itself, but here's to trying new beauty products right?
I quickly made my way to pay for the eyeshadow before I did further damage, but my eyes just had to take a second look at the BurberryLip Velvet in Rosewood display on the counter. Before I knew it, I was holding the BurberryLip Velvet in Rosewood ($36, available here) in my hands (choirs singing in the background type of situation; It must have been a comical sight). In my defense though, the BurberryLip Velvet in Rosewood was just a colour that was so me. You know those moments? Plus, it didn't swatch as dark as the tube makes it seem. Definitely one of those MLBB (my lip but better) colour perfect for everyday.
Anyways, quite happy with these purchases even though they weren't really necessary. What about you? Have you tried Burberry beauty products before? Any favourites?