For those of you who are big fans of the Philosophy Purity Cleanser, you'll love the PhilosophyPurity Made Simple Pore Extractor probably even more. I'm on a bit of a Philosophy Purity roll these days as I've recently finished or used up more than 50% of the Philosophy Purity products that was part of this Spring launch so I'm keen to put together a review as I haven't seen these products very frequently on beauty blogs elsewhere.
The PhilosophyPurity Made Simple Pore Extractor is a white clay-based, gentle face mask, specifically formulated to reduce the visibility of pores and acne scars on the skin. For those of you who find charcoal mask or pore strips to be too harsh on the skin, the PhilosophyPurity Made Simple Pore Extractor is a gentler alternative.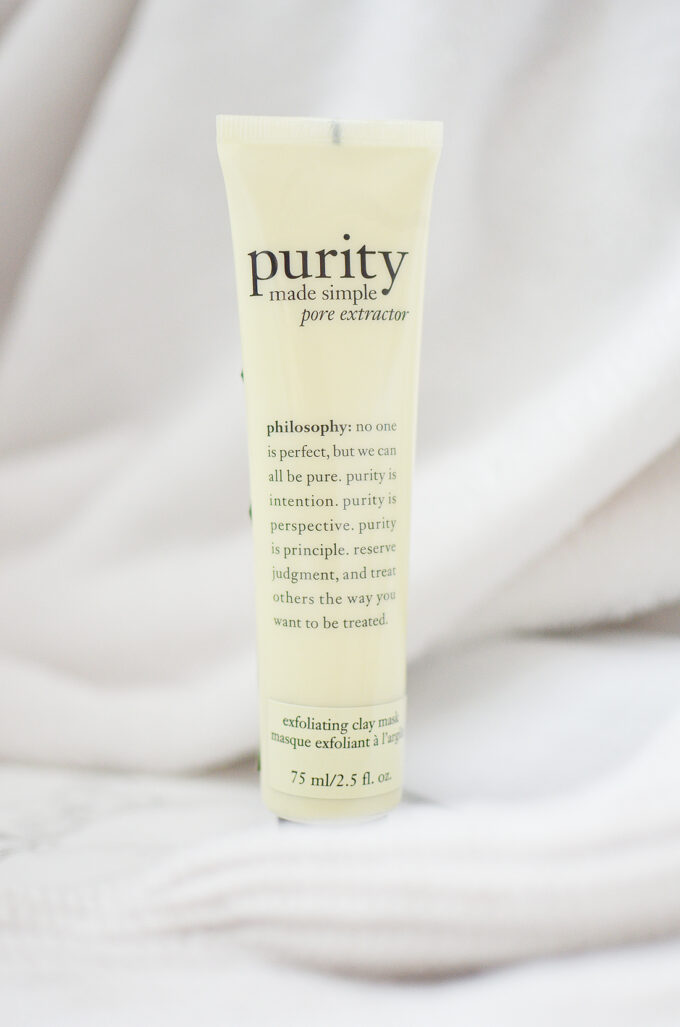 I have normal-dry skin and generally speaking, my pores aren't too atrocious but do need to be cleansed every other week or so. I find the popular Origins Charcoal face Mask to be too stripping for my skin, except for when I've just returned from vacations. For a more regular use, I prefer rose clay or gentler formula's and this one from Philosophy really fits the bill.
Whenever I use the Origins face mask, I can immediately notice how cleaner my skin looks. It's brighter, there's less blackheads, and pores are generally far less noticeable. However, the look comes with a price – I find the mask to be too stripping for my skin so it tends to feel quite tight afterwards. I stopped using this mask regularly and instead, use it when I'm travelling or for a deeper cleanse every other month or so.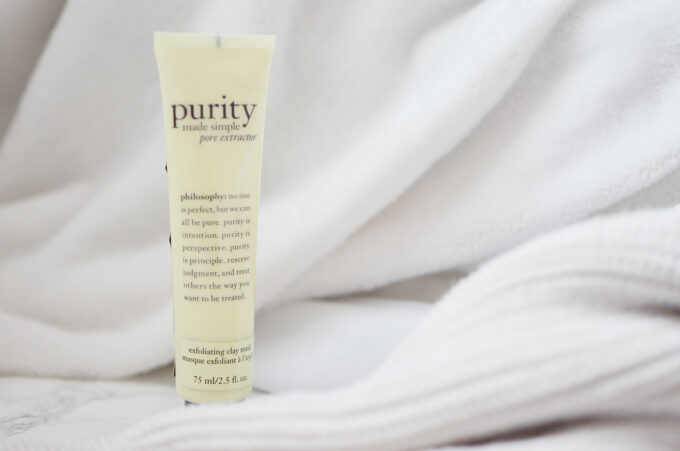 I don't think I've tried any white clay-based products and from the ingredients listing, I was afraid that this wouldn't be the right product for me. The mask has salycilic acid which makes it more geared towards those with oily or combination skin. All in the name of testing new products, I was thrilled to discover that this product has the right balance of cleanse and gentleness on the skin.
I love how brightening this mask makes my skin, even after one use, but leaves my skin feeling hydrated and soft. I do find the mask dries out too quickly making it necessary to work fast to spread the mask all over the skin. It has a light scent, similar to the original Purity cleanser which I love!
Have you tried the PhilosophyPurity Made Simple Pore Extractor?
---
Disclaimer:
This post features product(s) provided for editorial consideration. All opinions are my own. For more information about my review policy, please
click here
.
---