The Philosophy Purity Made Simple was made famous by Oprah who listed their PhilosophyPurity Made Simple Cleanser as a favourite for 8 years in a row. For me, it's been a favourite for 5 years running so you know this cleanser is the real deal.
Philosophy Purity Made Simple Spring 2018 launches include a moisturizer, micellar cleansing water, and pore extractor. For those who are long-time fans of the cleanser, you'll want to note the new launches and add these to your shopping list because they're guaranteed to be sold out fairly quickly!
I surprised me that Philosophy took a while to expand their Philosophy Purity Made Simple range given how popular the cleanser is. I'm glad though that there are a few new goodies to test out and play around with!
I plan to write a more in-depth review on this so stay tuned for upcoming posts. In light of the Sephora Spring sale, I thought I'd publish this blog post to get the new launches on your radar first!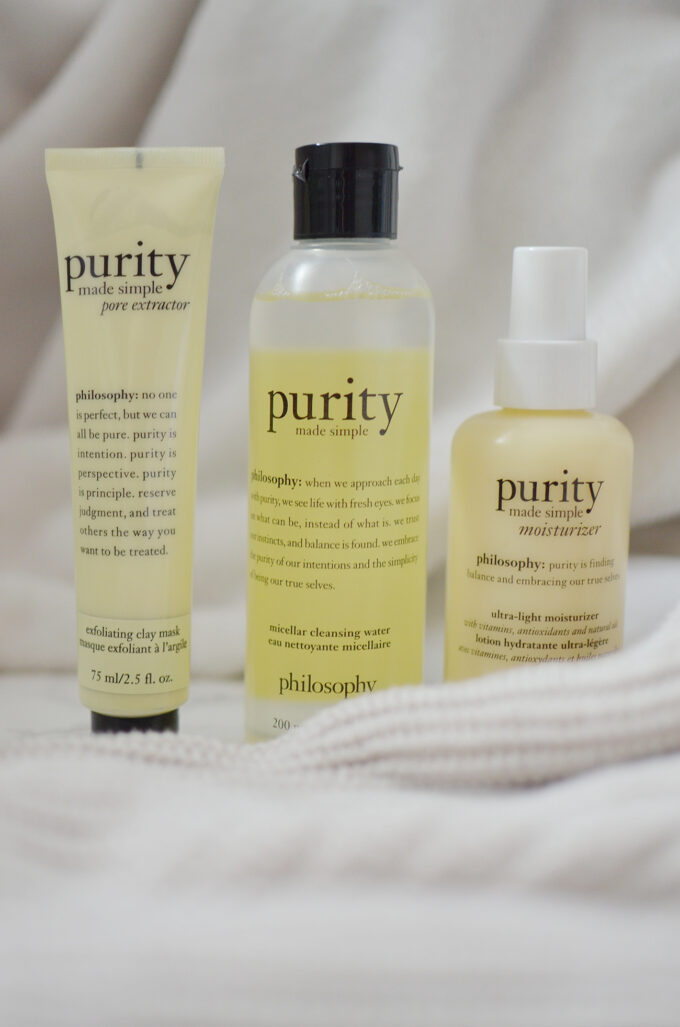 Philosophy Purity Made Simple Micellar Cleansing Water
Housed in a plastic bottle, the PhilosophyPurity Made Simple Cleansing Water ($14) feels like something I can travel with. At 200ml, it's the right size for a one-week trip. The clear solution within almost seems deceiving (Did I just pay that much for a micellar water?) and I know what you're probably thinking – Do we really need another micellar water in the market?
If I hadn't used the facial cleanser, I probably would have skipped the micellar water. However, given my skin has been incredibly sensitive to makeup wipes and only micellar water seems to be gentle enough for my 2-step cleanse, I'm willing to give this a go despite the price tag!
Philosophy Purity Made Simple Moisturizer
I don't really get why facial moisturizers come is such small sizes (Philosophy Purity Made Simple Moisturizer ($34, available here) features an ultra-light formula with vitamins, antioxidants and natural oils. I love that it comes with pump plastic bottle – again, another one of those products I can feel confident travelling with. At 141ml, the moisturizer feels very pricey for the price (I am very generous with my moisturizers as I usually am) so I'll let you know if a little goes a long way with this!
Philosophy Purity Made Simple Pore Extractor
I am genuinely excited about the PhilosophyPurity Made Simple Pore Extractor ($39, available here) as a potential alternative to charcoal-based cleansers which are a little too rough for my skin. This face mask uses kaolin clay to extract the impurities from your skin which feels like a much gentler alternative. The product also has exfoliating properties to slough off dead skin cells.
All three products retain the same scent, colour and feel to the original facial cleanser. I love the cleanser as it is incredibly gentle on my skin and takes everything off. I'm super duper excited to incorporate these goodies into my skincare routine to calm down my skin from using too much foam-based products lately!
With new launches, you'll probably be seeing a few value sets pop up here and there. I did spot one at Sephora (Pore Extractor and Cleanser for C$39, a C$90 value!) so keep an eye out for those if you are interested in trying a few of them at once!
Have you tried the Philosophy Purity Made Simple Cleanser? What do you think of the new launches – will you be giving these a go?
---
Disclaimer:
This post features product(s) provided for editorial consideration. All opinions are my own. For more information about my review policy, please
click here
.
---