Wrapping up a work event with a trip to Eaton Centre was a bad idea. I was passing by Nordstrom when I realized why it was so busy on a regular weekday – it was the long-awaited Nordstrom Anniversary Sale! I had to do a bit of research on it but the gist is the sale is an opportunity to purchase up-and-coming launches as well as Nordstrom Exclusive products at a sale price (20-50% off retail) before they go back up on August 7. Additionally, some makeup counters were also offering gifts with purchase, and makeovers so it's a great opportunity to check out what's new and trending!
I am starting to warm up to Nordstrom – it's less stuffy than Hudson's Bay, and way less snobby than Holt Renfrew. I don't feel like someone's going to give me an attitude when I need to ask a question at Nordstrom! I like that they have everything from the mid-range brands like MAC, Clinique, Anastasia Beverly Hills to the top of the line like Bobbi Brown, La Mer, Sulwhasoo. Let's just hope shopping there doesn't become a regular habit…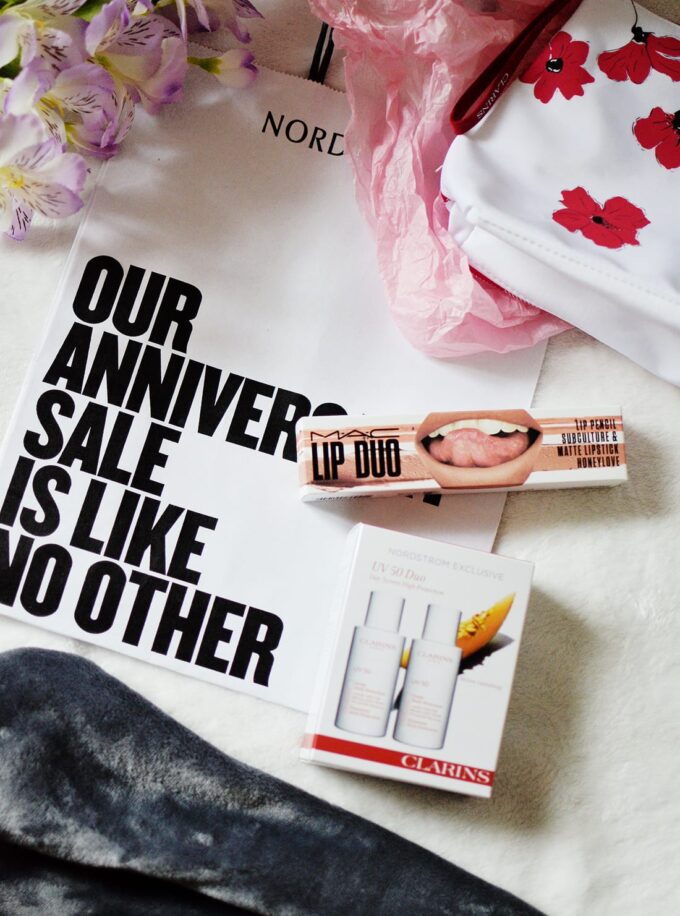 Going in, I knew I wanted to get value sets – they're my favourite kind of purchases as you get to sample multiple products in one go and have more "toys" to play with. I saw some incredible value sets like a NARS 4-piece full-sized Lip Pencil for $75 and 2 full-sized Anastasia Beverly Hills Brow Gel for $29. It's really easy to get carried away in the Nordstrom Exclusives value sets.
Both items I picked up are restocks – you've seen them on the blog before so apologies if it looks boring.
ClarinsUV 50 Sunscreen Multi-Protection Tint // $68 ($84 value; available here)
I repurchased the Clarins UV50 sunscreen as this bottle is highly portable and easy to travel with. I had a decent experience with it although it left a bit of a white cast over my skin. I like the more liquid texture of it – doesn't add too much "slick" on the skin as it sinks right in! With a $64 purchase, you get a little travel makeup bag with 5-6 samples inside.
MAC Cosmetics Lip Duo in Honeylove & Subculture // $34 ($42 value; available here)
I am sadly, the most predictable person when it comes to lip colours and this is a clear example of that. Seeing that MAC had restocked their Lip Duos (which were initially available only as a limited edition offering) I had to repurchase Honeylove as it became one of my favourite colours and I appreciate the Back to Mac policy for free makeup!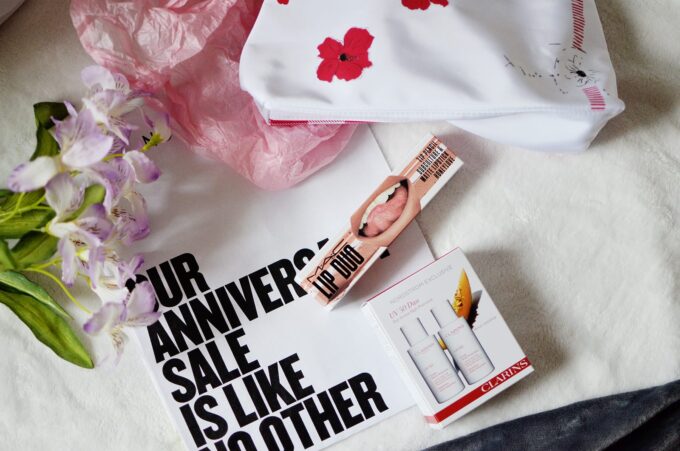 I think I stayed pretty much on-budget this time around. Now it's time to start saving up for the holidays because we know how much of a temptation that can be!
Did you purchase anything from the Nordstrom Anniversary sale?