I try to not show too many hauls on my blog, but I think this one merits a special post since it was the haul that got me to the VIB Rouge status. I had not plan on hitting the VIB Rouge status (I mean, $1000 on beauty products in a year? Ouch.) Without realizing it, I had hit quite close to the mark in November, and only needed to spend about $131 more to get there. That being said, the Black Friday and VIB$20 of Reward Card events were happening back to back, and I figured if I was going to spend the money, I might as well do it frugally and make the most of the available discounts.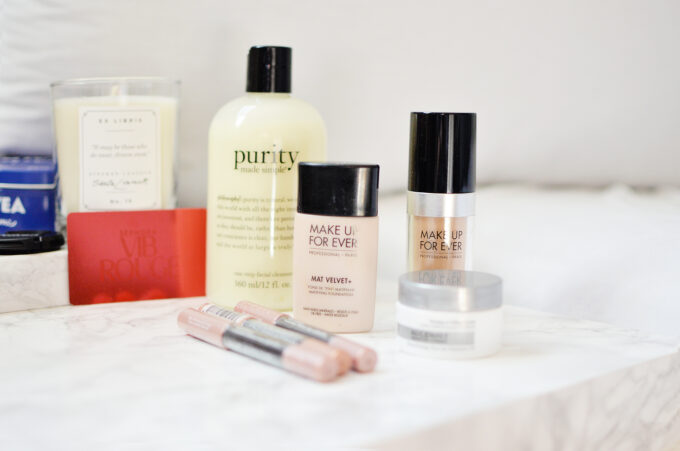 From the Sephora Black Friday $12 deals, I only walked away with 2 items, and they were the PhilosophyPurity Cleanser ($13-52, available here) which I always miss out on because I never make it to the store on time. This time, I actually lined up 30 minutes before opening (and met an amazing lady and her husband!) and snatched 2 of these. I wish I could have brought my Mom along since she would have been able to pick up more, but it's okay, it's not very Christmas-y to hoard all the good stuff anyway!
I think I did quite a bit of damage with the 20% off Sale in early November (which requalified me to VIB for next year) so there wasn't much that interested me this time around. However, $20 off $50 is still a 40% discount, and I needed to spend just a bit of money to get to Rouge anyways, and so I picked up a couple of old favourites which I will be reviewing soon.
Make up For EverHD Foundation in 117 ($49, sephora.ca)
Make up For EverAqua Shadow ($24, sephora.ca)
Make up For EverMat Velvet+ Foundation in 30 ($42, sephora.ca)
Too FacedAll I want for Christmas (Present for my bestie!) ($54, sephora.ca)
Benefit CosmeticsIt's a Love Fest Holiday Tin ($43, sephora.ca, Shoppers Drug Mart – I've been hunting this down everywhere including Shoppers Drug Mart and 4 different Sephora!)
The foundations had to happen because I'm a foundation junkie (have you been reading my latest reviews?) I'm also a sucker for value sets so the Benefit holiday tin ended up on #1 on the list since it was so hard to find.
That being said, check out the VIB Rouge Perks I got. I actually got all of these because the girls who were helping me out were SO. SWEET. She said that they give out free water bottles (with a somewhat tacky VIB Rouge sticker on it – could definite do with a redesign) for Rouge shoppers now. I felt pretty special walking around in store while getting a quick makeover in store (Hello, Hourglass Ambient Powder!) Sephora was also giving out a free compact mirror for the holidays. It's the same concept as the mirror that you would get when you qualify for the VIB status. I wasn't supposed to get it because you actually have to qualify as a VIB Rouge by October? Not really sure with the exact timing but the girl said I could have it and even her supervisor said it's fine.
Which one of these would you like a review first? What is your favourite product?