It's slightly embarrassing to admit but I have a pretty big girl crush on Jennifer Lawrence – I have been so obsessed with her makeup from the "Passengers" press pictures from a few months ago, particularly her blush / bronzer / highlighting combination! There's just something so effortless and natural-looking in her "I put this together in less than 5 minutes" blush colour. Being a good beauty blogger that I am, I've been on the hunt for the perfect "no blush" blush colours in my collection to replicate the look.
After the holiday spending binge, I've tried to keep the spending to a minimum. I went through my collection and pulled out a few items from my collection so the good news is that I already have a few colours that I can rock to achieve that "no blush" blush look.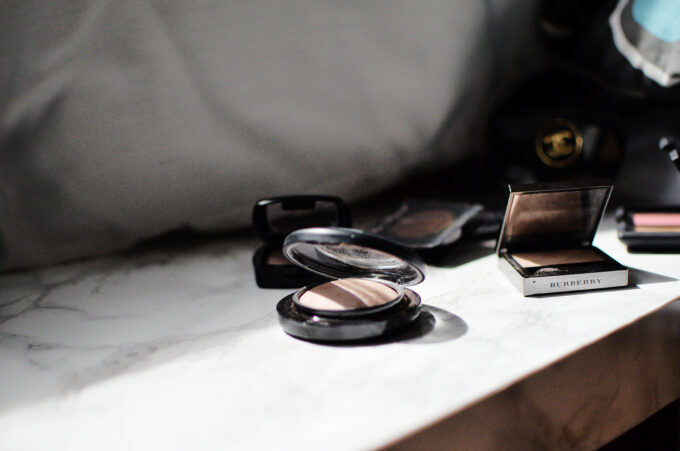 I think the BurberryLight Glow Blush #07 Earthy Blush ($42, available here) is the one that started it all. It has a pale pink shade with a touch of grey-ish, taupe undertone which makes it more a more muted colour. The blush is extremely finely milled and looks incredible light to medium-coloured skintone. For anyone who has a lighter skintone than my light-medium skin, you can definitely wear this as a contour colour, whilst on my skin (around NC25 on the MAC foundation scale). Unfortunately, this blush is far too pricey to repurchase so I've been looking for a few alternatives in the meantime.
I've found that I can use a few light-coloured bronzer, whether matter or shimmery on my skintone as a no blush shade on my skintone. The NARSLaguna Bronzer ($40, available here) is exactly one of those shades. It's an iconic colour, beloved by many for its no nonsense matte brown colour that seems to be universally flattering on most skintones. On me, this shade barely shows up as a contour shade, so I love wearing this on the apples of my cheekbones as a blush.
The reason I bought the MAC CosmeticsNutcracker Sweet Mineralize Nude Kit is really for the bronzer. The MAC CosmeticsMineralize Powder in Global Glow ($38, available here) is orange-y shimmer, almost the furthest thing you would expect from a nude blush shade, may seem like a disaster waiting to happen. Global Glow is just the right touch of colour on my light-medium skintone which is also the reason why I've loved the CHANELSoleil Tan de Chanel ($51, The Bay) equally as much. I am addicted to CHANEL's formula and incredibly smooth texture and blendability.
I was thrilled to find two drugstore purchases still in my makeup drawer. I loved the Rimmel LondonPowder Blush in Sierra. It was actually the very first blush I ever bought, and I have actually finished three pans of this in my early makeup days. I love the formula, and colour – I believe it might have been reformulated and repackaged recently, so I'm looking forward to pick up a few more in the near future to stock up my stash.
Lastly, another drugstore favourite is the NYXPowder Blush in Taupe which has a much more contouring properties than it is when worn as a blush. I am loving wearing it as the first layer of blush and paired with a slightly shimmery blush like the MAC CosmeticsMineralize Powder in Global Glow!
What are some of your favourite "no-blush" blush?