Okay, spill it. How many of you ended up going to see the Fifty Shades of Grey movie? Well, I did. But it was courtesy of Make Up For Ever inviting me and a friend to the event, otherwise, I may not have gone at all. And I did walk away with a poster which I donated to my team at work. I won't get into too much details there, but getting into the good books is never a bad idea!
Here's a story that might crack you up – the irony is so real. I told you how I couldn't get past the first 25 pages or so of the book in a previous post. Well, guess what happened? I was stranded at the Fiumicino Airport in Rome, where I discovered to my chagrin, that my flight home was cancelled. Cancelled! And I had to be at work the next day.
Fortunately, they were able to rebook me to another flight, leaving a couple of hours later. What does one do to kill time at the airport? Conveniently I had my iPad, and of course, the eBook… "All in the name of research", I told myself.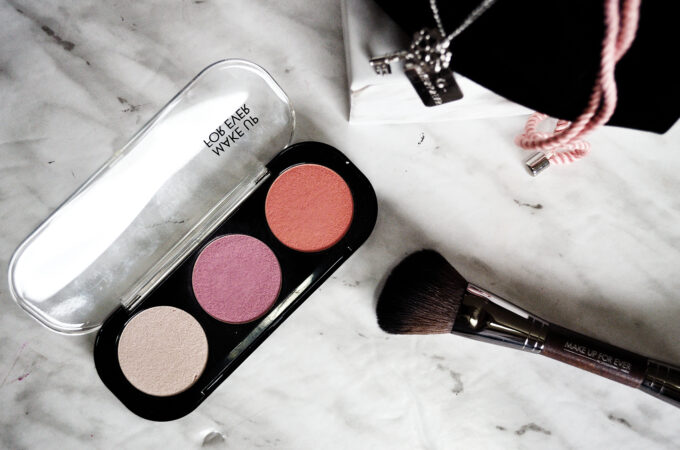 This was another one of the limited edition sets that I was curious about! I am a former blush junkie, and I've always been curious about the Artist Shadow formula as a blush – the Desire Me Cheeky Blush Set ($56, available here) pretty much checked all the boxes of curiosity.
The set includes a beautiful keepsake blush pink/black velvet pouch with a key charm (which I am planning to repurpose into a necklace!) as well as an instructional booklet. Each booklet features different looks and step by step instructions so you can create a multitude of Ana's looks from the movie.
The blush trio includes three Artist Shadow Cheek colours as well as a travel-size Artisan Brush #150. Each pan can be purchased separately or as an entire set.
Make Up For Ever I526 Pearl Beige – shimmery pearl shade
Make Up For Ever I808 English Pink – two-toned dusty pink shade with fine gold flecks/shimmers
Make Up For Ever S748 Coral – bright slightly more matte orange shade that is not as bright as seen in the pan
The formula is the same as the Artist Shadow formula which I've reviewed before. You already know how much I love the Artist Shadow formula – the gel to powder formula is rich and lends itself to the outstanding texture, colour payoff, and pigmentation.
The colours included in the palette range from the pearl creamy beige colour, perfect to subtly highlight the cheekbones and browbones, while the two blush shades, English Pink and Coral offer a variety of opportunities to achieve different looks as you play around with the intensity of the colours.
I found the two blush colours to be quite unique – although both look quite bold based on how bright they look in the pan, the colours swatch a little less pigmented as one might have guessed. That is not to say the pigmentation is poor in this range – the slightly less pigmented application means you can control how the colour payoff on the cheeks.
You can see from the set of swatches above, the blush colours aren't as bold/bright as it may appear in the pan. If that was something that kept you away from the set (much like it did for me), you are in luck! The colours are incredibly wearable and can be layered up to get a more pigmented finish.
The Artisan Brush #150, just like other Make Up For Ever brushes are soft and dense with 100% synthetic fibre that mimics natural hair. It is a great travel-size version of the original #150 brush and the quality is all there!
For $56, you get to try the much-raved about Artist Shadow formula in a cheeky little set. It is an excellent value set (worth an estimated $104) and is definitely a collector's item that commemorates the movie and will be one that you'll look upon fondly when future movies come out!
"To create Ana's healthy glow, I used a darker pink blush, which I blended out across the apples of the cheeks, on the nose, and a little on the chin and hairline. It gave the appearance of a healthy flush from under the skin and not like an applied blush" Victoria Down, head of Makeup Department, Fifty Shades of Grey.
Now it's your turn! Have you tried the Artist Shadow formula? Will you be purchasing this limited edition set? As always, I'd love to hear your thoughts! Share with me comment section or through Twitter or Instagram!
---
Disclaimer:
This post features product(s) provided for editorial consideration. All opinions are my own. For more information about my review policy, please
click here
.
---