It is absolutely no secret that I'm a huge fan of Clarins' skincare and beauty products so it wouldn't be a surprise to may that a staple product of mine is the ClarinsInstant Light Natural Lip Perfector. I've written a review about this product in the past so considering that I'm writing a second post today, you'll know that I have a bit of a love affair with it. Seriously. If you haven't tried these beauties, you are missing out!
The ClarinsInstant Light Natural Lip Perfector ($20, The Bay) is one of my favourite beauty finds from 2016. It's a staple in my bag, car, office, and daily makeup bag. I reach out for this a lot throughout the day and I'm pretty stoked to see that this summer, Clarins has added two new limited-edition shades to the collection.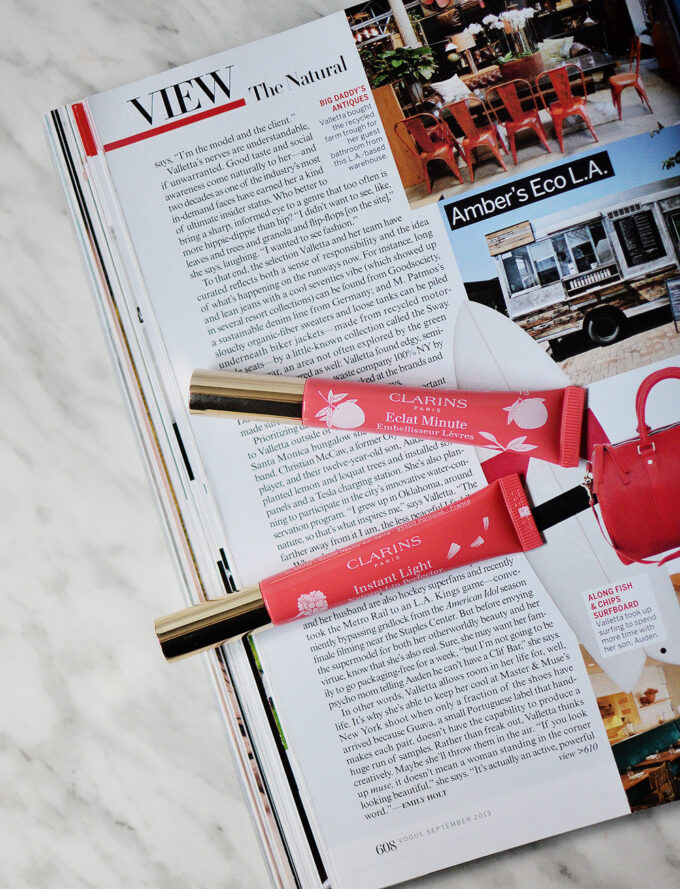 It will surprise many but the ClarinsInstant Light Natural Lip Perfector holds the distinction of being the only lip gloss product that I would ever use. Most readers know that I'm not the biggest fan of lip glosses – I prefer a matte finish, and dislike anything tacky or requiring constant re-application. That was why the ClarinsInstant Light Natural Lip Perfector stood out to me – it checked off all the boxes when it comes to being a fuss-free, low-maintenance, easy-to-apply-on-the-go kind of product in my collection.
The ClarinsInstant Light Natural Lip Perfector is fairly no-frill and is my go-to lip product for every season, particularly during the summer season when the last thing I want to do is carry too many items in my purse or scrambling around for a lip balm because my lips feel too dried out. Since these are made with a combination of mango and shea butters, they are the perfect companion for every day.
The ClarinsInstant Light Natural Lip Perfector have a very creamy and lightweight texture which tints the lips with a natural-looking shade of your lip but better. Of the ones I tried, most have a very similar colour payoff on the lips so you can't really distinguish between one shade to the next. It really just comes down to your "scent" preference.
New this summer is the addition of 2 limited-edition colours:
#13 Pink Grapefruit – a light pink with a hint of berry hue
#14 Juicy Mandarin – a reddish-orange hue
I find the ClarinsInstant Light Natural Lip Perfector to hydrate my lips well for around 2-3 hours (slightly less if I'm drinking coffee in the morning). They tend to require re-application throughout the day so these are the perfect desk-side companion. The comfort factor and very diverse colour / scent range means that one ClarinsInstant Light Natural Lip Perfector is sold ever 36 seconds around the world! Pretty impressive!
The colours leave the slightest tint on the lips as they dry, but nothing that will stain your lips unnaturally. Some of the shades in the collection have a slight shimmer (but nothing noticeable) to them which is what creates that kind of 3D, plumped up effect.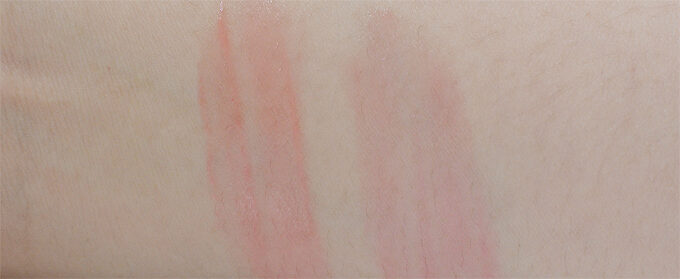 These gloss/treatment comes in a squeeze tube with a slanted sponge-tip applicator. I love this packaging as it is discreet enough to pop into any type / size of purse or clutch. I love having this for a night out because I don't have to worry about precise application – the sponge tip applicator does just that! This has become a tried and tested staple for me since I tried it about a year ago!
Now it's over to you! Have you tried the Clarins Instant Light Natural Lip Perfector?
---
Disclaimer:
This post features product(s) provided for editorial consideration. All opinions are my own. For more information about my review policy, please
click here
.
---