As if their blockbuster Arist Shadow Launch in 2014 wasn't exciting enough, for Spring 2018, Make Up For Ever is relaunching the entire line up, now called Artist Color Shadow ($22, available here) with 121 colours to choose from! This relaunch is a nod to Make Up For Ever's roots, where eyeshadows were the very first product created by Dany Sanz.
From the first glance, the main visual difference between the two is that the new eyeshadows come in a square pan (rather than circular) which easily fits into their face product palette while maintaining the flexibility of a compact, travel-friendly packaging that you can mix and match as necessary. I personally don't have a preference between the two but the square pans does make a lot of sense given their latest launches (along with the refillable palettes) come in a rectangular or square-ish shape.
The Make Up For EverArtist Color Shadow is available at: Sephora • Make Up For Ever Counters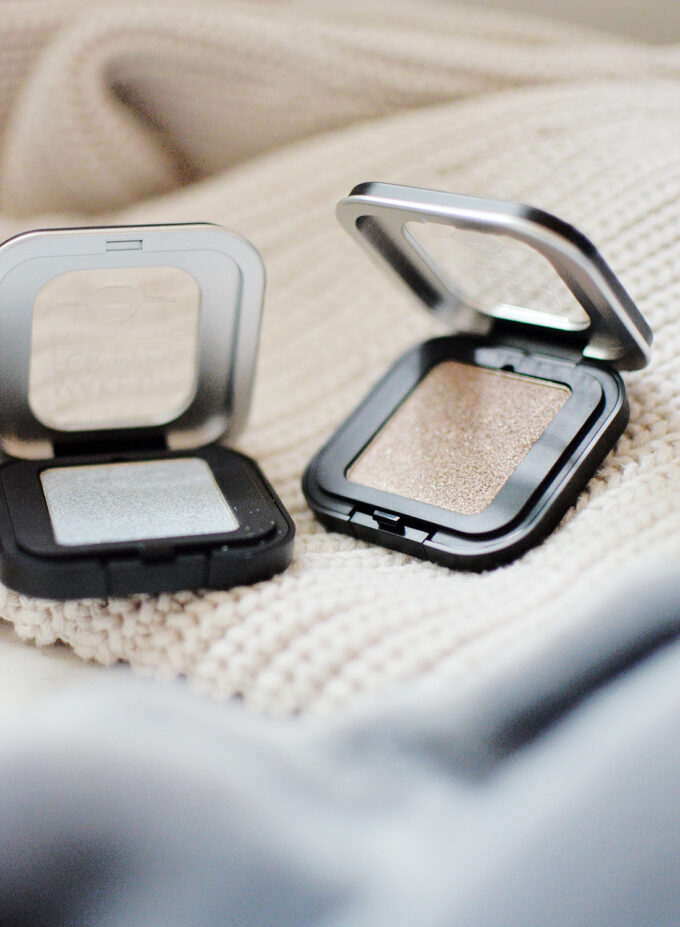 Make Up For Ever Artist Color Shadow | Keeping its best Features
Having been a huge fan of the previous formula, I have been quite apprehensive about what this new relaunch would mean. Fortunately, it retained much of the qualities of its predecessor, the majority of the eyeshadow's best features remain largely the same. That includes 5 finishes, similar naming convention (starting with a letter that indicates the finish, and 3 digit number that identifies where it sits on the colour wheel), pricing structure and simple, easy to travel with packaging.
The Make Up For EverArtist Color Shadow is a range of 121 colours and 5 finishes (glitter/diamong, matte, metallic, satin and shimmer) that gets cheaper the more you buy. I've never been the biggest fan of premade palettes so this "make your own palette" concept has always been very much something I can get behind. I am absolutely sold by the mindset that quality comes first and that Make Up For Ever makes it worth you money to buy these – there are none of that filler nonsense here meaning you're paying for really good-quality stuff here.
The palettes can be purchased separately and comes in a single, duo, trio, quad, or palette of 6 colours. Each palette retails for CAD$2. If you already have a palette (i.e. an existing z-palette or something similar), it's not necessary to purchase one of Make Up For Ever's unless you feel inclined to. The $2 makes it a no-brainer if you want to travel with select colours.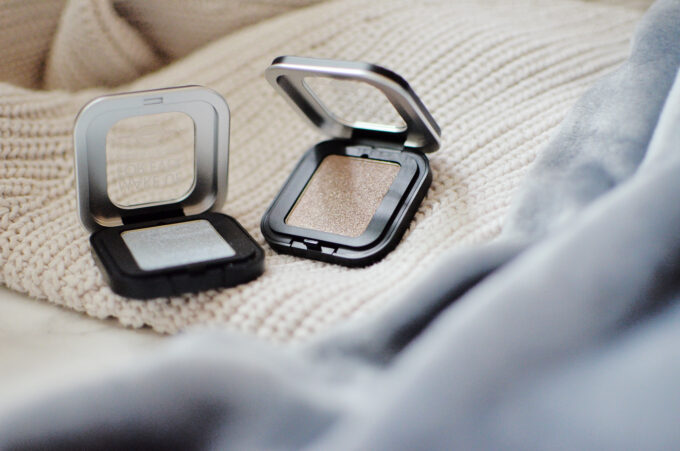 I really liked the variety of the previous range – you can take some colours and turn it into a blush/contour colour/highlighter easily. I'm very glad to see that this range is identical to the old one (except for the shape) – there's absolutely no loss of quality that I loved so much in the previous range like the pigmentation, blendability, colour payoff, shade selection and texture. Although it seems that $22 is a steep price to pay for a single eyeshadow, consider that these are almost 1.5x the size of a regular eyeshadow meaning you are getting far more bang for your buck on your favourite colours (i.e. the Artist Color Shadow is 2.5g vs. MAC's 1.5g)
Make Up For Ever Artist Color Shadow vs. Inglot Freedom System Eyeshadow
I thought the new dimensions of the Make Up For Ever Artist Color Shadow looked suspiciously familiar like the InglotFreedom System eyeshadows ($14 for 2.3g). I've long been a fan of both because not only do they have hundreds of colours to choose from, they also have some of the best-quality eyeshadows for a reasonable price. I went ahead and compared the dimensions of the two products, and we have a dupe!
Make Up For Ever Artist Color Shadow and Inglot's Freedom System Eyeshadow has an almost-identical dimension so it fits snugly into your Freedom System palette if you already have one. From a volume perspective, Inglot wins, by having 2.3g (vs. MUFE's 2.5g) for only $14 (vs. $22 for MUFE). The only place where Inglot loses is the price of the palette ($7 vs. MUFE's $2). You can see the comparison below and how the Make Up For Ever eyeshadow fits and compare to the Inglot one.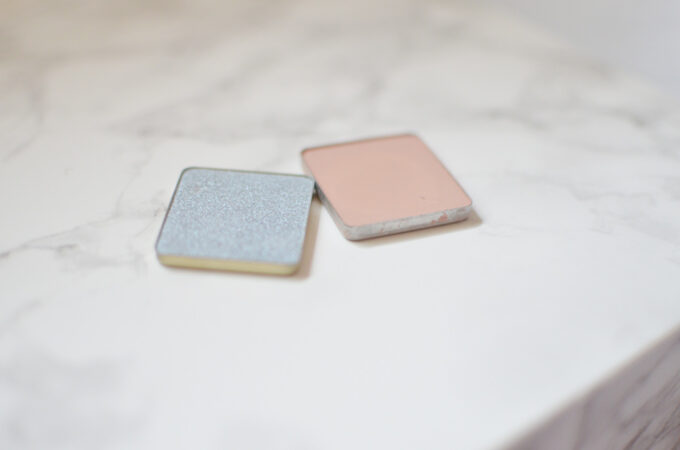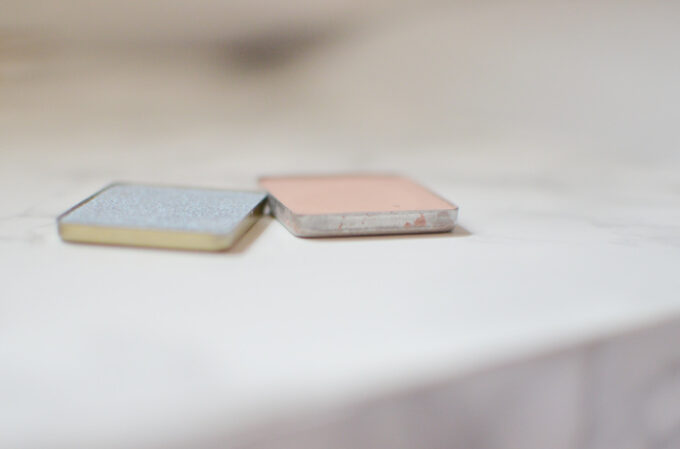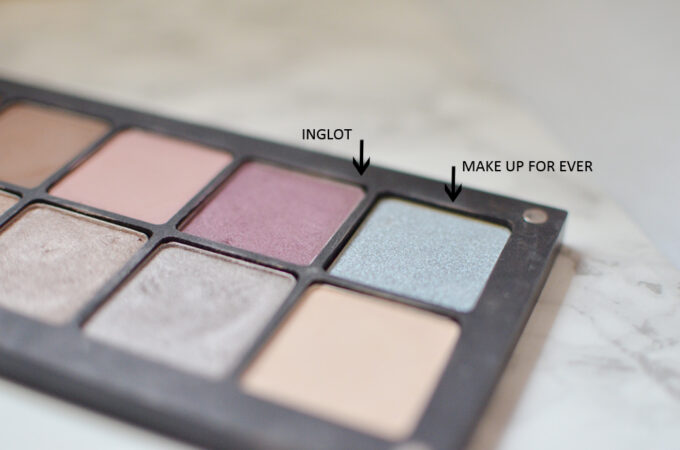 Make Up For Ever Artist Color Shadow Swatches
I'm glad that the Make Up For Ever Artist Color Shadow retains much of what I loved about the Artist Shadow. I think making the move to a square-pan shadow is a bold but necessary move to ensure there is cohesiveness to the rest of the range. As a fan of the Face Color range, I'm glad my palette can now pack both face and eye products in one go!
Have you tried the Make Up For Ever Artist Color Shadow? Or the older Artist Shadow? How do you think it compares to your favourite brand?
---
Disclaimer:
This post features product(s) provided for editorial consideration. All opinions are my own. For more information about my review policy, please
click here
.
---