One of this season's hottest releases is the new BenefitThey're Real Push Up Liner ($29, available here) – touted as the answer to every woman's quest to achieve the perfect winged-eyeliner/cat eye with very little fuss and mess.
Despite being a beauty blogger, I admit that I am eyeliner-challenged, as embarrassing as it is. Not to mention, I like to wear minimal makeup on a daily basis, occasionally forgoing the eyeshadow for a wing eyeliner look, so this contraption caught my attention immediately. Just to prove the point, when I saw pictures of the new BenefitThey're Real Push Up Liner, I was sold.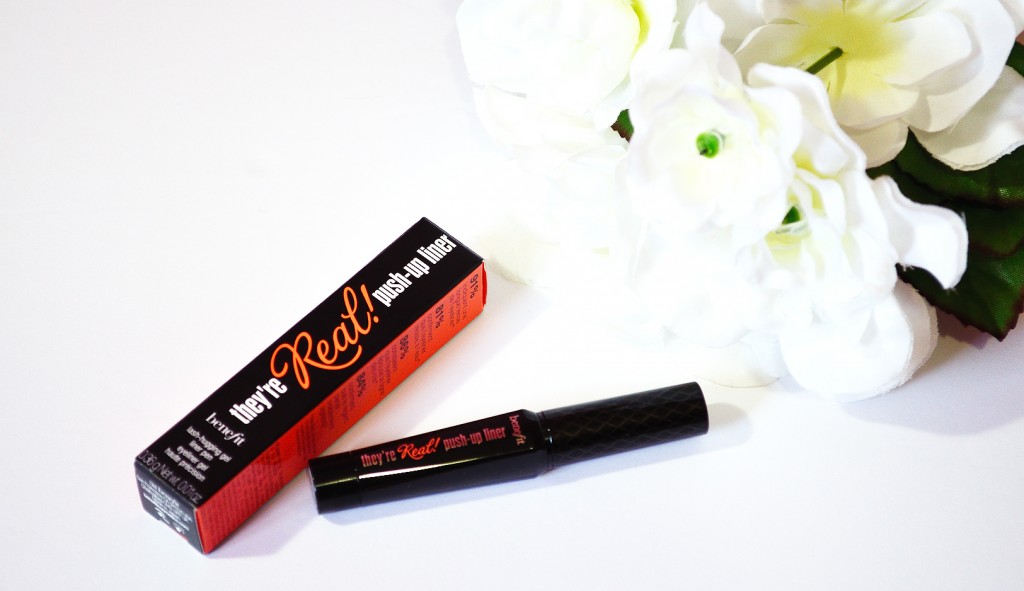 I'll break down this review into two parts: the pen/liner itself, and the gel formula.
Format and Packaging
The pencil format, thin, and easy to hold/manoeuvre won me over from the first flick. It didn't feel bulky to hold, and didn't interrupt my view as I was moving my hand to apply the product. It just felt comfortable to hold, and apply with! The Accuflex tip (which is flexible/rubbery and feels like silicone) does exactly what it claims to – precise application on the actual lash line. The tip is excellent to draw the wing/triangle of the liner precisely – it's almost hard to screw up! To get the product out, you simply twist the bottom of the pen. Do be careful though, it may seem like you're not getting anything out, but you actually are – one twist at a time to be safe! From these points, the BenefitThey're Real Push Up Liner was a big win for me.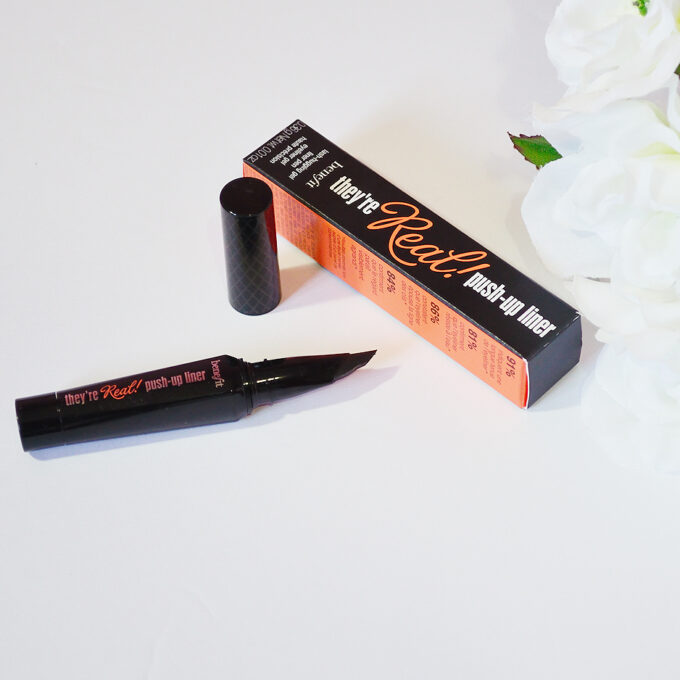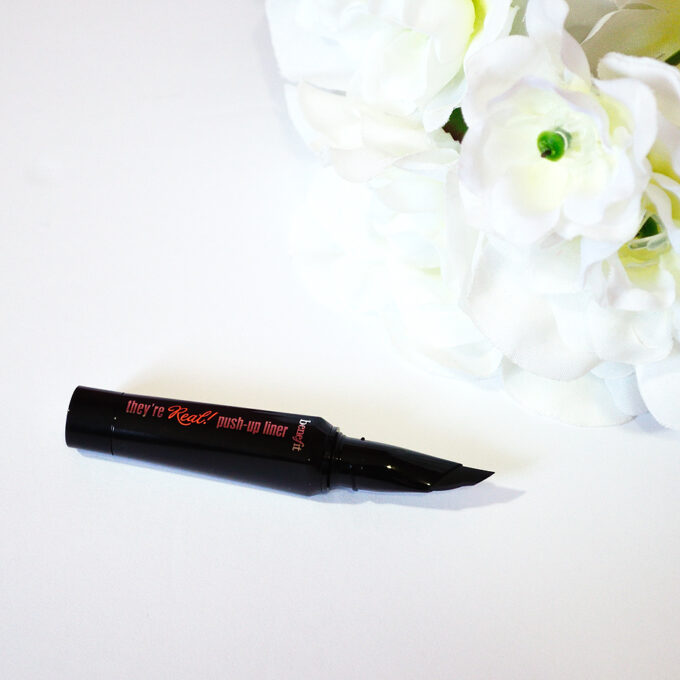 Gel Formula
The formula itself is a gel in matte black, and didn't dry too quickly, allowing time to fix any boo-boo. Once the gel sets though, it doesn't move around and dries smoothly – it stays put and I was quite impressed. The black is very much one of the blackest black (think of Urban Decay's Perversion eyeliner!) a colour which I really love. This is very the fairy tale story ends though – as much as I love the matte black gel formula started smudging and flaking throughout the day. It would be okay if it smudged just slightly, but I saw bits of the gel actually on my face during a presentation… and I was presenting. And if you don't set the foundation/concealer under your eyes with powder, prepare for a full-blown panda eyes by the end of the day. Not cool guys. Not cool at all.
The gel stays on and is quite hard to remove, even with Bioderma H20. I have been using baby oil to remove the product which I don't normally resort to.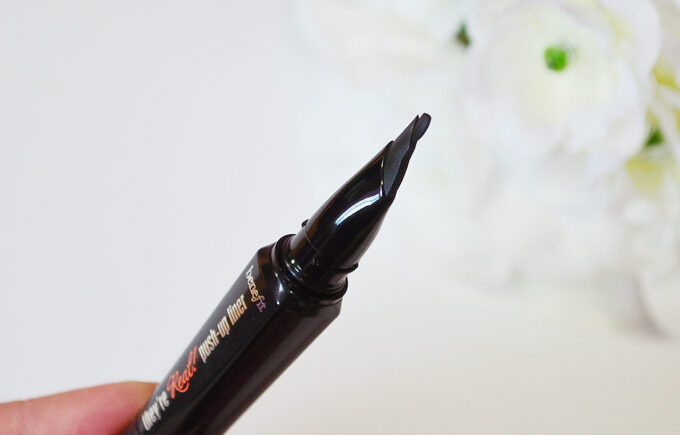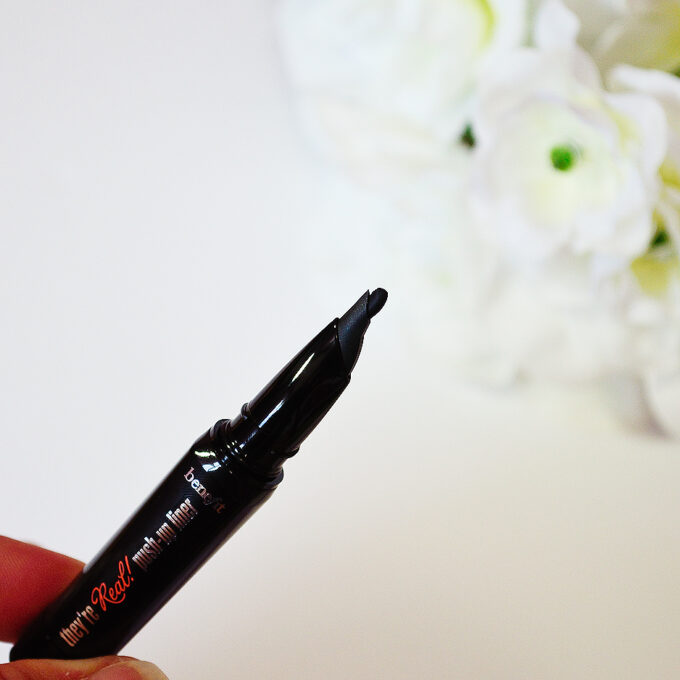 I have slightly hooded eyes, so when I'm doing eyeliner, I need a much thicker line. This obviously was not meant for thick lines, so if you're thinking about it and you draw thick eyeliner, you will want to save your money and skip this (unless you're okay with going over it several times). Tiny flicks, and thin lines disappear from my eyes. No jokes.
I think the BenefitThey're Real Push Up Liner is a going to really be a hit or a miss for most people. The idea of a gel liner in a pen is absolutely overdue in the beauty industry, and this fills a niche without much competition. The format and formula were both winners, except the formula fell short of expectations for me. The idea and potential is there, but could use a little more work in the formula.
Have you tried the Benefit They're Real Push Up Liner? As always, I'd love to hear your thoughts! Share with me comment section or through Twitter or Instagram!