There's nothing more liberating than taking off all that makeup at the end of the day, shower and slip into cozy PJs and sweatpants for a relaxed post-work detox everyday. I treasure the days when I actually get home in time to have dinner, have time to read through my blog feed and read a couple of books. Most days however, is a manic "I'm-trying-to-do-all-my-errands-in-three-hours" type of evening, involving dropping or picking things up at the dry cleaning, going for a dentist / doctor appointment, picking up groceries, doing yoga, or going to the gym.
With this kind of "always on the go" lifestyle, it's important for me to minimize my skincare to the right amount and only consisting of products that work so that I spend less than 15 minutes on skincare each day. Over the years, I've narrowed down my skincare to a range of 4-5 products that I repeat in the morning and at night.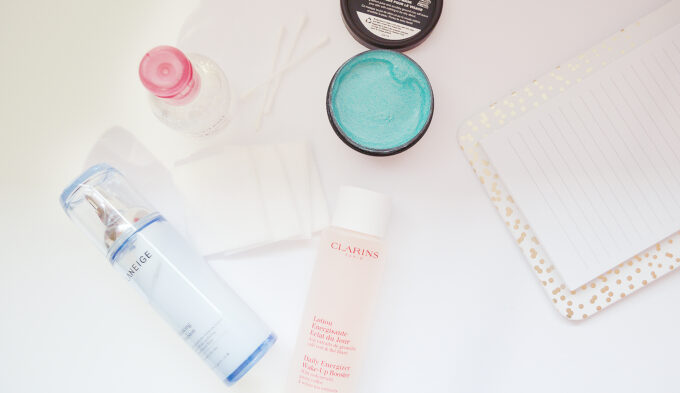 + BiodermaSensibio H20 Micellar Water ($19.95-$32.95, available here)
It's no surprise that this is the first product I bring up because it is the first thing that touches my face in the morning, and when I get home from work. In the morning, I use this as a toner before I proceed with my face wash. There's something about removing the oil build up from the night before that I feel the Bioderma cleanser does a better job at in addition to a face wash. When it comes to removing makeup, this is my absolute go-to – so much so that I have an entire shelf dedicated to this it.
+ PhilosophyPurity Made Simple Cleanser ($13-41, available here)
I forgot to add this item in the picture, but my current face cleanser of choice is the PhilosophyPurity Made Simple Cleanser. I've been using this for years mostly because it is included in the annual Black Friday deals for only $13 for a large-size, limited 12oz bottle that is only released this time around every year. It lasts exactly 6 months, and every time it becomes available, I purchase 2 bottles, which means I only spend $26 a year on cleanser. FTW. In an all honesty thought, this is a great cleanser since it removes makeup and waterproof makeup so effectively without stripping any of the natural oils from the skin. The result is a clean face that doesn't feel tight post-cleanse.
+ ClarinsDaily Energizer Wake Up Booster ($17, available here)
Otherwise, a very fancy name for a toner / skincare booster that I use as a morning pick me up or a toner at night. Infused with citrus as its main ingredients, this viscous toner perks up your skin without the stinging action. It feels especially fantastic when you pop it in the fridge when not in use, because the sensation when you apply it in the morning or even when used post-cleanse as a toner, is superb after a long tired day!
+ LaneigeBalancing Emulsion Moisturizer ($35, available here)
Ever since Laneige was introduced at Sephora, I have been curious to try out more of their skincare products. My favourite thing about this range is due to its focus on hydration and exploiting science and technology to bring out the most out of the ingredients to make it a one-moisturizer does all. Plus, it smells lovely – just a light, sweet, floral scent that is just enough to make you feel good without risking any skin reaction.
+ LushDon't Look at Me Face Mask ($10.95, available here)
I try to set aside about 5-7 minutes of my time applying face mask in the evening, particularly on the days when I've just had an exhausting work day. My current favourite is the LushDon't Look at Me Face Mask for its brightening ingredients to perk up my dulled winter complexion. With ground rice to slough off dead skin cells and lemon to brighten up the complexion during the winter season.
What are your skincare must-haves? Do you have a skincare ritual that you follow religiously?