For someone who regularly spends no more than $30 on hair styling tools, I blew myself away when I willingly splurged on the L'OrealProfessional Steampod ($250-$300, available here) back in 2013. This kind of price kind of forces you to love your tool so four years on, spoiler alert! I'm still as in love with my L'OrealProfessional Steampod as ever!
The L'OrealProfessional Steampod I am reviewing today is the OG – version 1.0. The new L'OrealProfessional Steampod 2.0 was released last year and comes in a matte white colour which distinguishes it from the first version (black) but as far as I can tell, the look and feel of both products are quite similar.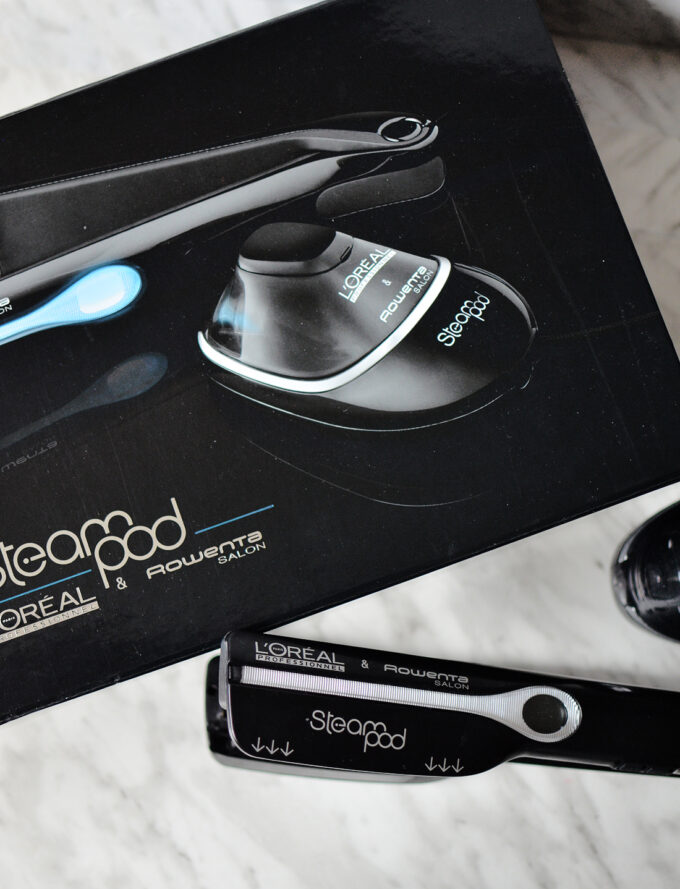 The L'OrealProfessional Steampod is only available at select salons and retail for $250 (up to $300 depending on where you buy it) for the at-home version which I'll be reviewing. You can see which retailers carry this fancy straightener using the "location" functionality on the L'Oreal Canada website. If that doesn't yield any result, it's worth looking up L'Oreal-accredited salons in your area and calling them up one by one (which is what I did in 2013) or just Google which stores carry and ship them to Canada!
What is the L'Oreal Professional Steampod
The premise of the L'OrealProfessional Steampod is being the first revolutionary hair tool that combines a unique, patented steaming process and pro-keratin technology to smooth your hair faster, and gives you a more naturally healthy / sleek result that lasts all day. The steaming process is supposed to straighten your hair from inside out, keeps it healthier despite constant styling and claims to leave your hair sleek and straight for up to three washes. L'Oreal has partnered with Rowenta (a famous home appliance manufacturer) for this technology and as far as I can tell, is the only hair straightener with this kind of steam technology.
The L'OrealProfessional Steampod is available as an at-home version (with a much smaller water reservoir for $250 + tax, or a salon version (which has a much larger water reservoir and longer cables) for $500-ish.
How do I use the L'Oreal Professional Steampod?
The first thing you'll notice about this hair tool is how much more high maintenance it is. I guess if you want results, you have to put in some effort. There Steampod comes with a water reservoir that you have to fill with distilled water (not unfiltered tap water because it can clog up the reservoir filter). The full water reservoir for the at-home version should give you 4-5 uses before having to be refilled. If you're finding you're refilling a lot more often than this, you should check for leakages – just in case.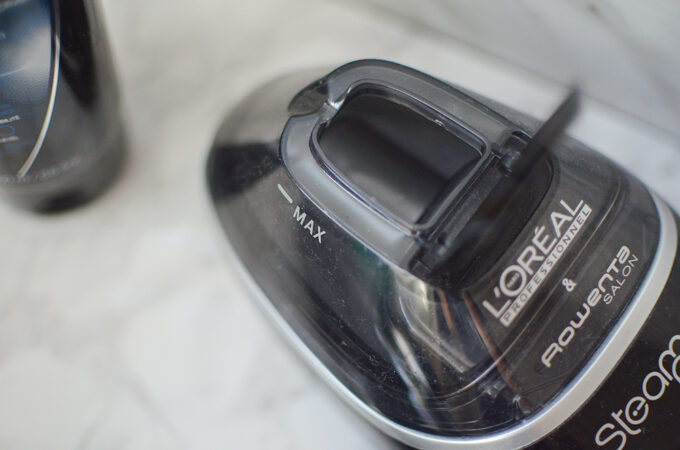 The second thing you'll notice is the steaming sound – much like a regular clothing iron. You should give about 1 minute for the tool to heat up and start making the steam sound before using it on your hair as it will guarantee a proper, even steaming process and it won't be damaging to the hair.
Since you are steaming your hair, keep in mind that your hair will be hotter to the touch than if you were using a regular hair straightener. Be wary of touching your hair immediately afterwards – your hair will be much hotter than you expected even when the iron is set at 300F.
You also have to use the flat iron in one direction. You'll see that there's two sets of downward-pointing arrow in the image below so there's no fancy twisting, or curling with this. Despite how bulky the tool is, this is still a 1-inch straightener.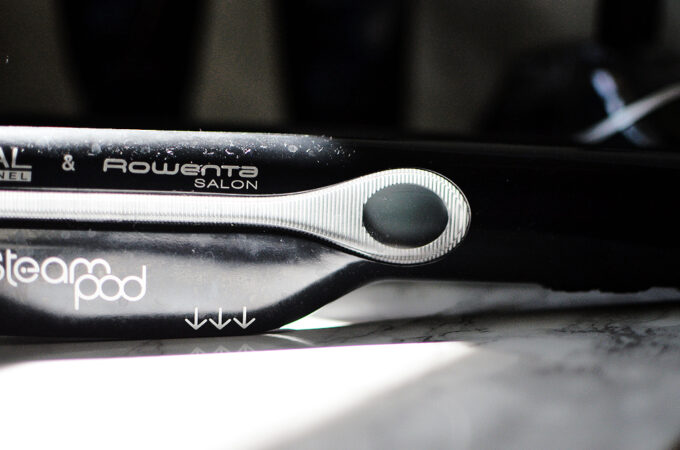 My Experience with the L'Oreal Professional Steampod
The first time I came across this tool was at a hair salon in Toronto and I could not believe how sleek, light and naturally healthy and shiny my hair looked. I loved it so much that I went out and splurged on one tool despite the price point.
The L'OrealProfessional Steampod is really bulky and quite heavy. It comes in one standard size so it's not easy to style with. This is something you want to invest in strictly for straightening your hair on a regular basis and nothing else. I'm sure if you put in the work, you can curl or style your hair with it, but not as quickly as a smaller 1-inch flat iron would.
The Steampod straightens your hair in one thorough "sweep". I can work with thicker sections at once with this tool because of the wider surface area. The steaming process means I don't have to go over the sections multiple times – one time is enough to straighten the hair completely. With this in mind, I am absolutely satisfied in cutting the process time by more than 50%.
The Pro-Keratin technology that this product promotes only apply if you use their Activated Care Smoothing Cream which you have to purchase separately for $25 each. I bought my bundle (2 for 1 deal) several years ago for $17 and I felt it's really what helps achieve a much more sleek finish with no flyaways. I have been using the Bumble and bumbleStraight Blow Dry Creme which I have been using with other flat iron tools but don't think I'm getting as good of a result as the L'Oreal creme. From that perspective, I think it was misleading to claim that this will give you that pro-keratin technology without mentioning the add-on you have to buy.
With the L'OrealProfessional Steampod, my hair is a lot more manageable, and stays sleek and straight for much longer than my regular hair tools. Second and third day hair becomes a lot easier to style and work with on those lazy days.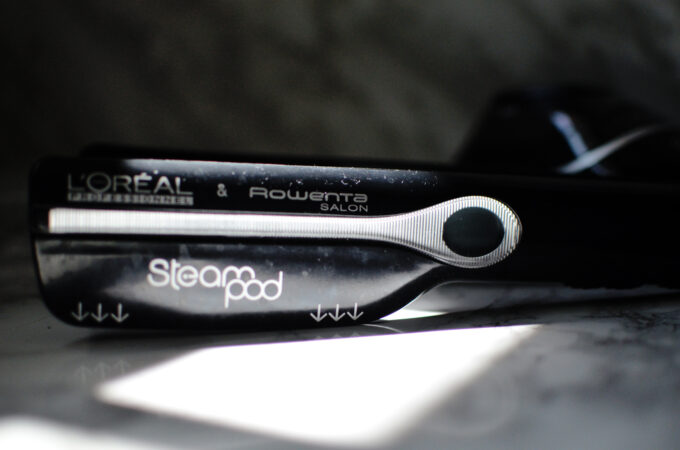 A Few Considerations
Despite having a newer version out, it's still quite hard to find the L'OrealProfessional Steampod. I highly recommend that you only buy this at retailers that sell specifically to your country's electronic requirement. From what I remembered in my own attempt to buy this in 2013, the L'OrealProfessional Steampod is more widely distributed in Europe (LookFantastic carries this product for their UK customers) and I came across reviews whereby people accidentally bought the straightener but has the wrong plug / voltage. Since it is quite a pricey investment, you'll want to double check ahead of time. I bought my tool at a local salon in Toronto.
Overall
I think the L'OrealProfessional Steampod is worth the investment and upgrade if you're someone who regularly straighten your hair and not satisfied with your current tools. I find the steaming process to be much healthier for my hair so I personally like this much more than a regular hair tool. I appreciate that I can get my morning routine done faster with the L'OrealProfessional Steampod and have a really great result that I don't have to worry about during the day.
There are a few inconveniences with this product including having to top up the water reservoir every week, and the fact that the suction hooks at the bottom of water pod isn't very good at adhering on a marble surface which makes it more likely get dragged around and spill. The L'OrealProfessional Steampod is quite heavy so it does feel like a workout in the morning, and the cables are quite cumbersome to work with in the morning. However, these pain points are things you get used to after a while so it's not something I notice after using this for a week or longer.
Would you invest in a hair tool like this? Have you tried the L'Oreal Professional Steampod?