Somebody stop the presses! There's no need to go to Paris anymore to search for the super popular Bioderma Micellar H20 (Not that there's anything wrong with it!) when you're out of it, because I am about to share with you the closest dupe that is not only excellent in terms of formulation, but also in terms of price point! Save yourself the airfare and grab yourself the the L'OrealSublime Micellar Solution ($9.97-14.99) instead which has been my go-to (It has replaced the Bioderma on my vanity) makeup remover at the moment.
With the immense success of the much-hyped Bioderma Micellar H20/Solution, it wasn't a surprise when different brands started copying the concept and came out with their own version of the micellar water. I have reviewed two drugstore versions of the Micellar water which I have tried before which I thought would satisfy my need to find the best dupe to the original, but L'Oreal had to prove me wrong.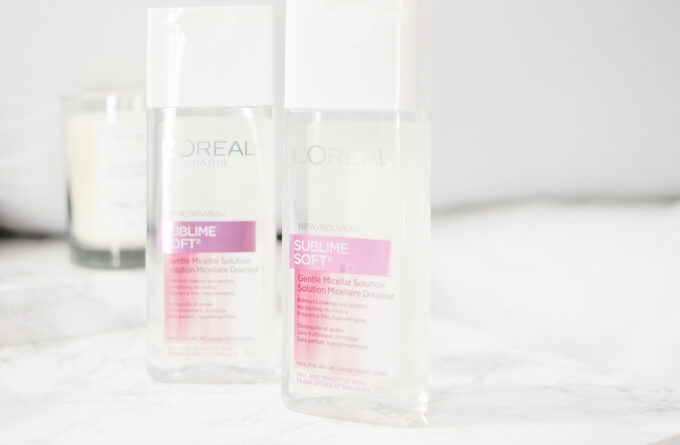 I'll say this right from the get-go, I am in LOVE with this. L.O.V.E. So thank you L'Oreal, for bringing this product out because it is the CLOSEST thing I have come across to the original Bioderma. There's a lot of bolding and italicizing in the last sentence because there aren't enough words to express how excited I am to have a dupe that is (Dare I say it?) identical to the original, and with a great price point attached to it. If you were to blindfold me and told me to test the two and identify each one, I wouldn't be able to do it – that's how good the L'Oreal version is. L'Oreal totally nailed the formula that really melts and remove make up the way the Bioderma does. I reviewed Marcelle's version of the micellar water and loved it as it felt like an exact dupe to the Bioderma. Having said that, I may have to re-evaluate since the L'Oreal version resembles the Bioderma one more than the Marcelle one.
For those of you who are value conscious, and are curious about the price difference, here is the breakdown:
Bioderma Micellar H20: $22 for 250mL, $33 for 500mL (Shoppers Drug Mart only)
L'Oreal Sublime Micellar Solution: $14.99 for 200mL at Shoppers Drug Mart, $9.97 at Wal-Mart; I have also seen and bought these on sale for $7.99 at Shoppers Drug Mart and Walmart
I will be very frank with you but every time there's a sale on this product, I stock up on it like there's no tomorrow (I mean, there's no telling when I'm going back to Paris to repurchase the Bioderma right?) When life gives you awesome discount on your favourite products, you better grab it while it lasts… Exhibit 1:
Without any sale/discount, this thing is EXPENSIVE (at least at Shopers Drug Mart where it retails for like, $15.99 for a 200mL bottle which works out to be more expensive than the 500mL version of the Bioderma Micellar Water). Anyways, I've spotted this on sale for $7.99 (half price guys, HALF. PRICE!) at Shoppers Drug Mart and occasionally at Walmart and Tarjaayyy (where it retails for $10.99 without any promotions), and I went all out. And bought 8 bottles (it was because of the coupon offer from Shoppers!! Something along the line of spend $50 and get 18,500 points. I cannot say no to that!) Granted, I bought them from my local Shoppers Drug Mart, so no worries I'm sure there were plenty left at other locations.
There's no denying it, L'Oreal's version of the micellar water is the closest thing to the original Bioderma for those of you who do not want to spend too much money on makeup remover. Inexpensive and gentle on the skin – my favourite words to associate with makeup removers are the definition of this product! The formula is gentle on the skin – it doesn't leave anything behind, and is very safe for all skin types. The product goes on sale quite often, so you can save money as well. The bottle doesn't make it very easy to dispense the product (it's a little messy to be honest), but as far as the disadvantages for this product goes, that would be the only thing I can think of.
What about you? Do you like makeup removers like the Bioderma or the L'Oreal one? Have you tried either formulas?