I'm one of those people who spend a minimal amount on hair products and tools. Given that, I usually resort to spending at most, $30, at Winners / TJ Maxx to purchase an Ionika brand flat iron which has lasted a good 6 years without my having to replace it.
A flat iron is a staple in my minimal arsenal of hair tools – it's basically my mascara for my hair. I can't live without it, and my hair is nothing short of a disaster without it. Although I have a relatively good (but old) flat iron at the moment, when I had the opportunity to try out the Irresistible MeDiamond Professional Styling Iron ($149, available here) my curiosity was immediate piqued:
"Was a $150 hair tool going to make a massive difference in my life? Have I been missing out all my life? Was having a $30 tool the reason that I could never perfect that flat iron curl tutorial on YouTube?"
The questions continued so I was darn excited to get started on using the straightener, so much so that I packed it with me to Paris the day after it arrived.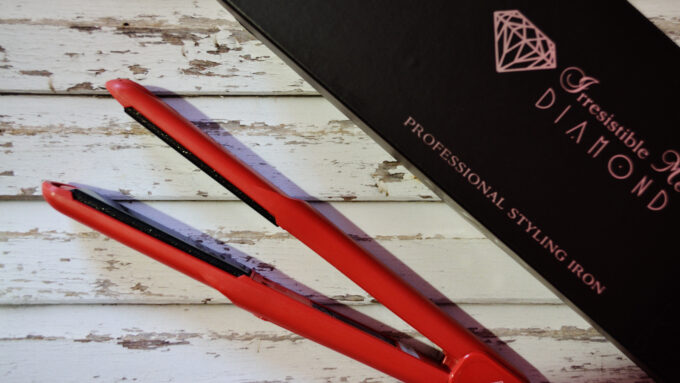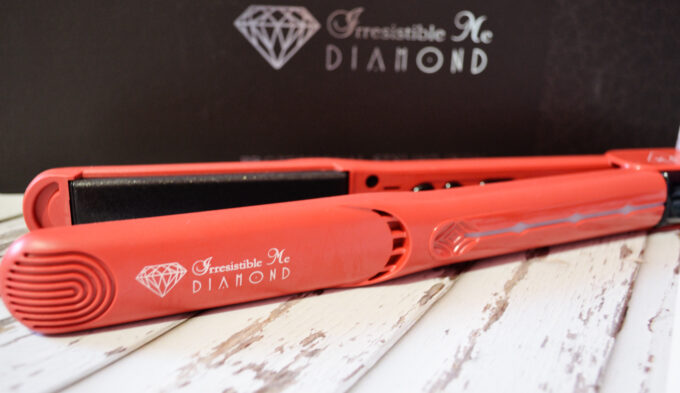 The first thing I notice about the flat iron is how light it was. Now, I have two other hair straighteners that I have and use. One is a salon-quality L'Oreal ProfessionalSteamPod which weighs as much as a small dumbell, and then I also have a regular flat iron purchased from Winners. However immediately after picking up the Irresistible MeDiamond Professional Styling Iron, the weight difference is so noticeable! This barely weighs like anything and the moment you go back to your old straightener, you'll be wishing that you didn't have to! While that doesn't affect the quality of the product itself, it's something that could be a decision maker or breaker for you!
The eye-popping orange-red colour of the Irresistible MeDiamond Professional Styling Iron looks so sleek and fierce – so on fleek when resting on my vanity ???? What I also love about the design is the fact that there is a thumb rest on one side so you can rest your finger (thumb) there as you straighten or curl. The ergonomic design makes styling and twisting and turning the iron, so much easier!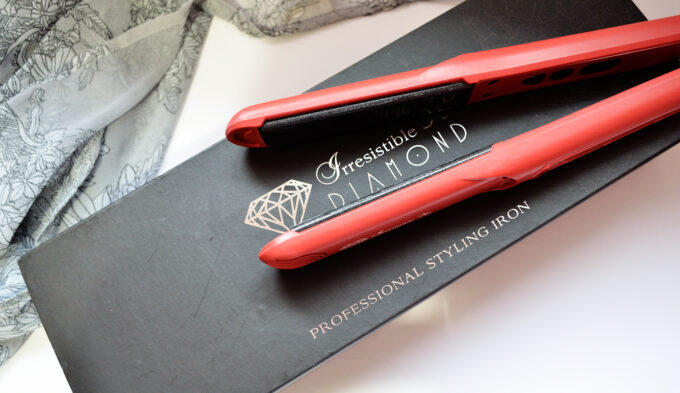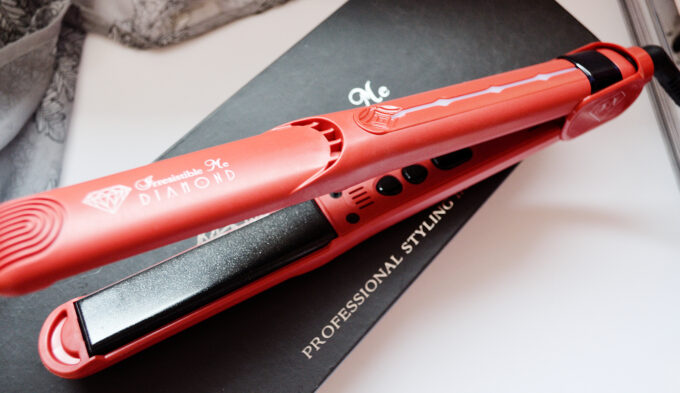 It's quite obvious that a lot of thought and consideration went into the development of this product judging by the materials used. If you are not familiar with it, here's a quick primer! There are two common materials used in hair straightener plates – they are either ceramic or tourmaline-infused. I own a tourmaline-infused straightener which in layman's term uses negative ions to seal in the hair cuticles resulting in shiny, healthy, frizz-free hair despite frequent usage.
In the past, you get a straightener that is often one or the other – it's either a ceramic-plate (really old kinds of hair tools have this base) or if you can get your hands on it, the more expensive tourmaline-infused plates. What still blows my mind is that the Irresistible MeDiamond Professional Styling Iron combines not BOTH ceramic and tourmaline technology within its diamond nano plate. Here's a quick summary of the different benefits associated with the materials used:
Tourmaline: minerals that emit negative ions which helps to seal the hair cuticle and leave it shiny after use
Ceramic plate: Durability
Diamond coating: improves heat transfer and enhances durability
It's really easy to dismiss the above spiel as marketing talk. However, as a marketer by day, I know how to read through the (insert that four letter word here) and actually understand what they're trying to sell me. Using this straightener is unlike any drugstore hair tools I've bought before, and the only comparison I can make is against the L'Oreal Professional Steampod which costs an equivalent amount of money and requires a lot of maintenance. What impressed me was that after going through the hair once, just once, you get a non-static, shiny and very soft hair! It's really something that you have to try to fully understand!
Having quite thick hair, I really appreciate knowing that the flat iron heats up quickly and doesn't cool down too much during the process. In the past, it used to take me anywhere from 5-10 minutes to go through my entire head of hair completely, but using the Irresistible MeDiamond Professional Styling Iron, I can get it done much quicker!
I am very aware that this tool costs a boatload of money and it's not an easy decision to make when it comes to deciding whether this is a need or a want. For someone who uses a hair straightener on a daily basis, I made the decision to purchase L'Oreal ProfessionalSteamPod which costed $250 plus tax because of the benefits associated with the materials used in it. At the time of purchase in 2013, it was one of the most advanced hair tools that are used across L'Oreal salons in Canada and the UK. I first tried it when I got my hair done for an event and loved it so much that I spent that much money which was quite unheard of for me at the time.
I think you have to approach the Irresistible MeDiamond Professional Styling Iron in the same manner. It is a far more advanced hair straightener than the ones you can purchase at Walmart or Winners. This straightener, while doesn't guarantee a problem-free or damage-free hair from constant use, appears to be the one that minimizes the damage the most.
The value of $150-200 spent on a hair tool varies between individuals so it's helpful to go through each of the features of the product carefully so you know exactly what you're buying. You can purchase the Irresistible MeDiamond Professional Styling Iron directly from the website here ($149, available here). If you are a first-time buyer, you can get 20% off your order!
What do you think of the next-generation "Smart Iron" hair tools like the Irresistible Me Diamond Professional Styling Iron? Would you try it?
---
Disclaimer:
This post features product(s) provided for editorial consideration. All opinions are my own. For more information about my review policy, please
click here
.
---