In April, I had the amazing opportunity to go to Las Vegas for a business trip. After all the work-related tasks and assignments were completed, I had a bit of time to explore a little bit of Las Vegas before flying back to Canada and do a little bit of retail therapy.
My financial discipline went out the window the minute I learned that Macy's had 20% off sale going on for an entire weekend. On EVERYTHING (by that I mean every department) in store. Yes, that includes cosmetics too. How does one stop oneself from spending the moolah when there is literally every incentive to do so? Especially when there is a CHANEL, Dior, MAC Cosmetics, Benefit and Inglot counters within that one Macy's alone? Twenty percent off guys. 20! That's quite a bit of savings right there.
I had absolutely zero intention of purchasing makeup from MAC Cosmetics whilst I was in Las Vegas (Fashion Show Mall – how touristy of me). However, given that I had that Macy's coupon on hand, the MAC Cosmetics counter was conveniently located there, AND the cheaper US prices, I told myself I can buy one or two things and that was it. I ended up walking away with probably one of the biggest hauls from MAC courtesy of the ladies at the MAC counter who were incredibly helpful and friendly (come on, Canada! You could learn a thing or two about customer service from the MAC ladies in the US!) So I splashed on a whole bunch of things that were you know… not very necessary ????
You guys know that I complain all the time about MAC's price increases. For example, in my most recent review of one of their limited edition lipstick, I was pretty bummed out about how the price has gone up $1.50 within six months. The real incentive though was that MAC made some of their previously limited edition shades permanent, so I ended up buying the: MAC Lipstickin Flamingo, and Sushi Kiss ($16, available here) which would work very well with the whole spring orange-lip trend, as well as the Sweet Experience, a blue-based pink from the Playland Collection which is a colour that I do not own at all.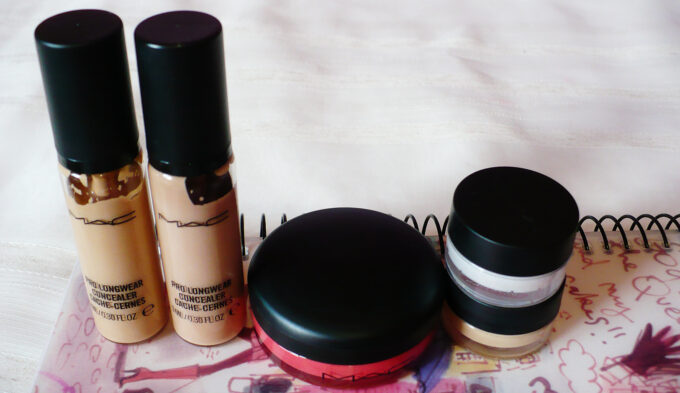 I also bought the MACPro Longwear concealer ($21, available here) which I have only hear good things about. I have tried the foundation formulation before and liked it well enough but it is the concealer that gets the most recommendations. I've purchased one before (NC20), but since it was slightly cheaper to buy these in the US ($19 each), I added two more shades to my collection: NW20 and NC15 (for highlighting)
To be honest, I hadn't planned on purchasing the MACHi Jinks! Casual Colour Lip & Cheek Colour. When I went back to the hotel, went online and found that it was sold out in a lot of stores, I high-tailed it back to MAC and immediately asked them whether they still had any left. The rest is history!
As I was checking out, I asked the SA who was helping me what some of her favourite products were. When I told her that I'd really like to try the Studio Sculpt foundation (I bought the wrong shade in the past and has never really wanted to splurge $37 on a foundation at a retailer where the SA's aren't very helpful), she immediately told me that she'll give give me a sample for it. She also made a sample of the strobe cream (also another one of those super popular product from MAC) for me to try!
Overall, a fantastic service resulted in a very happy me and lots of shopping. I honestly think the way that these retailers can separate me from my money is pure sorcery (I mean, 20% OFF coupon on everything in-store at Macy's was a more than enough incentive for me to just lose my credit-card discipline in one go, you know?) Plus, the lower tax rate, and great shopping atmosphere just made it absolutely worthwhile.
Have you purchased anything from MAC recently?