Givenchy may be one of the most under-rated beauty brands more known for its fragrances and fashion over its extensive beauty range. Givenchy has some of the most unique products out there – innovations that are not necessarily dupeable anywhere else. For Spring 2018, we're seeing a bit of refresh with their lip range (lip product lovers, rejoice!) with the new Givenchy Gloss Interdit Vinyl ($37, available here) with 12 shades to choose from.
The "refreshed" range features a new formula with an upgraded packaging and a fun G-shaped applicator that provides a great coverage in one go. Within the 12 shades, 3 of them are universal "booster" shades meant to be worn on top of another colour to give that special effect (although you can wear it on its own). If I didn't get you excited yet, might be worth knowing that the Givenchy Gloss Interdit Vinyl is formulated with Vinyl Black Rose Oil to give it that lustrous, hydrating goodness on your lips…
The GivenchyGloss Interdit Vinyl is available at: Sephora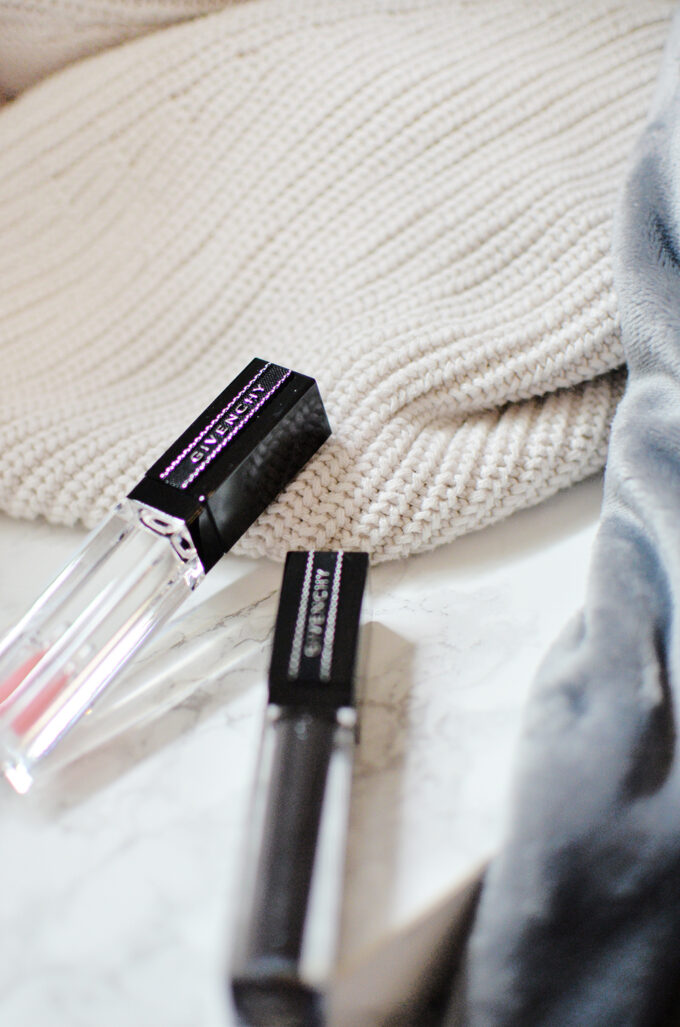 Givenchy Gloss Interdit Vinyl.
This non-sticky gloss caught my attention from the beginning as I'm not usually keen on lip gloss – of any type. I've made an exception here and there but I can confidently say that I'm not the biggest fan of glosses. One that transforms or will update my existing lip products, and also happen to be non-sticky, lightweight gloss however, will definitely make me put away my prejudice long enough to test out!
The square-shaped lipgloss is kind of fun because it's just so different than your traditional packaging. I was even more sold by the black ribbon with the Givenchy logo on the lid because just exudes luxury. The two glosses I have to share with you today are part of the 3 booster shades so I can't speak to the rest of the range and how they wear.
The glosses have a bit of plumping effect (nothing too obvious or noticeable) while smoothing down any lines and evening out the texture of your lips.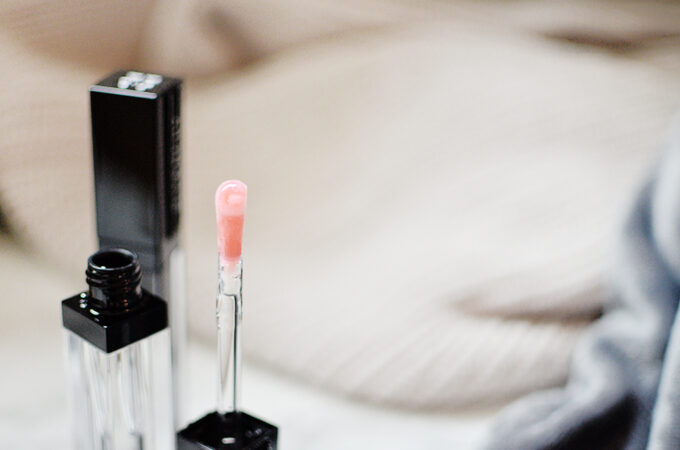 Givenchy Gloss Interdit Vinyl – The Booster Shades
N1 Rose Révélateur comes in clear tint that adjusts to your lips' natural pH to create your very own colour. This tint will look slightly different on everyone, and you can see from the swatch below, how the colour reacted to the pH level on the back of my hand.
A number of brands have released their version of "colour enhancers" and "boosters" but they're not all made the same. I have a few "balm" type of colour enhancer and they dry out my lips more than they help create that natural tint. I find that over the years, Givenchy and Guerlain have been the two high-end brands whose quality of colour enhancers have been the most consistent.
You can also wear this on top of another lip colour although I wouldn't recommend it. I find that the white applicator tends to pick up on the lipstick I'm wearing and will "stain" the gloss applicator (which will drive me nuts given the clear gloss) I personally hate doing that so it really comes down to preference. As the gloss wears on the day, it will leave a pink tint on the lip (or on your hand as is the case of my swatching it there)
N16 Noir Révélateur is a unique booster that naturally "darkens" the colour of your lip (or lipstick) creating a naturally darker shade with a hint of shimmer. I really, really like this particular booster as it creates a very unique finish on the lips and natural-looking tint that really ups any sort of lip products you may be wearing.

The swatches above hardly do any justice to the quality and finish you can expect from the range. I think if you're in the market for something unique and something that will up your lip game, this is it. I love these boosters for their versatility and that you can up any of your favourite lipstick and give it a new life! If you've been wanting to treat yourself with a shopping trip to Sephora, I highly recommend getting one of these (especially the boosters!)
Have you tried the new Givenchy Gloss Interdit?
---
Disclaimer:
This post features product(s) provided for editorial consideration. All opinions are my own. For more information about my review policy, please
click here
.
---