I apologize in advance if it seems that every week I am posting a new beauty haul but to be fair, I picked up these items over a course of my birthday month and they were planned purchases, so it wasn't like I went sideways and overspent on beauty this month! October means that holiday and value sets are starting to pop up everywhere – Sephora, Shoppers Drug Mart, and The Bay are fighting to lure you into one of their stores to spend your hard-earned money there.
I spread these purchases over several different stores so I can maximize any discounts or points offer. Here are what I picked up over the last month!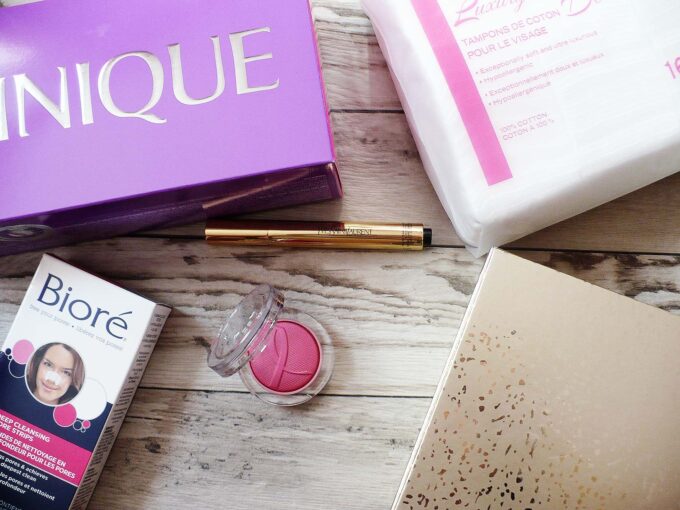 Sephora
I only picked up two items for my birthday but it definitely felt like a lot of money! The first item I had to pick up was the SephoraFavourites Superstar Set ($90, available here) which I knew I had to have as soon as I saw the products featured in it. I plan on repurchasing this set already when the Beauty Insider sale happens closer to the holidays. I also picked up the YSLTouche Eclat ($55, sephora.ca) concealer/highlighter pen which had its hey day some time ago. I had the 10% discount code from the Sephora Beauty Shake Up event so I didn't feel as bad picking it up!
The Bay
I have been keeping my eyes peeled for the CliniquePink With a Purpose Cheek Pop ($24, The Bay) which is a limited edition, exclusive release from Clinique to support the Breast Cancer Awareness Research. It comes with a pink pouch (not shown) and $4 from each purchase goes directly as proceeds towards the foundation. I think The Bay is the only Canadian retailer that carries this set as I haven't seen it around elsewhere. Who would feel bad purchasing a product that supports cancer research!?
Shoppers Drug Mart
I first spotted the CliniquePretty Wow Pretty Now Set ($55, available here) at The Bay but resisted purchasing it right there and then despite the GWP (a tote) being offered. The next time I saw this set was at Shoppers Drug Mart, and although I wasn't aware of it at the time, there was an Optimum offer on Clinique purchases. I had only planned to purchase a couple of things for my parents since I was running their errands, and ended up picking this up since I couldn't resist getting 3 full-sized items plus a couple of extra bits for only $55.
To round up my purchase at Shoppers Drug Mart ($75) I ended up purchasing the QuoFacial Cotton Pads ($7.50) which is a fantastic dupe for the Shiseido Facial Cotton ($11, sephora.ca) if you have been wondering. Not the most exciting item on the list I realize.
The last item I bought is for my sister – the Biore Nose Strip is perfect for anyone who has oily skin and prone to getting blackheads or acne! For someone who as normal/dry skin, I don't really have to have these products, but it works so well at picking up both white and blackheads (I won't ever show the pictures on my blog because it is the epitome of unpleasant!)
Are you excited about the upcoming holiday sets? What have you purchased lately?