I have a secret to let you in on – I love to indulge in a spa treatment way more often than I think I should. A part of it is because I travel often (work and personal) which means I need a proper massage every once in a while to align everything back in place. And my favourite spot? Four Seasons Spa Toronto!
Economy class can wreck your back, especially on those long-haul trips. I've been frequenting (is that too formal?) the Four Seasons Spa Toronto for about 3 years now and I love the renovation work they've done recently. Their spa is located on the 9th floor of the hotel and is aptly called their Cloud 9 spot which I adore.
I've been to a few other spas in Toronto (mostly the hotel-owned ones) like Park Hyatt's Stillwater Spa (closed for renovation work until 2019), Ritz-Carlton Clarins' MyBlend spa as well as the Shangri-La Miraj Hammam Spa by Caudalie. Of the bunch, I've had the best service, treatment and overall experience at Four Seasons (Obviously!)
By the way, this post is in no way sponsored, nor have I received a complimentary spa treatment (One can only wish) in exchange for this blog post. I just love it so much and thought to share my experiences with you.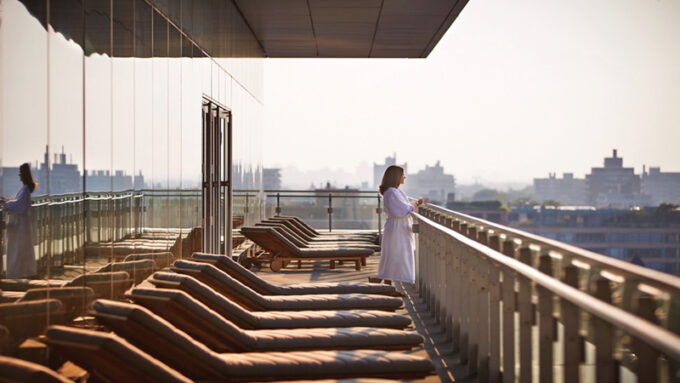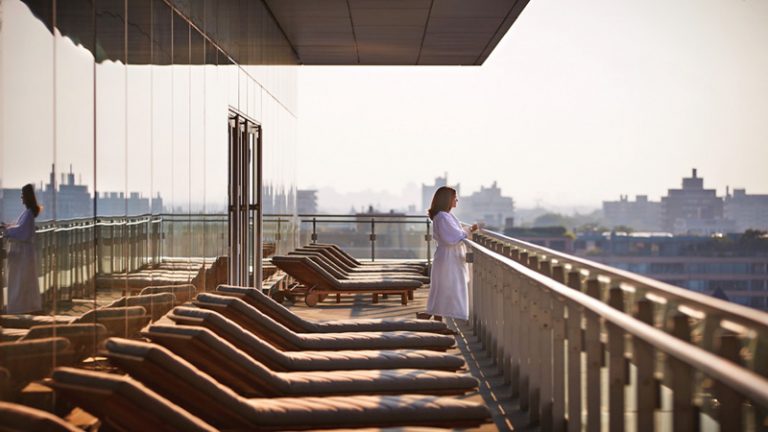 Four Seasons Spa Toronto | My Favourite Pick Me Up Spot.
With a diverse spa menu (Facials and massages), the spa will cater to everyone. I always go with their deep-tissue aromatherapy massage (The Winter-scent is my go-to) and I feel like a million bucks after each treatment. Not only are the massage therapists really great at making you feel like the most valued guest at the hotel and spa, everyone from the ones at the front desk, all the way to the attendants throughout the area, are always so welcoming and kind.
I know, I know. They get paid to do their job and to make you feel like a million bucks.
I think the reason I wanted to highlight Four Seasons Spa is because I didn't get the same level of attentiveness from the other high-end spa's I've been to. I'm sure Shangri-La and Ritz-Carlton pay their spa employees at a competitive rate as Four Seasons would but I can't comment on how "special" I feel and how relaxed I get every time I drop by the hotel for a treatment.
A First Class Treatment for Every Guest
When you arrive to check-in at the hotel, you're immediately provided a tour (if it's your first time) of the facility. It's massive and there's tons of different areas: saunas, pool, balcony, lounge area. I like to arrive early to relax by the pool or on the balcony for a bit if the weather is nice. Since the pool is shared with the hotel guests, you may see young children and families which I think is cute and if you really want to get away from all the noise, you can make yourself comfortable in the lounge area.
The facility tour finishes at the change room where you can get undressed and into your robe. There is a lounge area where you can enjoy some snacks pre and post treatment. I always have to remind myself to drink just enough water before my treatment begins.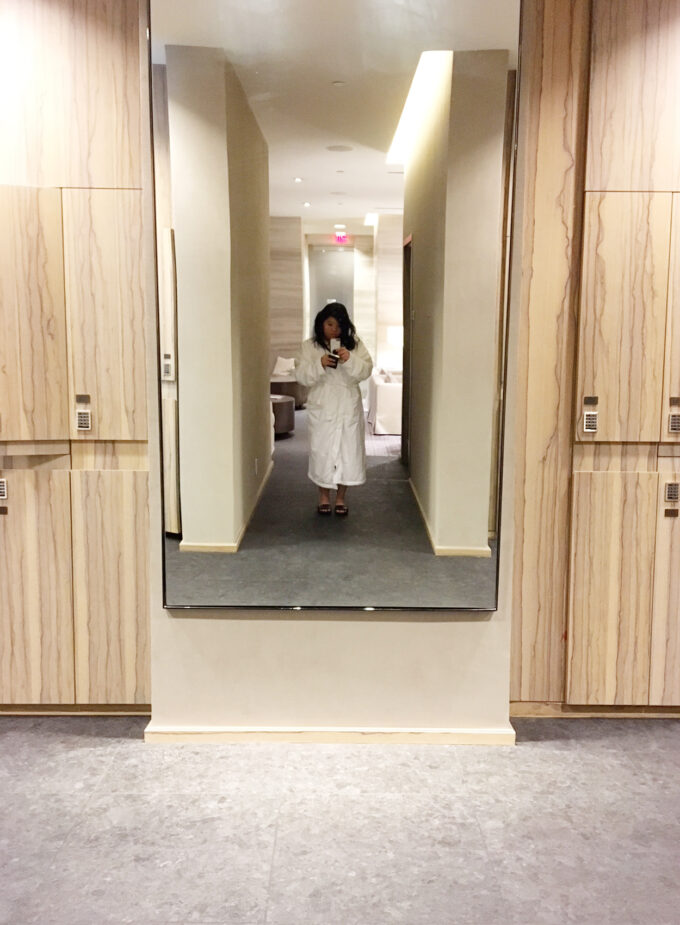 I usually hang out in the lounge area while waiting for my massage therapist (MT). I appreciate that the attendants are discreet but also constantly working because I feel like no matter how many guests there are at the spa, the toilets, lounge, and even the refreshments section are always spotlessly clean and constantly restocked. I can tell a few of us guests would be enjoying the biscottis and fruits but when I come back for a second helping, it always looks like no one's touched the plates at all!
I appreciate the refreshment stations throughout the facility – no walking long distances to get a drink of water (Which you will need if you're doing the steam room!)
A Breakdown of Your Treatment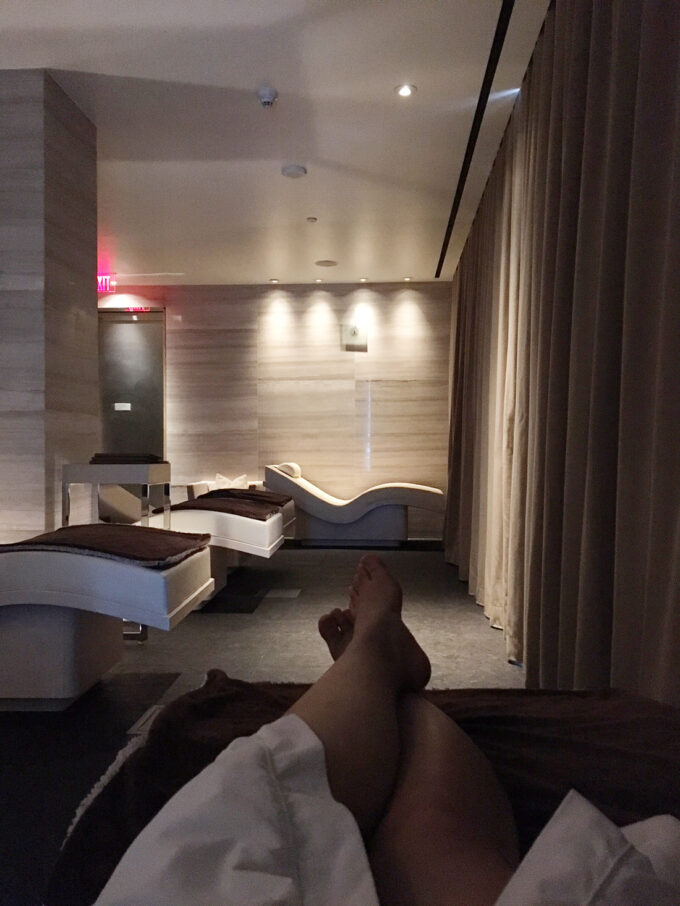 I love getting full body massages so this is what I usually opt for when I drop by the spa. My MT will guide me to the treatment room at which point she will ask for my scent and music preference (Winter and Oriental!) The entire experience never feels rushed or choppy – the whole spa experience just flows in the most relaxing and enjoyable manner, one that makes me want to return over and over again.
The start the treatment with a soft chime (The best chime you'll hear all day). Working their way from the back, legs, shoulders, and always with emphasis on the lower back, I immediately felt the tensions melt away. Of the various MT's I've had, I've always had a perfect treatment in the 3+ years I've been visiting the spa!
After the treatment is completed, the MT will let you know with another chime (Sad sound!) The minute it's over, they'll put the robe and sandals near you so you can get into your robe quickly.
The MT's often suggests using the steam room which is something that I highly recommend you do! The steam helps to unclog the impurities on your skin and is just the most relaxing thing you'll do. I recommend wearing a swimsuit under your robe but if you forgot, wrap yourself in the towels provided (hang your robe outside) and enjoy a steam session. I always like to spend no more than 10 minutes here. Be sure to drink lots of water after so you don't feel dehydrated!
After the treatment and steam session is done, I'll usually snack a bit. I always like to shower before I leave too and I appreciate the grooming items available for use so you can leave the facility looking like a million+ bucks!