One of the best deals I scored during Sephora's Black Friday sale was the First Aid Beauty Ultra Repair Cream which comes in a 170g tube.
I've had a chance to trial a couple of First Aid Beauty products in the past, and I can remember using this cream during my travels (They are so handy!) but didn't really get too excited about it which is why I questioned my sanity when I stocked up on this during the sale.
I picked up 2 of these to try out (if I ended up liking it, at least I've got a backup!) and I can immediately tell I will likely do this much more than I thought I would.
The First Aid Beauty Ultra Repair Cream can be used on the face and body – as a body moisturizer, I love that this isn't greasy, or feel heavy on the skin. A little still goes a long way and despite my initial hesitation about what I perceive to be poorer hygiene standards by way of the tub format, I ended up getting used to it!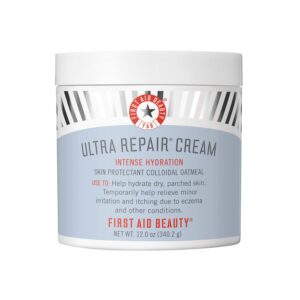 The First Aid Beauty Ultra Repair Cream has a very lightweight consistency and some scent to it; I prefer to use this on the body as I have other face moisturizers that I prefer. I also don't find it hydrating enough to wear as a moisturizer.
The all-purpose, head-to-toe cream is touted as being sufficiently hydrating for those suffering from eczema. It does work wonders on dry/cracked skin (i.e. elbows) during the winter so I imagine this can easily take care of dried-out skin due to winter.
The lightweight but effective cream really sinks into the skin after application so it doesn't get all over my shirt/pants after I shower. I like that it doesn't leave a greasy residue as I hate the "sticky" feeling on your clothes.
At full price, this cream/moisturizer does feel like a splurge but during the Black Friday sale, this purchase more than justified itself. I don't see myself finishing a tub quickly – it will take at least 4-5 months of twice-daily use to work my way through one tub.
If you're looking for a drugstore alternative, my favorite moisturizer is the Bioderma Atoderm Intensive Balm which is really pricey at full-price so I always try to pick them up during a sale when possible. Just like the FAB alternative, the cream can be used for the face and body.
Have you tried any products from the First Aid Beauty range? Do you have any favorites?
Check this also: