I never finish my entire meal and it drives my entire family nuts because either 1) they have to finish my leftovers, or 2) throw out the food. There's something about leftovers that gets to me, and I don't know why. I just can take that last 3-5 morsels of food.
That mentality exists in my daily routine. When I see that I'm approaching the end of one of my makeup products – instead of actually finishing it – I consider it permission to crack open a brand new product. That means that I'm swimming in almost-empty makeup that clutters my desk, vanity, and dresser.
So here is my public commitment to finishing all these products by the end of the year. Unless I make it public like this, I'll never get around to it!
We'll see around that time when I get around to posting my empties post, how many of these will make the cut!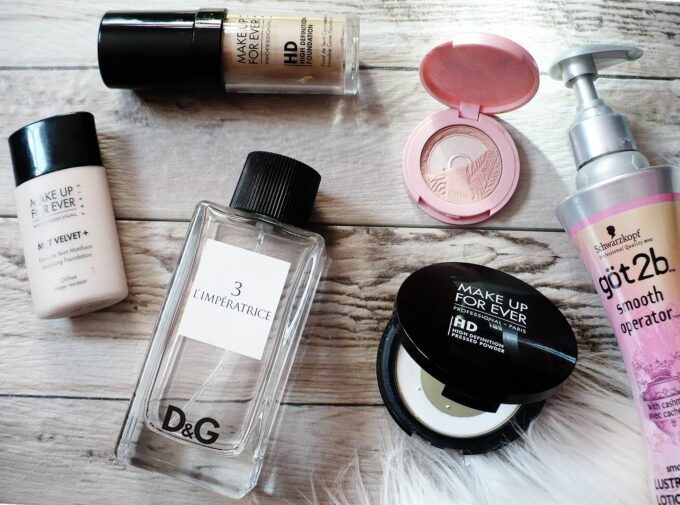 + Make Up For Ever Mat Velvet+ Foundation
The reason it takes me really long to finish this product is because this is my travel foundation, meaning that I don't really use it or crack it open unless I'm on a journey. However, I think the last time I was away and brought this foundation, it was getting real close to the end of its life.
+ Make Up For Ever HD Foundation
This shade is too light for me now so I have to mix it up with my CoverFX Custom Cover to fix the balance of yellow tones that doesn't make me look too ghostly. But I think this foundation should be getting tossed soon as it's starting to smell kind of funny. The thing is I only have 15% of the bottle left, and a part of me tells me that I should just finish it…
+ Dolce & Gabbana L'Imperatrice
I go through days where I will always wear perfume, or some sort of fragrance and there are months where I just forgo it. I literally have drops left in here, so it should take at most, 2 weeks to finish. Let's get cracking then!
+ Make Up For Ever HD Pressed Powder
You can clearly tell how much I love using Make Up For Ever in my daily routine! I love this pressed version of the original HD Powder. It can be harsh to wear this and take photography afterwards due to its highly reflective ingredients, however for a day to day wear, where all I really need is to set my concealer or foundation, this does the job so well!
+ Tarte Blush in Peaceful
It's such a bummer that the reason I am almost halfway through this product is because a chunk of it is missing. It's a lovely, light rose colour that adds just the lightest sweep of colour on the cheeks. One of my favourite colours from Tarte!
+ got2b Smooth Operator Hair Lotion
One of my trusted staple products in my beauty arsenal it's one of those products that I have actually written on the blog. I have bottles of backup so I don't think I'll be too bummed about running out of this product!
What are some of the products you're trying to finish recently?