Apparently, our skin starts to age at 25 and I'm officially not cool with that. That's why the French skincare expert Filorga came out with an at-home skincare regimen featuring its star polyrevitalisation cocktail, NCTF, with its new range – the FilorgaNCTF Reverse ($75-120, available here) hitting Canadian shelves as of February 15.
For those of you currently looking at your screen blankly and wondering what kind of Greek I'm spouting right now, let's break down several definitions, shall we?
What is NCTF?
NCTF stands for New Cellular Treatment Factor, which is a patented polyrevitalisation cocktail containing 50 active ingredients that can rejuvenating the skin by targeting the 5 signs of ageing. This type of treatment is typically delivered via needles at a cosmetic clinic which as you can imagine, can be a fairly costly process/treatment. Having the convenience of the same type of clinic treatment in a jar that you can do at the privacy of your own home is a marvellous step forward.
What About polyrevitalisation?
Polyrevitalisation is a technique which encourages / rejuvenates the dermis to stimulate itself from the inside to improve the skin's look naturally.
I don't know about you, but the thought of cosmetic clinics scare the hell out of me. I've only been to one in my life and that was for a facial that involved all sorts of machineries and tools I can't even imagine should belong in a cosmetic clinic to begin with.
The FilorgaNCTF Reverse Range is available at: Shoppers Drug Mart • Nordstrom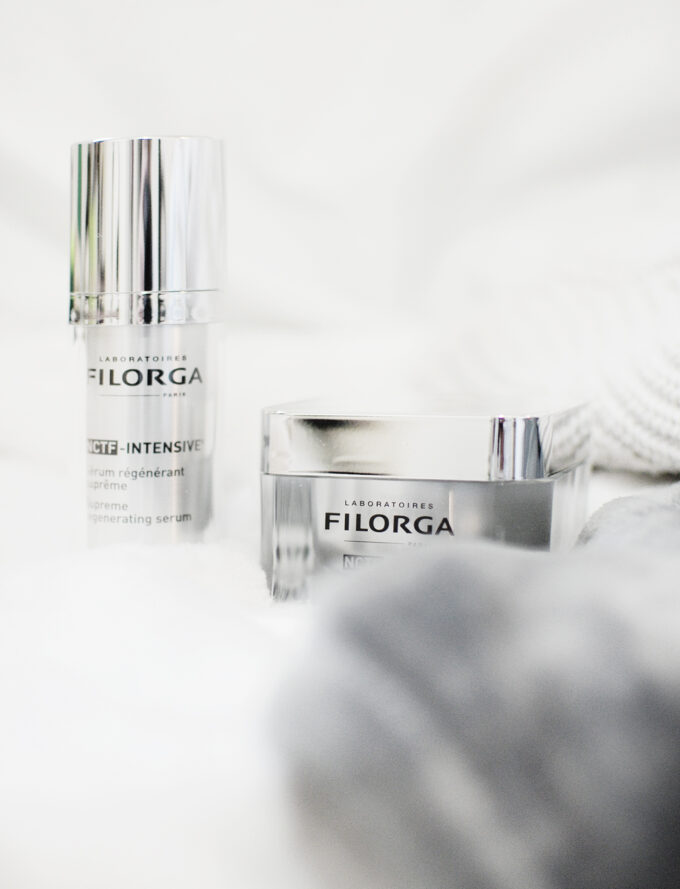 Filorga NCTF Reverse
So apparently most women are also not cool about popping into a cosmetic clinic for fear of unnatural result, botched procedures and cost – yep, those are some major deterrents keeping me away too. We've all heard a horror story or two and probably have kept away accordingly. Knowing these statistics, the team at Filorga spent 3 years in research and development, resulting in an at-home NCTF-packed skincare regimen which contains the same NCTF injectable serum they would use at the Filorga clinic locations in France, with a convenient, easy-to-use everyday vehicles like cream, serum and boosters that you can easily integrate into your daily routine.
During the media launch event, I learned that you would typically have 5 sessions at the Filorga Clinic in France. So that means getting 5 injection sessions (5 NCTF vials). Each product in the range contains the equivalent of 1 NCTF vial, which means to see the same kind of results as you would with the doctor's office, you would have to repeat the treatment up to 5 times.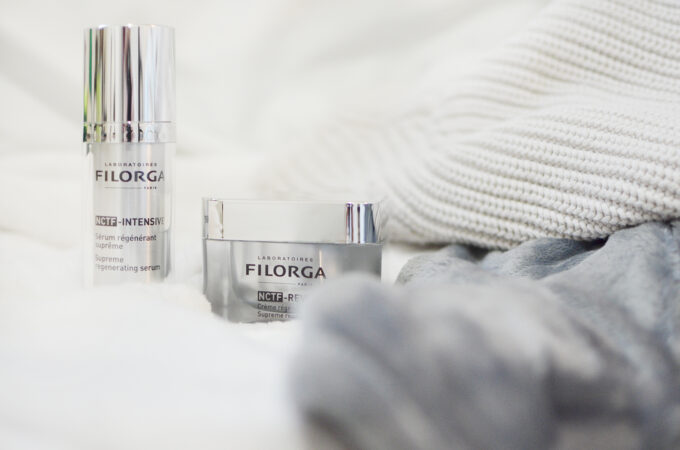 Aging presents itself with signs like wrinkles, changes in evenness, radiance, tone and increase in pores. The NCTF solution is meant to tackle all those issues. The brand claims that you can see results in as little as 7 days – that seems like a very aggressive claim to make so we shall see. There are currently 3 products in the Filorga NCTF range launching in Canada:
Supreme Regenerating Lotion ($75, available here)
Supreme Regenerating Serum ($120, available here)
Supreme Regenerating Cream ($120, available here)
1. Supreme Regenerating Lotion
This product is meant to be the booster in the range – it can be applied just after make-up removal and before the serum to help your skin absorb the serum and any skincare products after it apply better. This particular part of the skincare regimen comes from Asian beauty rituals which emphasizes serums and boosters to increase the efficacy of the skincare routine.
2. Supreme Regenerating Serum
The serum gets applied on clean skin or immediately after the booster step. It absorbs and penetrate into the skin quickly allowing for the day cream that comes after to penetrate the skin just as easily.
3. Supreme Regenerating Cream
Finally, the cream has a smooth and non-sticky texture, but is packed with tons of active ingredients in addition to shea butter.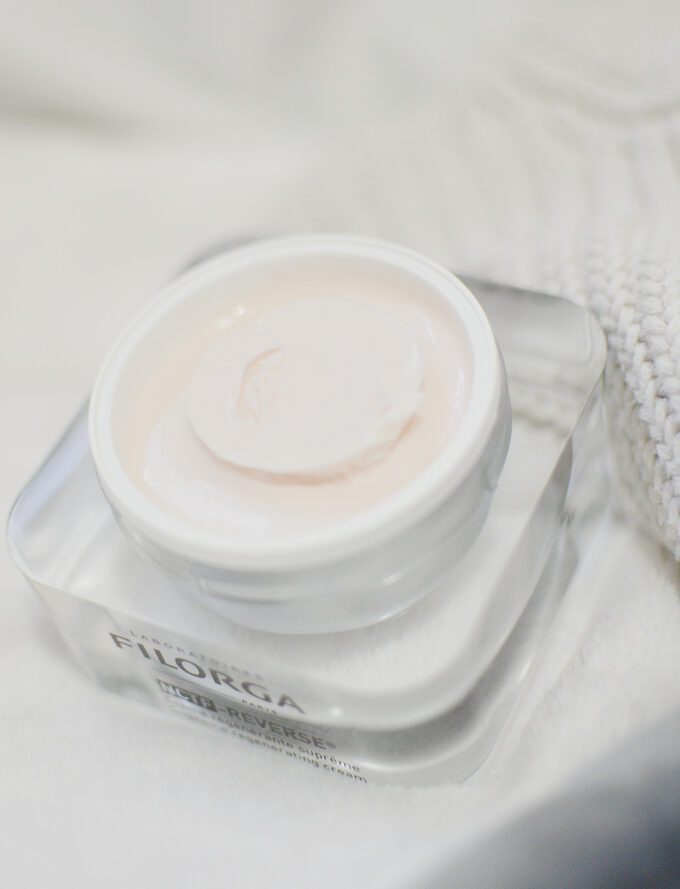 Why try the NCTF Reverse Range?
Filorga's NCTF range contains 10x more NCTF (the equivalent of 1 vial) compared to the rest of its anti-aging range. You could say you're getting more bang for your bucks considering how packed this product is with the good stuff. The colour of each product is a light pink thanks to the NCTF serum itself which is light pink in colour.
If you're using the NCTF regimen for your day and night time skincare routine, you're effectively using the equivalent of 3 vials and tripling the dosage. I suppose that allows the wunder product accelerate its work on the dermis thus producing results faster. By using the regimen, you're using the equivalent of 3 doctor's visits.
How about a higher dosage? You might wonder why the skincare regimen doesn't include higher dosage of NCTF. That's because NCTF is already a highly concentrated liquid which means increasing dosage would destabilize the formula (i.e. vehicle delivery) and reduce its efficacy.
How efficient is it? Although NCTF would normally be injected into the skin with needles, the skincare regimen like the cream, uses a patented technology which allows for a delivery system that penetrates deep into the skin, proven by ultrasound during their testing phase.
So what do you think of this at-home needle replacement treatment? Would you try out this unique range – the Filorga NCTF Reverse at home?
---
Disclaimer:
This post features product(s) provided for editorial consideration. All opinions are my own. For more information about my review policy, please
click here
.
---