BiodermaCréaline H20 was and is the product that started it all for many beauty fans – it is touted as being the holy water of all makeup solutions and has become a staple product for many of us. Now, I'm not a science major, and I was just as baffled as everyone was by the term "micellar" and what it does. However, the French have really gotten it down to science, and Bioderma was the brand that was and remains to be the favourite, standby, staple of models, beauty editors, and makeup artists.
Essentially, a micelle (molecules that make up the micellar solution) is a cluster of oil molecule surrounded/encased in water which breaks down makeup and removes the makeup pigment gently without irritating the skin or breaking down the skin's natural pH level.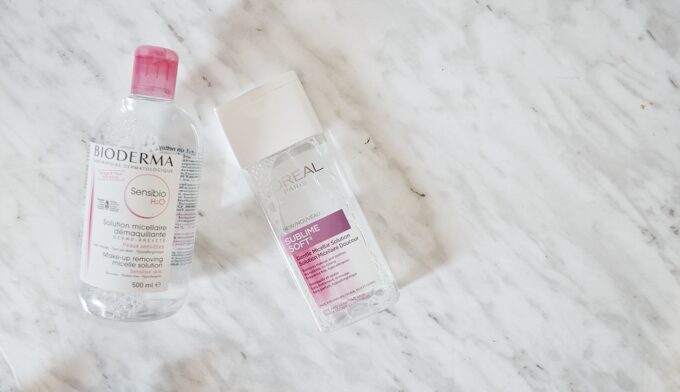 The best thing about micellar solution is that it is alcohol and soap free. There is none of that scrubbing, rinsing action that can threaten to irritate your skin. The micellar solution melts your makeup, and picks up impurities, dirt and makeup very efficiently and gently on all skin types.
The Micellar Solution Comparison – Bioderma vs. Marcelle & ROC
BiodermaCréaline H20 ($33, Shoppers Drug Mart, amazon.ca) is really the product that started it, and if you ever google "French Pharmacy Haul", you will find that Bioderma always makes the list. Unfortunately, while the product's benefits makes it an attractive staple, it is one of those products that is difficult to get in Canada (only available at Shoppers Drug Mart, and often out of stock), and is prohibitively expensive ($33/bottle).
Fortunately, many other French brands, from small to large have began making their own version of micellar solution, and it has made the lack of Bioderma a whole lot bearable when I couldn't get my hands on the iconic Bioderma Créaline H20. I've given micellar solution from other brands a try and must admit that they are equally as good as the Bioderma ones.
The first brand I tried was the MarcelleSoothing Micellar Water ($18.99, Shoppers Drug Mart) in this limited edition size (400mL instead of the 200mL regular-sized ones) which I got on sale for only $9 at Shoppers Drug Mart. The water feels light and refreshing and is highly effective at removing makeup, both face and eyes. Just like the Bioderma, it is equally gentle on all skin types making it a very budget-friendly alternative to the Bioderma. The best part about this packaging is the pump – makes dispensing the product very easy and efficient.
The other brand I tried is the ROCExtra Comfort Cleansing Water ($10, Shoppers Drug Mart, amazon.ca) another one of those random finds at Shoppers Drug Mart that I purchased at a deep discount. Equally gentle on the skin and effective at removing makeup, it is one of those gems that you don't think to try until you actually try it.
I personally feel that the hype and praises surrounding micellar products to be well deserved. They may be slightly more pricey, but these solutions are very much multi-purpose and that always earns a bonus point in my book. On days when I cannot be bothered to cleanse my face properly in the morning (i.e. on those lazy weekends), I simply use a little bit of micellar solution to remove impurities, face oil that built up over the night. I also like to use these as a toner to remove any makeup residue that I may have missed during the cleansing process. I feel that most micellar solutions, or at least the ones that I have tried, seem to be made equally so finding a budget-friendly alternative is always a nice way to save money.
What about you? Have you tried the Bioderma Crealine H20 or any other micellar solutions? Which brands have you tried? Share with me in the comment section below!