I have been meaning to write this for some time but never got around to it. Fortunately, a special offer at my local Beauty Boutique counter that includes the Sensibio micellar solution, wipe and moisturizer in one reminded me of it so I thought I'd write a comparison between the two products and let you know which one I prefer and would recommend.
Today, I'm bringing you a quick chat comparing the BiodermaSensibio Micellar Solution that comes in 100ml, 250ml, and 500ml sizes as well as the BiodermaSensibio Micellar Wipe that comes with 25 sheets, enough to last a month. I've used both over the last couple of years, but really do have one preference over the other. Interested in finding out which one I like and prefer?
Read on!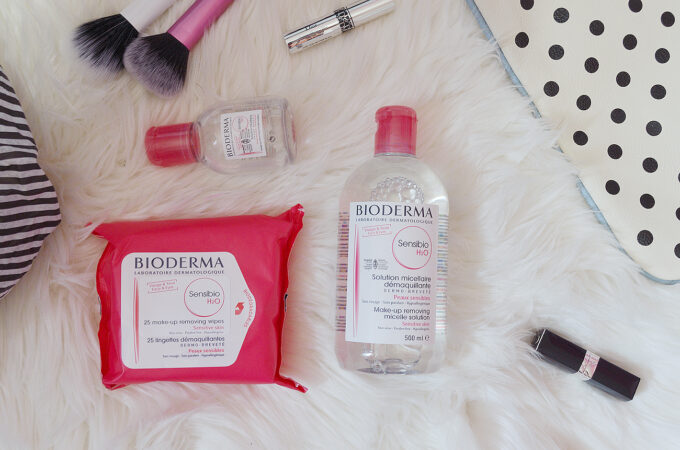 Both the BiodermaSensibio Micellar Solution and the BiodermaSensibio Micellar Wipe do a great job at removing your makeup at the end of the day. For most, it comes down to preference and convenience – it's a lot easier to pack makeup wipes rather than a bottle which not only takes up space, but if you plan on bringing a carry-on only, you have to keep the 100ml restriction in mind all the time, but some like the gentler feel of removing makeup with makeup remover rather than the occasional "scrubbing" motion of using a makeup wipe. To make it really simple, I'll break down the pro's and cons of both options.
Bioderma Sensibio Micellar Solution
Trusted, and beloved by pro makeup artists, and models around the world since its inception 20 years ago, you know that this product is the "real" deal. It is a constant presence gracing backstage and forever glued on the hands of makeup artists around the world should give you an idea as to why it's such a beloved item. And you would think such a popular product would cost and arm and a leg, but fortunately, the BiodermaSensibio Micellar Solution is incredibly inexpensive and nowadays, are so much more accessible with distribution at Shoppers Drug Mart and Rexall. A couple of years ago, you would have to book a trip to Paris, and purchase 6 double packs to last you until your next trip to Paris, but not anymore!
Pros
Cons
Available in a variety of sizes so that you can pick and choose for different occasions
Requires using a cotton pad or makeup remover cloth which is an additional cost
Removes makeup gently, and minimal "rubbing" or "wiping" motion required
Larger sizes may prove challenging to travel with if bringing a carry-on only.
No odour/smell
Starts at $19.95/bottle for an everyday size
Removes all kinds of makeup, including waterproof makeup
Leaves the skin feeling even more moisturized
Bioderma Sensibio Makeup Wipe
The popularity of the liquid version meant that a more convenient, and travel-friendly alternative was very much in demand. So when I spotted the BiodermaSensibio Micellar Wipe, I was super excited. I am a big fan of using makeup wipes because I travel often, and I like to use the wipes to spot clean my brushes daily as well. Being a big fan of the BiodermaSensibio Micellar Solution, naturally I had to purchase the BiodermaSensibio Micellar Wipe as well.
To be quite frank, I was a little disappointed by this product as it doesn't deliver the cleanliness, and superior result with minimal work the way the BiodermaSensibio Micellar Solution did. I still bought it a couple of times but I felt that I had to complement using this product with the BiodermaSensibio Micellar Solution
Pros
Cons
Available in 1 size only, a 25 sheet count
No additional makeup removal tool required! No cotton pads or makeup towels needed.
Ideal for travel with minimal risk of spilage
Does not remove makeup as effectively, particularly on waterproof and long-lasting makeup formula
Great to spot clean makeup brushes after being used on the face
Makeup wipes are a bit "dry" and requires a little more force when wiping the makeup off, or at least using another makeup remover to wipe excess makeup
Has a slight scent/odour
Do you have a preference between the Bioderma Sensibio Micellar Solution & Wipes? Which one do you prefer and why?