The best kind of deliveries are the unexpected kinds – arriving on a Friday afternoon as I was chilling in my patio with a chilled moscato in hand just enjoying the not-too-hot, breezy summer day. That was the case in mid-July, with a 21C lovely warm day where after coming home from my half-day Friday at work, I was treated to a lovely surprise visit from the UPS guy who unceremoniously threw the package at my doorstep and was already in his truck before I was able to get to the door.
Stories aside, you're probably asking yourself why I'm already talking about Autumn collections when it's still smack-bang in the middle of the summer. I'm an Autumn baby so aside from that bias, collections that come out around this time is usually the best ones to splurge on and keep an eye out for. It's a long-time practice that stemmed from the fashion industry – designers typically save the best fashion trends for the Autumn season as it sets the mood for the following Spring/Summer season. Since the beauty industry is very closely related (practically twins) with the fashion industry, the practice easily transferred over. It makes business sense as well – when you think about the Autumn/Winter season, it's practically synonymous with the holidays and the most important time of the year for the retail industry!
That being said, it's a long-time practice for beauty brands to save their best collections, innovations, and exciting news for this time of the year. That's just the case for the Dior Skyline Autumn 2016 collection! It is a huge launch and is available in stores starting August 2016 at Dior Counters / retailers that carry the brand across Canada including Sephora, Shoppers Drug Mart, Holt Renfrew, and The Bay. So get your wishlist ready!
Since this is quite a large collection, I will be sharing a quick, topline overview of the entire collection first. I will be writing more in-depth reviews of the products to follow up, broken up by segments!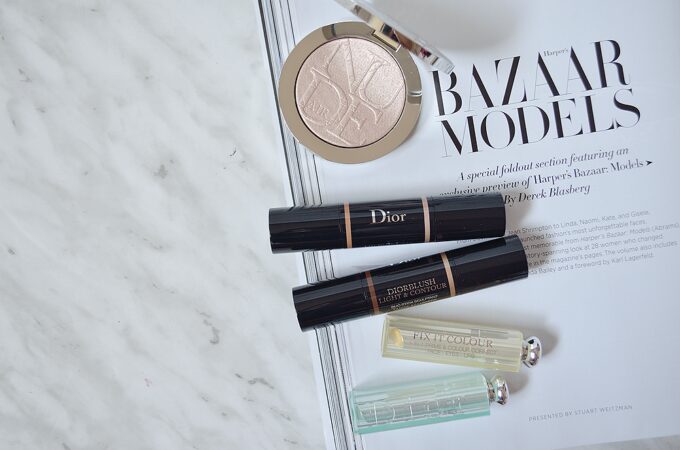 The premise of this entire collection is the famed, one-of-a-kind Parisian skyline, with uniformed boulevards and the most famous iconic Parisian landmark as its inspiration. With a city steeped with so much culture, and a difficult-to-replicate atmosphere as its inspiration, this collection is incredibly stunning.
How gorgeous does the DiorDiorskin Nude Air Luminizer ($68, available here) look?! This shimmering sculpting powder is everything you'd want in a finishing powder to highlight and bring attention to certain parts of the face! The intricately designed powder has a finely-milled powder formula that's become the hallmark of Dior's Nude Air range. It has a similar finish to the Summer Collection's garden inspired Nude Air powder.
Next up, we've got the DiorDiorblush Light & Contour Scultping Stick Duo ($48, available here). There are 3 shades which I admit isn't the most varied or diverse I've seen: #001 Soft Contour, #002 Medium Contour, and #003 Intense Contour. I have the lightest and darkest shades, and on my NC25, warm/medium skintone, I can wear both quite comfortably. I find that the contour colour tends to lean a little bit more redder than one I'm used to reaching for. The highlighter is a beautifully subtle that will suit any kinds of skintones.
Colour correcting has been making a come back in a big way, and for good too! Dior is making sure that your base is covered with the DiorFix It 2-in-1 Prime & Colour Corrector ($45, available here) from the Backstage Pro collection. There are four shades #100 Blue, 200 Apricot, 300 Yellow, and 400 Green. What's unique about these is that, similar to the Fix It Prime and Conceal, there is a moisturizing balm sitting in the middle of the stick that makes it easy to apply, not have a dried out finish which can be a disaster!
Emulating the highlighting techniques used by makeup artists, the DiorFlash Luminizer ($52, available here) is a brightening concealer and highlighter in one. This collection features two new shades #500 Pearly Vanilla and #800 Pearly Pink, adding more interesting texture to the concealer-like finish in the existing range.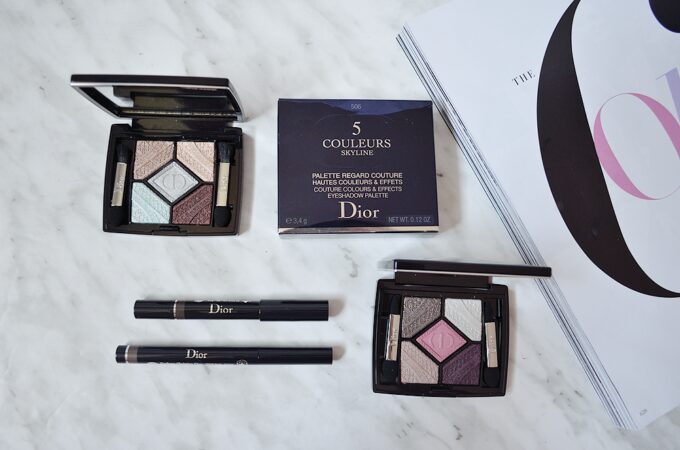 Next segment we have are the Eye Makeup, and this is where things are getting really exciting! We have two classic Dior5 Couleurs Architect Palette ($73, available here) which comes in the aptly titled #506 Parisian Sky and #806 Capital of Light. As you might have already immediately guessed, these limited edition palettes are inspired by the most famous Parisian landmark – the Eiffel Tower. Taking inspiration from the architectural geometric design of the building, Dior has translated that so beautifully to this "geometric lace" design. The #506 Parisian Sky leans a little more cool with the icy blue and steel grey shade which is so unique in my collection! I am a little biased towards #806 Capital of Light because it features my favourite combination of soft pink and dark purple.
The limited edition DiorInstant Structure Diorshow Brow Chalk ($40, available here) has three shades in the range #001 Blonde, #002 Soft Brown, #003 Dark Brown. We know that the brows is essentially the "structure" and backbone of the facial features. When I saw the unique shape of this product, I was a bit taken aback but I like that this brow product adapts easily to various techniques, and irrespective of your skill level!
The beveled-tip DiorContrasting Eyes Diorshow Pro Liner ($36, available here) is joining a well-established family. There are two shades that were released as part of this collection: #062 Pro Grege (greyish bronze with shimmers) and #092 Pro Plum (dark plum, limited edition). What I found most interesting was the beveled-tip shape which I would immediately associate with brow products, but it does make application such a breeze!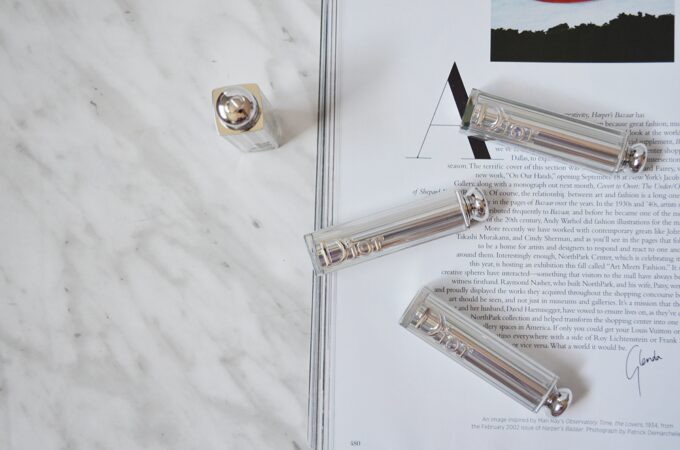 The sophisticated DiorAddict Lipstick ($43, available here) is going to make any look that much more bewitching! These in-season shades will brighten the lips with a range that goes anywhere from a flamboyant red, to daring plums with a semi-sheer finish, perfect for any kinds of occasion and for those who prefer a more subtle colour! There are six shades in this collection, #752 Fusion, #178 Urban, #316 Incognito, #987 Black Tie, #951 Too Much, and #927 Sophisticated (the only limited edition shade).
We've got two more products from the Backstage Pro range, the DiorAddict Lip Glow in Lilac and DiorLip Pomade in Universal Pink ($41, available here). The Lip Glow is one of Dior's best selling products, so much so that they introduced two additional shades, Lilac, and Coral which have appeared in previous collections. The popularity of the original Dior Lip Glow (Pink) is how it adapts to the wearer's skintone and natural lip colour, always guaranteeing the most natural-looking lip colour.
Rounding off this entire collection, we've got the DiorAutumn Lacquer ($33, available here) in #112 Minimal and #848 Skyline, two contrasting yet complimentary shades that enhances the nails with an elegant, all-year-round nude hue, and a super chic seasonal deep pump shade!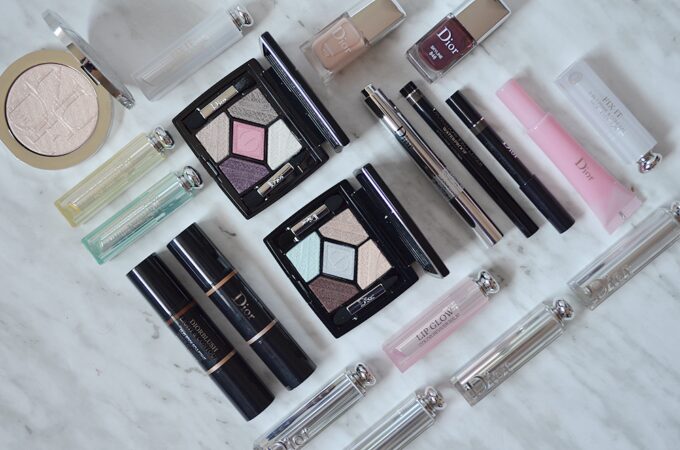 Whew! Wasn't that a massive collection? These doesn't even scratch the surface of how exciting this entire collection is – the quality, and how well thought-out everything looks, and works together is indicative of how you might want start putting that wishlist ready!
Will you be shopping the Dior Skyline Autumn 2016 collection?
---
Disclaimer:
This post features product(s) provided for editorial consideration. All opinions are my own. For more information about my review policy, please
click here
.
---