Color correcting is a really big trend right now, and among the many correctors, concealers, and primers that have dominated the conversation, I thought it would be interesting to feature one of the most popular format, yet not often mentioned – color correcting powders! Because you know. One pouf and you're done!
What better way to chat about color correcting powders than to feature one of the pioneers of color correcting technology with a powder that's literally been around for eons? Guerlain, of course!
Guerlain has become well-known for the beloved, and one of the most coveted status item in the beauty world through the GuerlainMeteorites Pearls ($71, available here). These powders have been around for ages, and the fact that little has changed since the first version was released immediately made it an easily recognizable and highly coveted beauty product that you'll likely have seen around.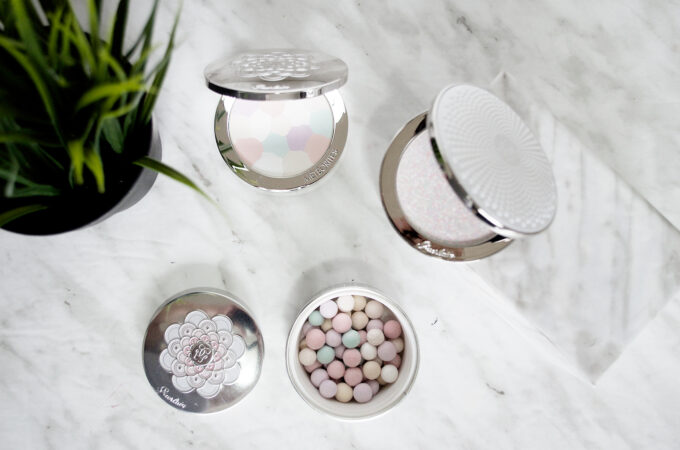 Why are they so iconic?
Encased in a luxurious tin, the multi-coloured pearls have become the it powders of the beauty world, long before skin-enhancing powders in the likes of Hourglass came into the market. What is interesting about these beauty pearls, is how each colour enhances or corrects the skin, and it's all available in one convenient product. What I really appreciate is how the powders and pearls are formulated to exude that glow from within to make your skin look so much better. Whenever I wear these, people compliment me on my skin, and not my makeup – I can be wearing dollarstore makeup and still look like I've just applied $100+ worth of products before the powder. It's that good!
Over the years, Guerlain has released multiple versions, limited-edition releases, and eventually, updated format for Guerlain fans to collect. And I say collect because it's really true – how likely are you to hit pan on products like these? They are just too pretty to use!
You can purchase the Guerlain Meteorite Pearls in the original tin or compact format, at any Guerlain counters (The Bay or Holt Renfrew) and boutiques. You can also buy them at Sephora, though not all the versions available are there. At around $71 a piece, the Guerlain Meteorites is somewhat of an investment, but also a status symbol. Once you have this, I don't know if you could really stop collecting!
How do you Use them?
It's important to note that the Guerlain Meteorites range is meant to be a finishing powder, rather than a setting or oil-controlling powder. Finishing powders differ in the sense that they aren't meant to be seen – photographs or in real life. They're meant to enhance and when you see yourself in the mirror, you just notice how much better (healthier, more radiant) your skin (not makeup) is. There are plenty of finishing/enhancing powders out there (i.e. Hourglass Ambient Lighting Powder), and arguing whether or not these actually work or not is a bit of a moot point. It's really something you have to see firsthand to really properly appreciate the powders and how they work on your skin. Guerlain suggests to purchase their brush to apply these with – I don't find it necessary. The pouf included is sufficient if you have the tin version, otherwise, a fluffy brush like the Real Techniques Blush brush is sufficient.
Guerlain Meteorite Pearls
The classic Guerlain Meteorite Pearl ($71, available here) comes housed in a tin, with intricate design throughout the packaging. I suppose when you are paying that kind of money, the look and feel are really important. Included, is a soft pouf applicator that feels like cloud in the palm of your hands.
Over the years, Guerlain has released numerous versions with all sorts of themes – a "dragon" pearls (Perles du Dragon) was released in 2012, a blurring version was released in 2015 (Guerlain Meteorites Voyage Enchante Illuminating), a Champs-Elysées version (which is more of a blush than the setting powder) – you get the idea. A quick Google search will yield dozens of variations of this cult-favourite, but the basic idea is the same. The colour-correcting pearls that make up this beauty works in harmony to cancel out redness (green pearls), reflect light on the skin (white pearls), revive the complexion (fuchsia / pink pearl) and reduce dullness (yellow pearls).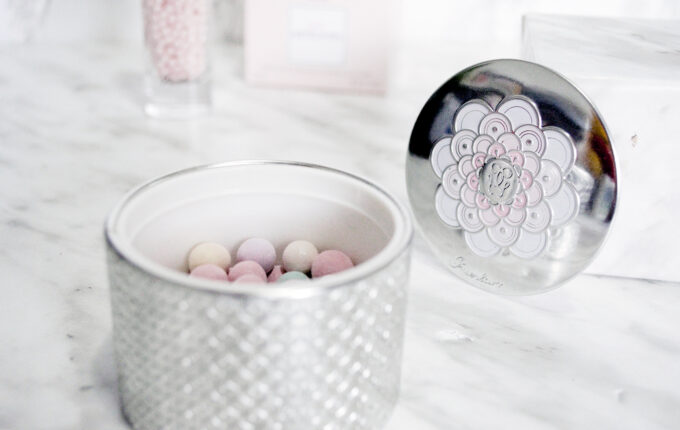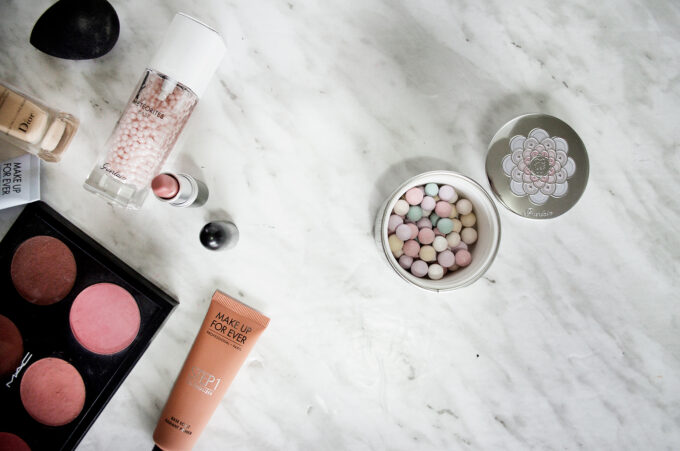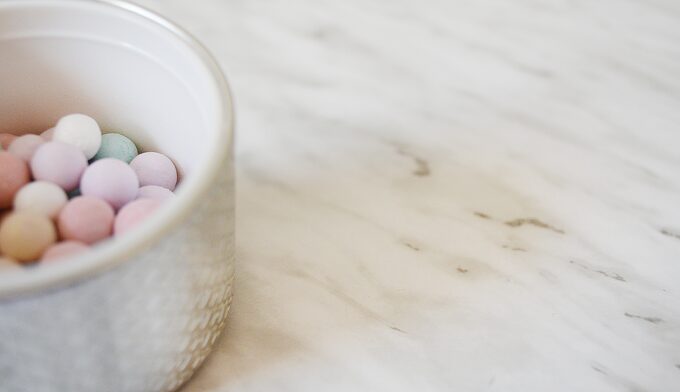 Guerlain Meteorites Pressed Powder
As much as we all love the pearls in their classic iconic packaging, it's not always very practical to tote it around, particularly given the propensity for the pearls to roll away on its own and crack easily. Enter the pressed powder version – two that I am sharing with you today are: GuerlainClair (02) Meteorites Compact ($71, available here) and the GuerlainMeteorites Voyage ($210, available here). The first powder, the GuerlainClair (02) Meteorites Compact, is essentially the pearls from the other packaging in a pressed powder format. It is also available in three shades (light, medium and dark) to suit different skintones. The powder is matte, so it can be used as a setting powder, although it doesn't have any oil-controlling properties.
The Meteorites Voyage was released this year as part of the Spring Glow collection which has already arrived at counters across Canada. This particular powder is illumination at its finest – with the pearls in a much finer pressed format than we've seen before. Guerlain suggests that these are meant to be a color correcting and illuminating powder in one – you can build up the application around the higher points of your face to achieve a slightly more glowy look.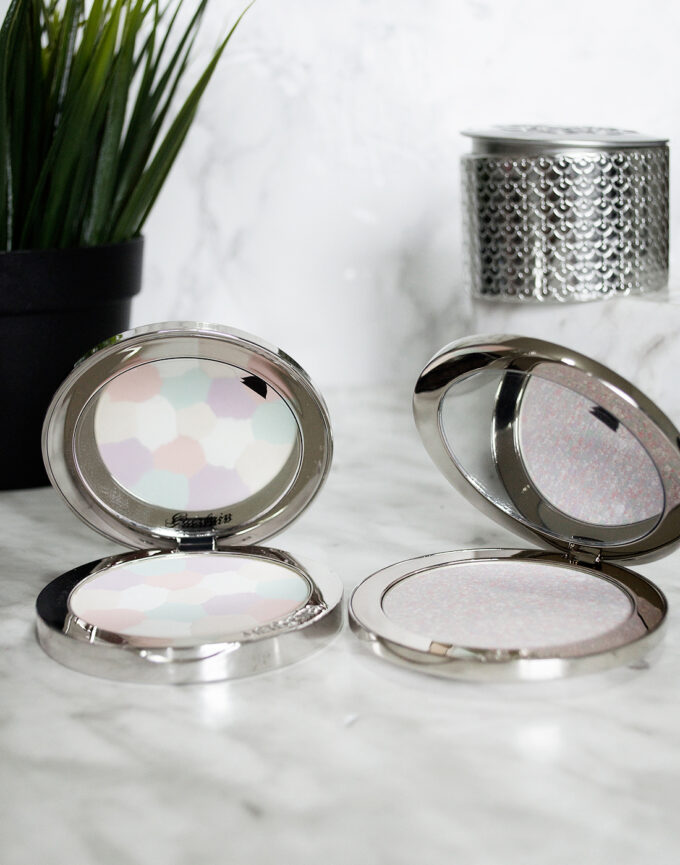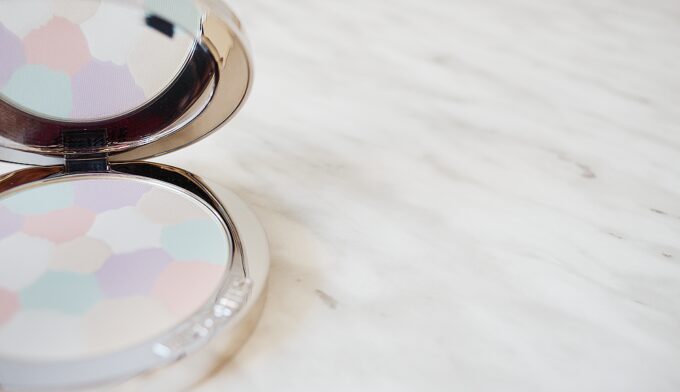 The Guerlain powders are no doubt, some of the priciest investment out there. But that's exactly what they're meant to be – an investment, a reward to splurge on and use on the very special occasions rather than something you'd want to wear on an everyday basis. Once you splurge on this lovely product, you don't need to spend too much on the brush – a fluffy brush (i.e. the Real Techniques Blush Brush) will work great!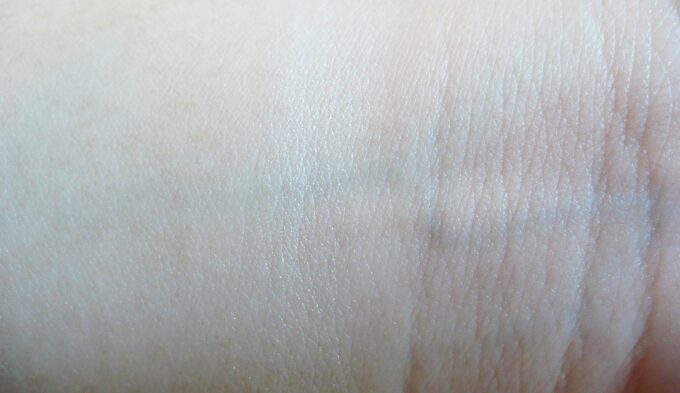 Have you tried the Guerlain Meteorites? Would you try it?
---
Disclaimer:
This post features product(s) provided for editorial consideration. All opinions are my own. For more information about my review policy, please
click here
.
---