In the world of at-home treatment, I often take the more difficult (and cheaper) route. I start by browsing through Pinterest to find a cheap, at-home DIY recipe and proceed to mock it up myself. While they are easy, inexpensive, and often made in a rush, the experience just isn't as luxurious when you have to put that cocktail together yourself.
When I mock up a recipe, I admit that I don't always consider how much of a difference having the right ingredient can make. I'm a huge fan of coffee scrubs because of their aromatic scent, but when it comes to salt and sugar, I can hardly tell the difference! Using salt or sugar base can make all the difference, and this is especially important depending on your skin type!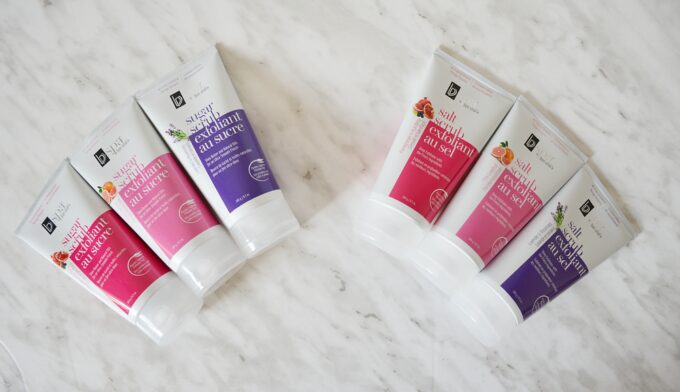 The full BVspa range comes with four products and three fragrances, all of which are designed to make you (and your wallet!) feel good. The formula is based on the science and technology of behind the professional range. The collection includes four products, all of which are formulated with natural ingredients and essential oils. Furthermore, they are free of parabens, sulfates and phthalates – ingredients that professional therapists don't want to use on themselves either!
There are three scents to choose from, carefully selected for their therapeutic nature:
Lavender and rosemary to soothe and relax (My favourite!)
Pomegranate and acai berry to rejunevate
Pink grapefruits to energize
Read on to find out the difference between the 2 types of basic ingredients that you can use in a scrub, and why one may be better for you than the other!
Salt Scrub Home Treatment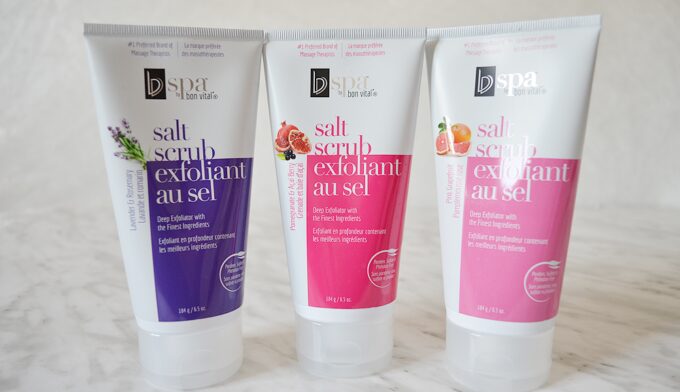 Salt scrub treatment is ideal for at-home DIY spa day which draws toxins out of the body and acts as an anti-inflammatory for sore muscles. If you've ever wondered whether salt or sugar scrub is more effective, not that the salt crystals have sharper edges so it does a better job at removing dry, calloused, and dead skin, particularly around the areas notorious for crusty, thick buildup of dead skin like the feel, elbows, knuckles, and legs.
The BVSpa Salt Scrubs infuses the skin with minerals and nutrients while sloughing away the dead skin cells. Combined with oils, and aromatic scent, the scrubs buff away dead skin without irritating it and helps reveal a softer, smoother and younger-looking skin.
The key ingredient in the salt scrub is Dead Sea salt which is a natural purifier that removes toxins responsible for blocking the pores of the skin. The Dead Sea salt helps the skin breathe easier, promote circulation and tighten the skin to help improve the texture! A combination of minerals such as magnesium, potassium and bromides help reduce the appearance of aging. The scrubs are also infused with olive oil and jojoba oil, star ingredients in the world of moisturizing skincare!
Sugar Scrub Home Treatment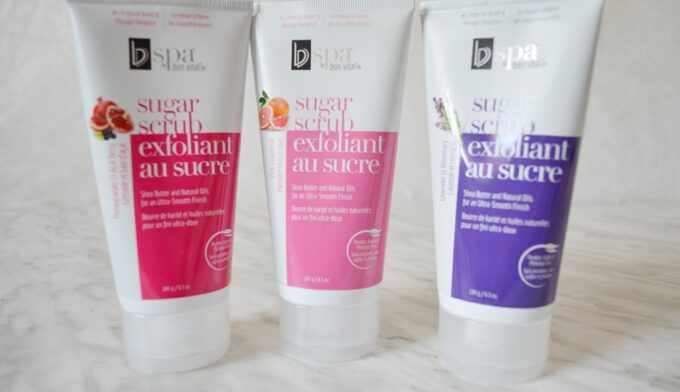 The alternative ingredient to at home spa treatment is using sugar scrub which is gentler and perfect for sensitive skin. Natural sugar crystals have finer, and rounded edges which is less harsh on the skin and dissolve easier in hot water providing a gentler exfoliation.
Natural sugar crystals gently polishes and buffs away dead skin cells to help reduce the appaearnace of aging. The glycolic acid content helps protect the skin against harmful toxins. The BVspa range is also influssed with nature's softeners such as safflower seed oil (protects dry, scaly skin while softening and soothing the skin), and jojoba oil.
How to Use (+ Massage Therapist Tips)
Step 1: Gently apply to wet skin in a cirucular motion, concentrating on dry, rough areas of the skin. Avoid using the scrub on sensitive areas like cuts or on skin that is irritated or sunburnt (I can't imagine how painful this would be!!) Note that salt scrubs are not recommended for the face. Leave on for 3-4 minutes 0 the salt scrub will tighten the skin. Rinse well with warm water.
Massage Therapist Tip: Do not use shower gel as it is good to keep the oils and aromatics on your skin.
Step 2: After the exfoliation step, prepare the skin for hydration with the BVspa Body Lotion or Body Butter! Apply generoulsy on the skin, and rub in gently untli the lotion or body butter is fully absorbed!
Massage Therapist Tip: Apply a second layer of the body butter or lotion to problem areas for best result!
The BVspa range will be available exclusively at Shoppers Drug Mart as of May 2016, retailing for $11.99 ea!
Don't forget, you can visit BVspa on Facebook, Twitter and Instagram!
Which scent excites you most? Will you be giving this a try when it launches?
---
Disclaimer:
This post features product(s) provided for editorial consideration. All opinions are my own. For more information about my review policy, please
click here
.
---