It will come to no one's surprise that my obsession with value sets made me a happy blogger yet again. I check the Sephora Value Sets and Just Arrived sections every other day and I won't lie, I'm like a kid in a candy store when I spotted this product that just landed on the Canadian page!
The BurberryBeauty Box ($39, sephora.ca) is a value set featuring 4 mini products from the luxury brand. I purchased the Burberry Beauty Box set last year when they first became available at Sephora. It gave me a case of packaging hoarding – I didn't have the heart to throw out the box (I mean, would you!?) so it's still on display on the wall.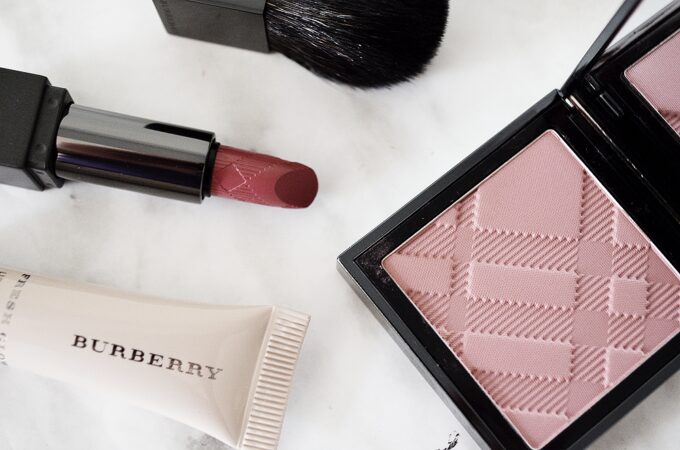 The difference between last year's and this year's set is the lipstick, so if you missed out last year's, this is your chance to get your hand on this beautiful Burberry set!
I admit, I was seriously disappointed when I saw this year's box exterior – it was missing the luxurious Burberry design and touch that last year's box clearly had. The brown box almost looks like a regular mailer/packaging box – you can only tell that it's a Burberry-quality box when you look at it closely and see the thicker material and pattern on the box. Otherwise, even the gold embossing of the Burberry logo was very underwhelming! I was very willing to overlook this oversight given the size of the blush and the neutral theme vs. last year's box.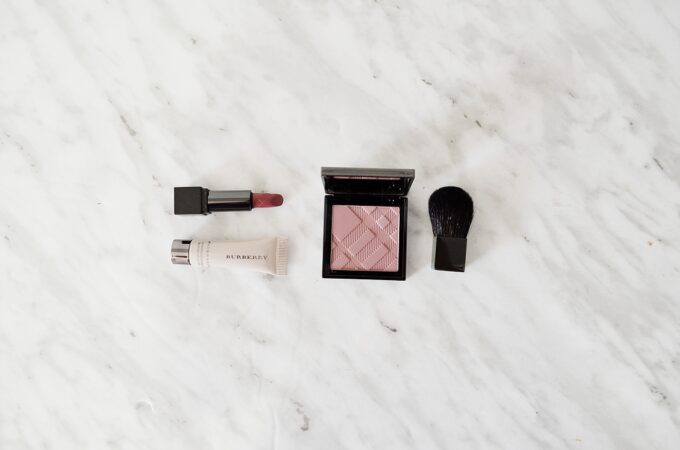 Similar to last year's set, you get four products:
0.17 oz Fresh Glow Luminous Fluid Base in Nude Radiance No. 01 ($54, available here)
0.035 oz Lip Velvet Lipstick in Rosewood No. 421 ($38, available here)
0.08 oz Light Glow – Natural Blush in Cameo Blush No. 02 ($44, available here)
Kabuki Brush (mini size) (sephora.ca)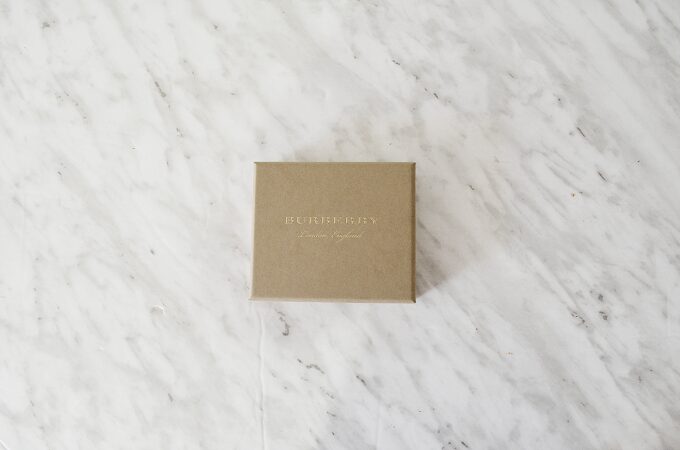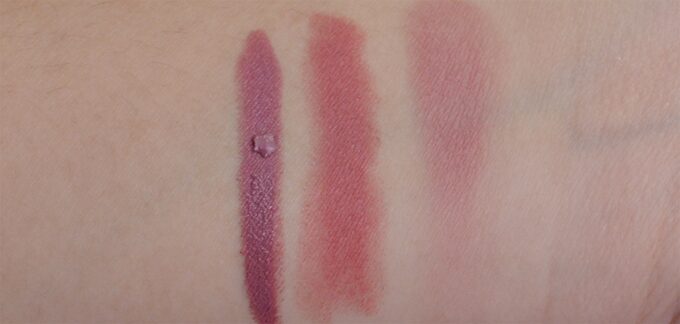 Last year's set featured the a bold red called "Military Red" for the lipstick. This year's set is a beautiful rosy nude colour perfect for all occasions! The formula is so soft and creamy that the top chipped off a little bit when I did the swatches. The blush in this year's set is also a much better value as it is more than what was included last year. Last year's colour was Earthy Glow and this year's shade is a rosy shade called "Cameo".
As one would expect, the quality of each product eclipse any type of expectations I had when I first tried out the brand. Firstly, I simply cannot get over how lovely the box smells when you open it. The slight smell of roses that emanate from inside the box, not too overwhelming was delightful – just beautifully light, and floral.
I wouldn't call this the most value-friendly set I've purchased considering the price of this set is basically the cost of the blush (less $5) but the items included are fairly tiny. For me, this is more of a collector's item and I love the colours in this year's set a lot more.
Overall, this set has been an amazing way to sample some of Burberry's top products without breaking the bank! Get it before they're gone – last year's set sold out in less than a week!
Have you tried the Burberry beauty range?