It's already that time of the year where beauty bloggers and YouTubers are going to be sharing some of their favourite products en masse. Not that I mind – it comes as the perfect time – the Sephora sale is here and there are tons of new value sets, holiday sets from brands that we want to play around with more. Since a few weeks ago I've already shared some of my favourite beauty products that I've been obsessing this year, I figure I would share products that I discovered this year and really loved!
I started this post as a beauty favourite then realized I was doing a whole bunch of repeats. So I started over and only kept the few items I bought this year work it from there. Surprisingly, only four beauty items made it this post so let's dive right in!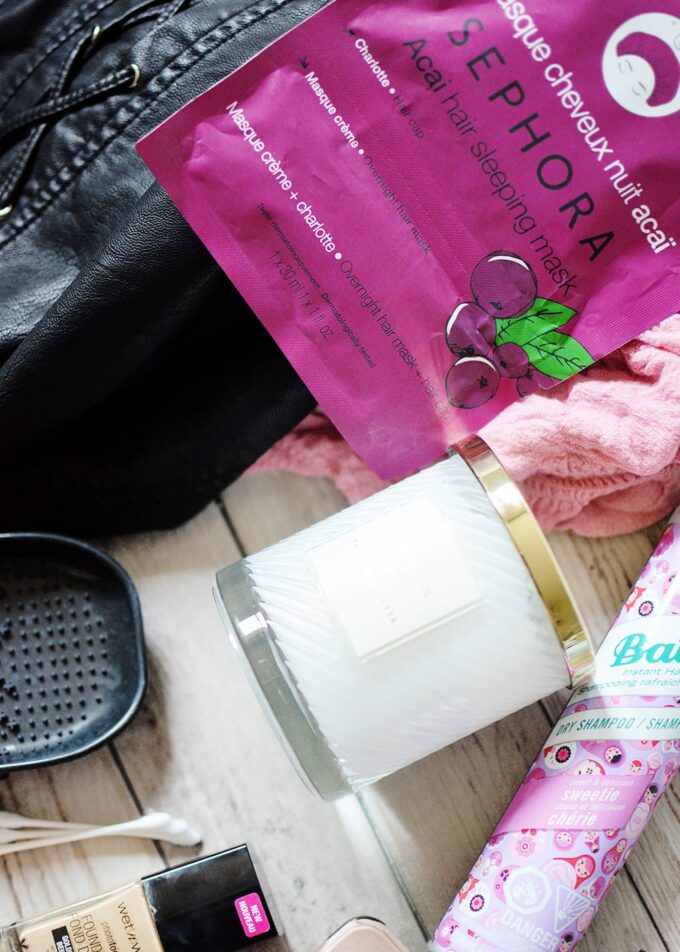 Black Moto Leather Jacket: Oh. My. Word. I must be the only person in the world without this staple fall piece in her closet for the longest time. I cannot begin to tell you how embarrassing it is but I finally found the perfect piece – it had everything I was looking for: there's a statement belt, it has a casual braiding on both sides of the jacket, it has zipped up pockets and it wears really well! I love the fact that I got an incredible bargain too – $38 at Winners instead of the original price of $80!
Ninety-Six Patchouli Amber Candle: I didn't realize Winners also has a candle section despite the fact that I've always been in love with their home section. I have been in love with this incredible scent from Bath and Body Works but I couldn't justify the price. So I was so stoked to find a "dupe" that was much cheaper and smells a lot more authentic (not waxy or synthetic-like)! This has a really lovely woodsy, smokey scent that I am always gravitating towards.
Imitation Brush Cleaning Mitt: Another super successful Winners Fab Find is this imitation cleaning mitt for cleaning brushes. I mean how many of us like to clean our brushes? What's nice is that this mitt has a strap that goes around your hand to keep it from slipping as you're washing your brushes. It was less than only $8 so I've been pretty chuffed to have this which helps reduce the time I need to spend cleaning my brushes.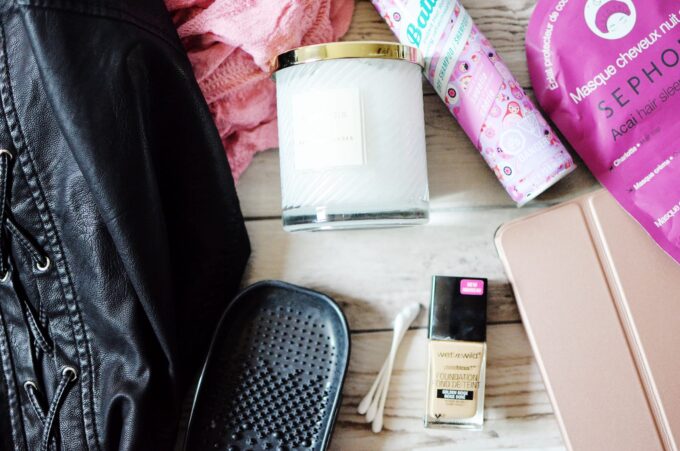 Alright, so those were the last bits from Winners (I promise, it's not sponsored!), here are a few others.
BatisteDry Shampoo ($7.99, available here): This dry shampoo has been around for ages but I've only discovered this year. I don't know how I live without it all this time because it's honestly the best thing that gives life and volume to my hair. it helps add a little bit of life to my hair without much effort!
Wet n WildPhotofocus Foundation ($7.99, available here): I had some mixed feelings about sharing this as a favourite because I didn't have a great experience with the colour option. However, I love the formula and the way it feels on my skin and I've found it a bit strange that these have been wearing so much better in the colder weather!
Sephora CollectionHair Sleeping Mask ($6.99, available here): If you have seen my earlier review on this product, you would have known that I've been obsessed with this since it first launched. Available in several scents, this formula does wonders on my hair – it's seriously the best $6 I spend on my hair and I would be happy to repurchase.
Moko iPad Cover ($16.99, available here): I cannot praise this brand enough because this iPad case doubles as a stand and looks so lovely on my iPad. It fits snugly, and doesn't catch dirt or fingerprints and I love the fact that it's priced reasonably too!
What are some of your favourite discoveries from 2017?