I'm excited to review a brush set that I picked up way back in January – it is supposedly an exact dupe of the Sephora CollectionRose Gold Mineral Brush Set ($72, sephora.ca, LE). It's a common secret that when big companies create their own in-house brand, they typically outsource production of those products to manufacturers who already make the same products in order to capitalize on existing machinery and pay lower price due to economies of scale. So it came as no surprise to me, when I came across a post on the Sephora Forum (of all places!) where I came across this potential dupe.
This post will be one of the two that I will be doing – there is another brush set that I picked up, courtesy of the recommendations on the forum about another Sephora brush set dupe! I picked this up from Wal-Mart (of all places), which has been my go-to favourite online retailer because they have everything and they have insanely fast and free shipping.
The 5-Piece Deluxe Cosmetic Brush Set with Case from Wal-Mart ($14) comes with 2 face brushes and 3 eye brushes and priced incredibly low compared to $72 that Sephora charges. I bought this brush set on clearance as well at $3.50, which works out to be $0.70 per brush. You didn't read it wrong by the way – it was $3.50 for an ENTIRE brush set as you can see from this screenshot of my invoice from Wal-Mart.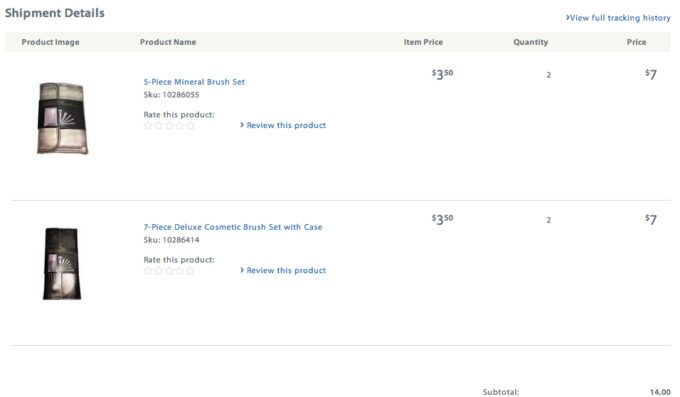 I do not have the original Sephora CollectionRose Gold Brush Set to compare it, so I will not compare the two. However, I will review this brush set based on its merits, and objectively to give you a sense of the product and its pro/cons.
Firstly, can we take a moment to appreciate the beauty of the colour right down to the handle (dusty rose) and the ferrules (rose gold)? The case, while functional, is not something that can be reused to use carry your existing brushes as the slots are designed to fit the brushes that come in this set and unless you have brushes that have similar dimensions as these, they will not fit into the case. Additionally, the length of the brush is just a little shorter than my regular full-sized brushes, but not small enough to be called travel-sized.
Face Brushes
The first face brush is a dense face brush with a round-top and slightly tapered head, similar in appearance to the Real TechniquesExpert Face brush. This brush has replaced my all-time favourite (Real TechniquesBuffing Brush) which I thought was not possible at all. It has a tapered head with a rounded top, similar to the Real TechniquesExpert Face brush. The main distinction is the density though – this brush feels more like the buffing brush in that sense. Imagine if the Real TechniquesExpert Face brush and Real TechniquesBuffing Brush had a baby – this would be the result. In my opinion, this brush is the absolute star of the set. This brush is excellent to use for multiple products such as liquid foundations, gel-based and cream-based bronzers or blushes.
The second brush is a duo-fibre flat top brush. When I first used it, it had a more shapely head, so it can be used as a blush brush for sheer application. After several washes, the brush head is now permanently flared out, which is not such a bad thing as it can be used as a foundation brush to buff in liquid foundations. The bristles is a little flimsy and scratchy but I didn't really have high expectations from paying $0.70 for the brush.
Eye Brushes
The stars of this set have to be the eye brushes. There are three of them, and I'm sure it wasn't done intentionally, but two happen to be unique to my collection.
Firstly, we have a shader brush, but unlike the ones I have in my collection, it has thicker bristles, and a slightly rounded top that is slightly wider. For me personally, this brush is a two-in-one; I can use the flat side to apply eyeshadow colour, and turn the brush on its side to blend out the colours. The wider dimension of the head makes it perfect for many lid sizes, and I can see this working on many people.
Next, we have a detailer brush which is perfect for doing precise work around the eyes (i.e. lining the lower lash line with eyeshadow or patting in highlight colour on the inner corners). This brush is unique to my collection and I'm glad to now own it as I've wanted it for a while after seeing countless YouTube gurus using it.
The last brush we have is a liner brush. I am quite indifferent to the quality of it since it didn't wow me nor did it disappoint me; it's just always nice to have a back up of a liner brush at all times.
If you were to blindfold me and ask me to guess which brushes are which when compared with my existing Real Techniques/Sedona Lace/Sigma Brushes, I would not be able to tell the difference. At only $14 (at full-price) for a brush set consisting of 5 almost full-sized brushes this brush set is absolutely worth it in terms of the price point. Additionally, a number of these brushes are unique to my expanding brush collection, so there isn't much redundancy with the tools. The brushes are soft, and despite my low expectations for the overall quality, I was completely proven wrong! The brushes (except for the flat-top duo-fibre) did not shed nor did it bleed during the last 3-4 washing.
At $14, it is a worthwhile deal and a huge bargain; I was able to snag one during clearance for $3.50 so keep an eye out for the set potentially going on sale as you can save a lot of money in the process.