I've said it before but I'll say it again, Benefit makes some pretty awesome value sets that are worth checking out. While I was in Las Vegas a couple of months ago, I came across the BenefitArch U Lucky! ($23, available here) set which is a Macy's exclusive that was just released at the time. Having tried 3/4 of the products included (i.e. including the brow service), I was a little hesitant about picking it up since it would be redundant. However, since I am a huge fan of the BenefitStay don't Stray and I was on a ban from buying a full-sized eyeshadow primer, I figured this was a good way to get my hands on my old favourite without feeling guilty about it.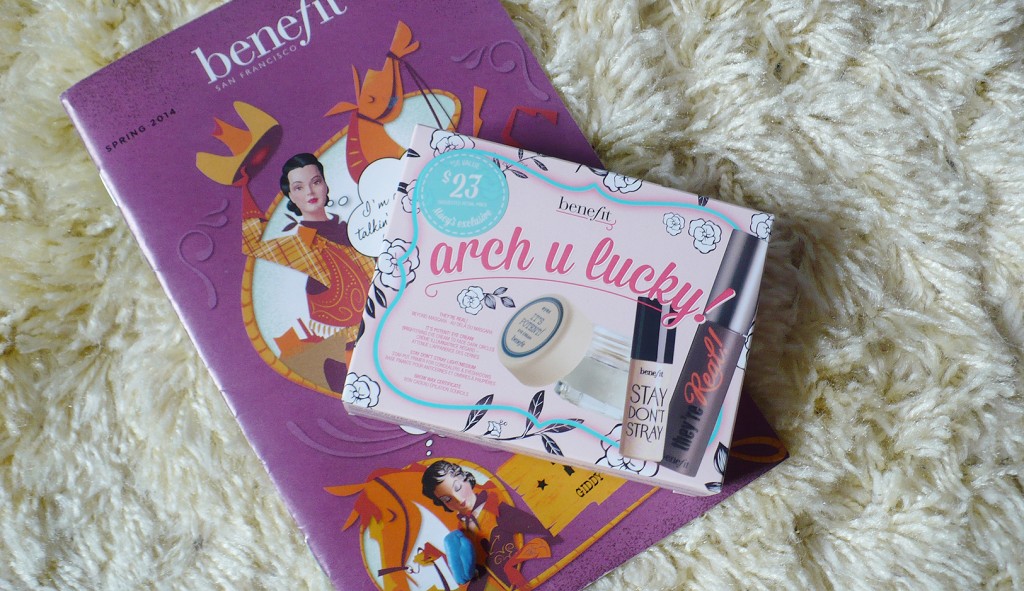 The set comes with three mini-products and a voucher for a brow wax at any Benefit counter at Macy's in the US. Here are the breakdown of the products and prices:
Benefit it's potent! eye cream (0.1oz) – $8 value (available here)
Benefit They're Real Mascara (0.1 oz) – $9.67 value (available here)
Benefit Stay don't Stray Light/Medium (0.08 oz) – $7.27 value (available here)
Free Benefit Brow Wax at The Brow Bar (Exp. January 31st, 2015) – $26 value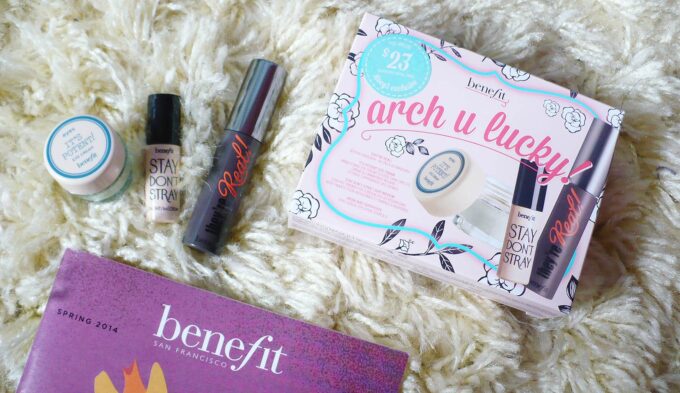 The total value of the set comes at around $50.91, which I think for the price that you're paying, is quite a great value set if you have been curious to try some of Benefit's product lines. It was through a set similar to this one that I discovered my love for the BenefitStay don't Stray. Despite its small size, the BenefitStay don't Stray actually lasted me a good month of daily use. I really like the consistency, and that it does seriously keep my eye makeup looking fantastic all-day.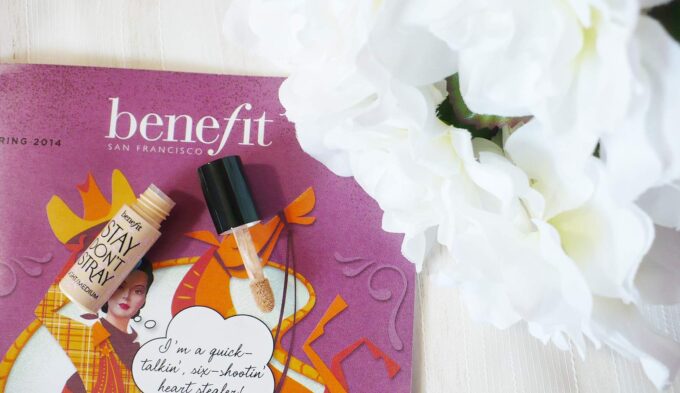 I think a lot of people have tried the BenefitThey're Real Mascara through the Sephora gift from last year. I have quite a bit of a love-hate relationship with it. It wasn't the best mascara formula ever invented, but I like the brush quite a lot. The formula gets clumpy very quickly, especially if you go in for a second or third coat of mascara. I found that one coat wasn't enough, so I typically alternate to another mascara.
I'm a huge fan of the Benefit Brow Bar given my history of brow disasters in the past. For some reason, I always think that I could do it, but always end up needing help. The ladies always know what to do despite my hair-less brow being quite hard to work with (I can imagine), and always super friendly, and helpful with their tips/tricks for at-home brow sessions.
Where to Buy: Macy's ($23)